The Unsung Hero
Senior Jason Dimatteo talks about his experiences in football, from middle school to college
Hang on for a minute...we're trying to find some more stories you might like.
Jason Dimatteo is an inspiration to everyone that meets him. He has cerebral palsy, but he does not let that slow him down at all. Jason played football in middle school for Carson Middle and he also played freshman year and then he helped out the coaches from tenth grade on. Recently, Jason has agreed to go to John Carroll to help them out as well. 
What inspired you to play football in middle school?
My brother really got me into football when he played Tiger Pride. I was around his games a bunch and it really inspired me to want to play football. I loved the game. What also inspired me is I am a kid who battles Cerebral Palsy. My main thing was I wanted to show people that even kids with disabilities can play sports as well.
What did it feel like to have an award named after at Carson Middle School?
It is incredible. That award made me realize maybe I mean something to people. Coach Burns gave me this award during my 8th grade football banquet. This award has truly changed my life. I was going to quit football after my 8th grade year because I thought I wasn't good enough. I said to myself nobody will notice me. When he gave me this award it showed me how much I mean to a team. How much I can give to a team. This award is called the "Jason DiMatteo Unsung Hero Award" it is given out every year to the Carson football player that best exemplifies the characteristics of Dedication to the Sport of football, Great Sportsmanship, Tremendous Work Ethic, and having the Ability to Overcome Adversity in a Positive Manner.  It still amazes me to this day that an award is given out to a player who best exemplified the way I played football. It is truly amazing having this award named after me.
What inspired you to help out the football team everyday?
The love for the game. I am a determined kid who never lets anything hold me back from doing what I love. Vince Lombardi once said "The measure of who we are is what we do with what we have" I took this quote as "I have Cerebral Palsy and I had to quit playing football, but I can still make an impact on this team even though I can't play anymore". It was about loving my teammates. They were a huge reason why I stuck around as well. Love every single one of them to death.
What was the feeling when you were the captain for senior night?
That was probably one of the greatest feelings of my life. I wanted to help this team because I love the game of football. I never thought so many people respected me for what I did. I was there because I wanted to stick with my teammates and never give up on the game that I loved since I was a little kid. Coach Walker and Coach Buchert and the rest of the coaching staff made me realize that night how much I meant to that team. I never knew how much I meant to them. Them doing that for me will forever be one of the greatest moments of my life. This moment right here also made me realize that I will forever be a Tiger for Life!
What had you want to continue this at John Carroll?
Coach Walker and Coach Buchert. They were my two driving forces because they made me realize how much I mean to the game of football. They told me how much of an impact I made on them and the team. I also love the game as I have mentioned before. I knew that I wanted to do something with football in the near future. I would love to work for a football team someday and from what I heard John Carroll is a great start to that path.
What role will you play in helping out the team at John Carroll University?
I would be a Student Assistant. This assistant would help out in certain positions all around the field. One day I make work with the QBs. The next day I would work with lineman. It all depends. What I would actually do is do film. Come up with the practice schedules. Do basically anything needed for that particular day. I don't have a specific job. I would be an all around person who helps wherever it is needed.
Would you want to have a career as helping out football teams or do you want to help until you graduate?
I would absolutely love to help out football teams in the near future. It is a huge goal of mine. I love the game of Football so much that I can't stay away from it. I want to make a career out of it by going into the business portion of it. The dream for me is to be a GM of a NFL football team.
What attracted you to help out at John Carroll?
When I was looking at places to go to college I came across John Carroll and saw that they had the most people working for the NFL than any other college in the United States. That doesn't even include how many people they have working for other professional sports. That's how I got attracted to John Carroll. The reason I wanted to help them out is because I knew if I made an impact at North Allegheny, I sure as heck can make myself known up there. I love the game of football and I thought being apart of John Carroll's football team would open up new paths for me in the near future to continue my passion of football.
Is there anyone that provides you with inspiration?
My grandfather. My grandfather is a veteran of the Korean War. He was actually trapped in a fox hole for many hours in the freezing cold without any warmth except for his mates next to him. He ended up getting frostbite from this and was rushed to the hospital in Japan. The doctor told him that he is very lucky because he came very close to losing his fingers and toes. He got a purple heart for this. This inspired me to be half the man he was. I could never be him. He is the toughest man I ever met and I wanted to show him how tough I could be by playing football. I recently talked to him about all this and he said to me "Buddy, I am so proud of you.". Hearing those words from him motivated me. I wanted to live up to him and for him to be proud of what I have accomplished means the world to me.
Why are you more passionate about football than the other sports?
Football has been in my family for generations. I grew up with it. My great grandfather played football at the University of Notre Dame. That's where my love of football started was Notre Dame. I am the biggest Notre Dame football fan you will ever meet. Me and my dad and my brother would watch every single game together for as long as I can remember. Football showed me my true passion in life. Football changed my life. It made me realize how much of an impact I can make on people.
Were you always inspired to help out with football teams or did you start at the high school level and realize you had a passion for it and wanted to keep going?
No because I never thought I would have to give up the sport I love. So yes I would have to say it started at the high school level. It was a very very very very tough decision for me to quit playing the game I love. My Cerebral Palsy held me back, but it wouldn't hold me back from being apart of the game I love. I definitely found my passion though when I helped out the North Allegheny football team for 3 years. I wanted to continue my passion because of how much I made an impact on people. They showed me that I was more than just a kid who helped out on a team. They treated me as a player and with the same respect they gave everyone else. I can't thank my coaches enough because they are the reason why I wanted to keep going. They showed me that I meant something and they believed that I would mean something to another team. They encouraged me and let me know how much I love the game of football.
About the Writer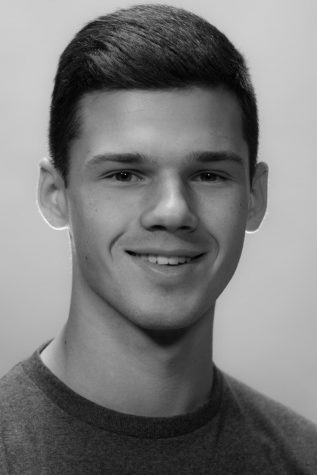 Luke Popelka, Sports Reporter
Luke Popelka is a junior at NASH. He plays football and basketball.