A Different Kind of Dance
Junior Rachel Tian's experiences with Chinese dance
Hang on for a minute...we're trying to find some more stories you might like.
Fresh off her yearly performance with the Yanlai Dance Academy, Rachel Tian gives the scoop on her journey through her dancing career.
How long have you been practicing dance?
I have been practicing dance at Yanlai Dance Academy since I was 8, so not even that young actually.
What type of dance do you learn?
I am practicing Chinese dance, but sometimes our studio learns jazz, ballet, or hip hop on the side.
What led you to learn dance? 
I really enjoyed a performance by the Yanlai Dance Academy the year prior to joining, and the beautiful girls in costumes really inspired me to try it out.
How busy is your schedule before your annual performance? 
It's pretty hectic; sometimes we have hours and hours of rehearsals. The day of the performance, we are on stage from late morning until around 9pm.
What do you love most about the costumes?
Every single one is so different! I honestly love all the colors and the ethnic minorities they represent.
What is your best memory with your dance friends?
Honestly, just every performance. I grew up with these girls; they're basically family. We all go to different schools, but we all connect through our love for Chinese dance! It's awesome.
Do you think you'll continue dance throughout your life?
I hope so. I know some colleges have dance groups that people can join, so I'm hoping to continue Chinese dance in college.
What is the most valuable thing dance has taught you?
Dance has taught me how to smile. Genuinely, I've learned to be more confident and happy in front of people. It also has taught me all the different cultures of China and the history and customs behind each one.
Have you ever taught dance, and if so, do you enjoy it?
I have! I taught a trio this year. If you went to our annual performance, you saw them perform. They had little umbrellas and were the cutest girls ever. I loved working with them.
Have you ever had a time where you doubted your ability and wanted to quit?
I've definitely doubted my ability, but I've never wanted to quit. There are many girls at the studio who dance better than me and are more flexible, and I get frustrated. But in the end, dance has made me open up and express myself, and I'd never want to quit!
How do you think this helps you connect to your culture?
The music, costumes, and styles of dance are honestly beautiful representations of the diversity in Chinese culture. I love learning a new dance each year and learning about the background of the ethnic minority.
What is the thing you love the most about dance?
Learning about the different cultures is great, but the one thing I love the most is just performing with my best friends. I could never do it without them!
About the Writer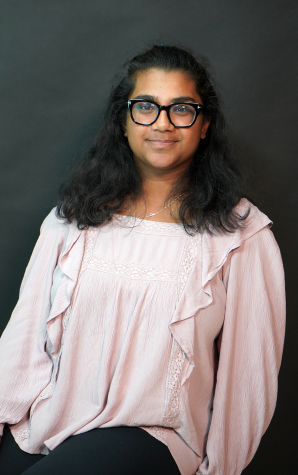 Somya Thakur, Staff Writer
Somya is a senior at NASH who enjoys music, dance and all things culture. She loves listening to podcasts and occasionally creating them.