A Review of Good News
The spring musical is a high energy romp centered on timeless themes
Hang on for a minute...we're trying to find some more stories you might like.
On Monday I had the opportunity to see NASH's spring musical, Good News, and I can honestly say that I never thought I would have such a good time in a room full of 8th graders. This year's musical does not disappoint and has placed itself into the North Allegheny musical Hall of Fame of shows rivaling many professional productions.
***spoiler alert***
Set in the 1920's, the musical follows students from Tait College who are preparing for the biggest game of the year. Star football player and senior Tom Marlowe must pass his astronomy test in order to be able to play in the big game — a game which his future is heavily dependent upon. Three love stories are also intertwined in this tale of love, struggle, and ultimately triumph.
As the lights went down and the whispers of the 8th graders drew to silence, the show began. After a lively opening number that epitomized the sound of the 1920s, the stage filled with students dressed as flappers, cheerleaders, and football players, while the orchestra played 1920's jazz melodies. After the audience was reeled in with the opening number, it was announced that Tom Marlowe, played by senior Evan Diulus, is nominated for a scholarship. We are then introduced to Tom's girlfriend Pat, played by senior Sofia Swensen, who is a well-to-do sorority girl with her sights set on becoming Mrs. Tom Marlowe.
"
I never thought I would have such a good time in a room full of 8th graders."
Through the following scenes we meet other football players, junior Zach Brennan in the role of Beef and senior Robby Yoho in the role of Bobby; here we are officially introduced to the second love story. Beef, a big tough football player, has been in a relationship with Babe O'Day for a while now, but Babe is done and ready to move on to someone new. However, no one will go after Babe in fear of what Beef might do to them. Babe, on the other hand, decides to go for Bobby.
The third and final love story exists between football coach Bill Johnson, played by senior Jack Lopuszynski, and Professor Kenyon, played by senior Natalie Daninhirsch. A little over a decade ago, Johnson and Kenyon were in a relationship while at Tait, but things turned south after the final football game of the year left Kenyon fleeing Tait due to the number of hate comments she received. Years after that, Kenyon is back at Tait as a professor while Johnson serves as the football coach. Coach Johnson pleads for Professor Kenyon to pass Tom Marlowe on his astronomy test, but the professor will not go down without a fight. However, she does offer Marlowe the chance to retake the test.
With another opportunity to take the test, Marlowe receives the help and tutoring skills of Connie Lane, played by senior Emma Hackworth. Connie also happens to be Pat's cousin. It is the night before Tom's test and he and Connie are in the library trying to study, but the two form a bond that keeps Tom distracted. Connie and Tom then perform a duet of "Lucky in Love," which leaves the crowd speculating on what relationship could come of this and what the wrath of Pat might be. The curtain rises to the next morning, where it is announced that Tom has passed his astronomy test and is able to play in the big game.
The second act opens up to the morning of the big game. Pat and her sorority sisters are gearing up for the game and Pat is even preparing for a proposal from Tom. Tom enters and tries to tell Pat that he doesn't want a relationship with her anymore, but she will have none of that talk and ignores him. Tom persists and Pat finally tells him that her wealthy father is ready to sign him to any professional football team he desires. This causes Tom to stop for a moment and think about his future, because right now the girl standing in front of him controls it all. As Connie finds out about Tom's situation and realizes that he will not leave Pat, she is distraught over what to do.
The big game is finally here and the game's announcer reveals to the audience that Tait is losing the game 0-3 at half. A pep talk from Coach Johnson in the locker room follows the announcement, which causes Marlowe to storm off the stage, clearly aggravated with his game play but also with his love life.
Connie, Professor Kenyon, and Babe all show up to the game to support their men and recognize the support the team needs, especially now. After some conflict at the gate, the three women are able to make it into the stadium with little time left on the game clock. When Tom sees Connie in the stands he realizes that his heart is hers, and she's the one he wants. With a final-second hand-off of to Bobby, Tait wins the game. 
As the musical comes to a close, Beef accepts that Babe is moving on with Bobby, Professor Kenyon and Coach Johnson rekindle a past love, and Tom Marlowe realizes that life isn't all about football — it's about right here, right now, with Connie.
NA took a different path with its choice of musical this year. I had never heard anything about Good News prior to a few weeks ago, and when I walked into the auditorium yesterday I had no idea what to expect. Despite knowing nothing about it, Good News left me bopping in my seat to numbers such as "Varsity Drag." I was transported back in time to the 1920s, and one thing that accomplished this was that no single dance in the whole show was complete without the Charleston or a little jive.
Truly, this musical is one of a kind and certainly one for the books. From the dancing to the singing to the fireworks at the end, the cast, orchestra, and crew put their all into this musical.  The show is a spectacle of hard work and extraordinary talent.
For a good time and some pretty great seat dancing, get yourself a ticket to Good News! The show kicks off on Wednesday, March 13th and runs through Sunday, March 17th.
About the Writer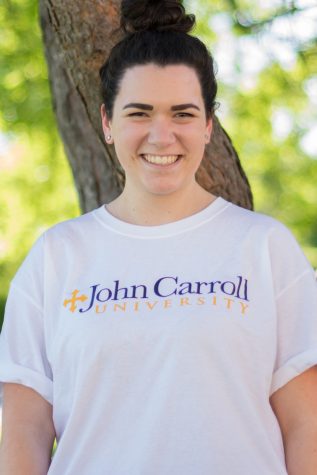 Carly DeArmit, Copy Editor
Carly DeArmit is a senior at North Allegheny Senior High. Prior to the Uproar, she has served as Editor-In-Chief for NAI's literary magazine, First Draft,...