Underrated Music Playlist
Want to find some new songs or artist you haven't heard of? Look no further, we have a playlist for you
Hang on for a minute...we're trying to find some more stories you might like.
Enjoy the list of 17 underrated songs…
1."Temporary Love" by Ben Platt – Ben Platt's songs coming off Broadway are amazing and tell such a beautiful story with each and every song.
2. "Diamonds Are Forever" by Sabrina Carpenter – Fresh off her third album, Sabrina never disappoints with a beautiful voice and amazing messages in her music.
3. "White Flag" by Bishop Briggs – A song about not giving up so easily is exactly what I need during this stressful time of being a junior. Bishop's song makes me want to get up and sing along.
4. "Lose My Mind" by Dean Lewis – Even though the song is what you would call sad, Dean Lewis makes it upbeat in such a way that I can't help but feel a little happy when listening to it.
5. "Still Rolling" by Lauren Daigle – The way the song is composed is so very upbeat and interesting that I love hearing it each time. The words go so well together, and the beat of the drum makes the song so much better.
6. "Nina Cried Power" by Hozier (feat. Mavis Staples) – I absolutely love the instrumentals in this song because of how well they go with the lyrics and what Hozier is trying to express. Also, I feel this song shows the range of his voice.
7. "Supercut" by Lorde – This song is so very catchy and easy to memorize that I love it more each time I listen to it.
8. "like that" by Bea Miller – Bea's voice has always mesmerized me, and the way she sings the song is breathtaking.
9. "Armor" by Sara Bareilles – This is the perfect song that showcases how powerful a girl is, and it makes you feel strong. Honestly, they are very inspiring lyrics.
10. "Netflix Trip" by AJR – If you have an obsession with Netflix or The Office, then you'll love this song. Trust me, you'll love it.
11. "Stupid Deep" by Jon Bellion – Since the first time I heard this, the lyrics just took my breath away, and I feel in a way I related to it somehow.
12. "Future Hit" by Louis II – I honestly can't tell you why I love this so much besides the music, how well the song works with the singing, and all the different sounds in the background.
13. "River of Tears" by Alessia Cara – Now, I know this is a sad song, but honestly, give it a chance, and you'll realize how beautifully she sings each word and how much emotion she pours into it.
14. "The Judge" by Twenty-One Pilots – I love the message behind this song, which is that you shouldn't judge someone for doing what they like. To go with the message, they made very smart choices with their lyrics for what they are trying to tell us.
15. "Burning" by Sam Smith – Sam Smith's voice has always been my favorite to listen to, and this song is definitely no exception.
16. "Let it Be" by Hayley Kiyoko – Lemonade Mouth did not do her justice. Her voice is amazing, and her songs tell what she is truly feeling. 
17. "Preacher Man" by The Driver Era – If you miss Austin Moon from the show Austin & Ally, no need to worry anymore because now you can just listen to Ross Lynch's band and hear their amazing rock style songs.
About the Writer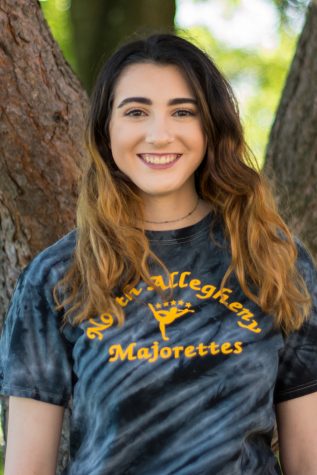 Melina Tripoli, Reporter
Melina Tripoli is a junior at North Allegheny Senior High. She is a majorette for the NA Majorettes and enjoys making art. In her free time she loves to...