Divas, Danger, and Drama
The Steelers are living their own worst nightmare
Hang on for a minute...we're trying to find some more stories you might like.
The Killer Bs. Ben Roethlisberger, Antonio Brown, and Le'Veon Bell. They were so much fun to watch for their short tenure together, and Pittsburgh was the team that was next in line to take hoist the Lombardi Trophy in February.
One year ago, those three took the field together for the last time. The Steelers were defeated and upset by an upstart, confident Jacksonville Jaguars team that had its mind on going all the way. And the Steelers? They were looking ahead of the Jaguars to avenge their regular season loss to New England.
The saying goes "Arrogance is the camouflage of insecurity", and perhaps no other professional sports team personified that as the Steelers did. Everyone knew about the locker room issues. Bell was hunting for a new, shiny contract that would make him the highest paid RB in NFL history. Brown was coming off his best season yet, but as a diva receiver, caused commotion off the field with his controversial antics. Roethlisberger was consistently publicizing issues in the locker room on his weekly radio show that had no business being aired in the public sector.
Why is it a shock that this collection of superstars did not work out?
"
The best thing for the Steelers now is to just move on from this fiasco. The saying "addition by subtraction" might just be true in the case of Bell and Brown."
Fast forward to the offseason after the Steelers lost to the Jaguars. Antonio Brown was in a dispute in Florida after he threw furniture off a balcony and nearly hit a child. Brown would later miss out on OTAs and miss multiple team meetings throughout the season, as he cited that he was "privileged" the ability to do that by Mike Tomlin on HBO's The Shop.
Le'Veon Bell and the Steelers tried to negotiate a new contract for him as they franchise tagged him for the second straight season. That tag came with 14.5 million dollars guaranteed if Bell played the entirety of the season. The Steelers offered him 5 years, 70 million with 33 million in true guarantees and in a rolling structure, he would have had 45 million dollars guaranteed in the first three years of his contract.
Bell turned that offer down.
Meanwhile, Ben Roethlisberger had his own issues off the field. Stormy Daniels and President Donald Trump were having a vehement legal dispute over Trump's past escapades, which included Ben Roethlisberger as the escort to Daniels on one particular night. Even odder is the fact that this was after a woman had come out against him with a rape allegation.
As the season came into view, the Steelers were still viewed as the second best team in the AFC behind the New England Patriots. They were relatively healthy heading into the first week of the new season and they expected their superstar RB, Le'Veon Bell, to return to the fold as well. It was all great until that……just didn't happen.
Bell never showed Week 1 and the Steelers trotted out Pittsburgh hero and product James Conner. Conner filled in extremely well as he ran for over 100 yards and two touchdowns, but the storm cloud of Le'Veon Bell hung over the team's head weekly.
As the weeks went by, the Steelers started 1-3 with losses to AFC contenders in the Ravens and Chiefs. They had to rebound against the Falcons and Bengals in the next two weeks. And every week, the question of if Le'Veon Bell would walk through the doors of the Rooney Sports Complex came up. But after a loss to the Ravens, that Monday was a little different. Not only was Bell not there, but star receiver Antonio Brown was not either.
Brown would show up on Tuesday after he missed Monday's team meeting and responded to no calls from any member of the team. His justification was simply that he "hates losing" and was "frustrated" with the effort of his teammates, and thus, he did not show up.
The Steelers proceeded to bounce back as the season went on. They went on a six game winning streak that shot them straight to the top of the AFC. Everything was all good in Pittsburgh, even in Week 10 as Le'Veon Bell officially would not report for the season. The cloud was finally vanquished from their minds. Bell had made plenty of noise during those six weeks, as he was videoed on a jet ski saying "They gotta pay me!", in reference to his contract demands.
The Steelers headed to Denver to face the Broncos, but the week started off on the wrong foot. Multiple Steelers players were videoed raiding the locker of the aforementioned Mr. Bell. They raved about stealing his cleats and anything else that was there. Perhaps it was overblown and was no big deal, but after coming out of a drama-filled first ten weeks of the season, that is not exactly what you should want to relay as your overlying message to the public.
Predictably, the Steelers went into Denver and lost due to inconsequential mistakes by the team. Their heads seemed to be in a different place and not on the football field. Rookie receiver James Washington would drop a would-be touchdown after he dove for the ball instead of catching it in stride. That Tuesday, on his radio show, Ben Roethlisberger would call out Washington publicly about the route. Similar to that, he blamed Antonio Brown for the game-sealing interception that he threw.
"He ran the wrong route," Roethlisberger said.
Again, why is the franchise QB airing out issues like this publicly? Hold them accountable, sure, but what does going onto your radio show and airing out these grievances do for the team or the players involved? It brings nothing but drama, and after that, the Steelers fell apart, as they lost four of six down the stretch after Roethlisberger's radio rumbles.
The Steelers fell to second in the division after a loss in New Orleans, but they had a chance to make the playoffs if they beat the Bengals and the Ravens lost to the Browns. The only issue? The Steelers would be missing Antonio Brown, who was supposedly out with an injury. The Steelers did indeed win, but the Ravens won, too. Just like that, the Steelers, who had been on top of the AFC not even six weeks earlier, were out of the playoffs.
As Mike Tomlin and the team talked about reloading through the draft and free agency, it was clear that they had enough talent to still make a run next year. However, they could not move as easily as they had hoped. Ed Bouchette of the Pittsburgh Post Gazette leaked out that Brown in fact was not injured, but that he had been involved in an altercation with Ben Roethlisberger and had missed practice from Thursday onward to the game. Roethlisberger allegedly had called out Brown after he ran the wrong route in practice, and that caused Brown to lose it.
Brown then showed up to the game ready to play, but Mike Tomlin would bench him for not following team conduct. Brown would later rebut that Tomlin had given him "privileges" to not be there that week, but given Tomlin's response and lenient style, it seems highly unlikely that Brown was well within his reason and excused from practices when he missed them.
That was the start of a tumultuous offseason for the Steelers, and all of it was centered around Antonio Brown and Ben Roethlisberger. Brown would go on social media tirades as he requested a trade out of Pittsburgh. Among his issues was the team's franchise QB, Ben Roethlisberger.
Earlier in March, as trade talks were heating up, Brown met with Steelers owner Art Rooney II in an attempt to mend the rift. Both sides came out of that in agreement — it was time to trade Antonio Brown.
As the Steelers moved on to do that and comply with Brown's wishes, Brown made an appearance of HBO's The Shop, which is hosted and produced by NBA Superstar LeBron James. Brown would air out his grievances with Roethlisberger, as he stated Roethlisberger had an "owner mentality" and "didn't take responsibility for his actions".
The Steelers, even after the situation appeared to be unfixable, stated that they would not trade Brown unless they got "significant compensation". It was then reported by NFL Network's Ian Rapoport that the Steelers had a deal in place with the Buffalo Bills, but  Brown was demanding a new contract on top of wanting out of Pittsburgh. In the framework, the Steelers would have moved up from their 20th pick to the Bills' 9th pick, in addition to acquiring a mid-round selection for Brown. The only problem? Brown nixed the deal because he did not want to play in Buffalo.
After nixing the deal, the Steelers would have to settle for a third and a fifth round from Oakland, and thus, it was clear that they just wanted Antonio Brown gone. They looked weak because Brown played his leverage and got a new, shiny contract and clearly won, but the Steelers thought of him as addition by subtraction at this point.
The drama looked like it might be over until two days later Le'Veon Bell, who had sat out the entire 2018 season, signed a 4 year, 52 Million dollar contract. 35 million of that 52 million was guaranteed. Bell called it a "beautiful deal". Not only was that a decrease from the 5 year, 70 million dollar contract, but he would have made 33 million in guarantees in the first two years and 45 million in guarantees by year three of the deal. He essentially had lost the 14.5 million guaranteed from the Franchise Tag and lost out on what would have been a better deal than the one he got from the Jets.
Bell then began to do multiple interviews justifying his contract and stating his plans were to originally show up after Week 1, but that comments from members of the team made him feel unwelcome. He then stated he was going to show up after Week 7, but that a new loophole found in the Collective Bargaining Agreement that stated he did not have to accrue six games to be eligible for free agency changed that. Bell flew into Pittsburgh during Week 10, and he was even spotted at LA Fitness in McCandless, but he simply never built up the courage to go to the Steelers facility. He had detailed that he was "so close" but didn't do it because he would have been "sick" if he had been injured.
First off, Bell's agent should be fired for not knowing the intricacies of the CBA going into this situation. That in and of itself is baffling, but Bell lost out and defamed the team afterward trying to justify it. He repeatedly cited Ben Roethlisberger as a "factor" in why he left. Bell even stated that the Steelers treat you as "if you aren't human".
It was all because Bell said they never let him do anything outside of football and expected him to "work too much". Not only is this not quite believable since JuJu Smith-Schuster continues to build a gaming empire off the field, but Bell's reasons were completely and utterly financial, and the only reason he is dodging around this is simply because he lost out financially. He bet on himself and lost.
Of course, Ben Roethlisberger cannot be spared. His leadership was attacked consistently by Brown, Bell, and former Steelers RB Josh Harris. Harris claimed that back in 2014, Roethlisberger had purposely fumbled the football at the end of a game to spite then Offensive Coordinator Todd Haley.
The only issue? His explanation was as loose as paper. It simply went off of the fact that "Ben is Ben" and that he would do it. Many teammates came out to defend Roethlisberger and his leadership, but it never stopped the national media from taking the story and running with it.
The Steelers' offseason is trudging along now with seemingly no end to the drama in sight. They signed some good free agents, but that isn't being talked about. The drama is overshadowing everything, much like it did this past season.
The best thing for the Steelers now is to just move on from this fiasco. The saying "addition by subtraction" might just be true in the case of Bell and Brown. The two biggest headaches in the locker room are gone.
Will the Steelers be better this year than they were last year? They may have lost two elite talents, but I would want to bet on them being even better this year once they have no distractions.
About the Writer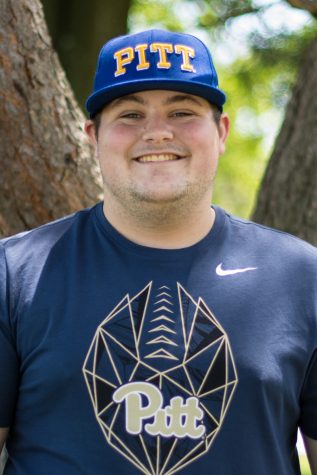 Nick Farabaugh, Sports Editor
Nick Farabaugh is a senior at NASH and the sports editor for The Uproar. Nick is a writer for SB Nation's Behind the Steel Curtain and is a WPXI Skylights...