Carnegie International
The rundown of what the Carnegie International is all about and what you may see
Hang on for a minute...we're trying to find some more stories you might like.
On October 13, 2018 the Carnegie Museum of Art held the 57th edition of the Carnegie International opened. Sadly, the exhibit, featuring artworks from 32 different artists and one independent exhibition maker, ended on Monday.
Fortunately for Mrs. Hawbaker's art students, the exhibit will be a lifelong memory. The art classes visited the exhibit on January 4 and were treated to a guided tour.
"The Carnegie International exhibit was a unique and incredible addition to the museum," Aleni Antalis said. "The fact that it was only there for a limited time made it even more special to see." 
With over 100 art works in all, the Carnegie International featured work from 32 artists from 28 different countries, over half of whom are women. There were 17 female artists this year, marking the first time the exhibit showcase has had more work from women than men. 
When the Carnegie International began, Andrew Carnegie had a guiding vision. According to the organization's website, "Through the exhibitions, Carnegie sought to educate and inspire audiences, promote international understanding of art, attract the art world to Pittsburgh, and above all, to build a collection through the purchase of the "Old Masters of tomorrow" who would be represented in the exhibitions. Today, the Carnegie International is the oldest exhibition of international contemporary art in North America, and the second oldest in the world."
During the student tour, one of the museum docents went into further detail about the importance of the exhibit.
"Each one of the pieces by each artist means something different," she said. "Some have to deal with cultural ideas, political, daily life, or something anyone can connect to in any way. That's why it's called 'International'. Having all these pieces from different artists from around the world all in one place and not at different museums is unique."
About the Writer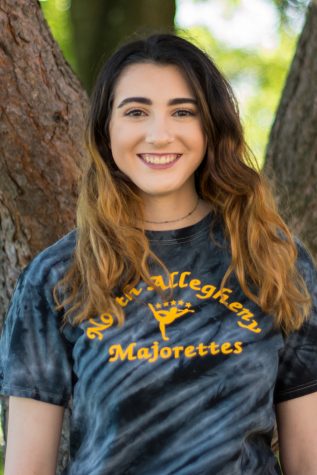 Melina Tripoli, Reporter
Melina Tripoli is a junior at North Allegheny Senior High. She is a majorette for the NA Majorettes and enjoys making art. In her free time she loves to...