The Spirit Moves Her
Senior Kristen Chomos is a three-sport athlete, Student Section Leader, TigerThon Head Captain, and PSU Schreyer Honors College admit. We demanded to know how she does it all!
How were you able to manage three varsity sports, being student section leader, captain of TigerThon, and a rigorous class schedule?
Fulfilling my academic, athletic, and leadership responsibilities this year essentially required all of my time since the start of the school year. I've embraced this opportunity with the mentality that this is my final year at North Allegheny, and I sought to maximize each of these opportunities in order to throw my cap at graduation knowing that I gave my full effort over the past 13 years—from kindergarten until now.
Is there anything you think you think you're bad at?
Yes, definitely. I wish I could sing even half as well as all of the Chamber Choir students.
What advice would you give to underclassmen?
I would tell the underclassmen to embrace everything that North Allegheny offers, whether that is being involved and/or showing your support. By being involved, I have learned a lot about myself, teamwork, and leadership. These lessons have prepared me to pursue future endeavors. Supporting other activities allowed me to appreciate the talents and hard work of my peers and the North Allegheny community. I cannot even begin to express how impressed I have been with every NA musical performance; the talents that our peers have in music and the arts truly amaze me. Cheering on the sports teams brings out the passion and school spirit in everybody. One of the greatest senses of the North Allegheny community over the past four years has been cheering on different teams—with many of my peers—as they competed in big games and for championship titles. These were moments that I will always cherish.
One of the sports you play is softball.  How well do you think the team will do this year?
The NA Softball team is off to a great start this year (*Knock on wood). Thus far, we are 9-0 and have already faced several tough opponents in the first round of section play. In the past few years, we have come up short in the playoffs, but we believe that this is the year. Our coach tells us that "It's our time" and that "We're not gonna take it anymore." With the team being led by five seniors, this is our last chance to come out on top, and we have certainly adopted the mindset that this is our time because it's now or never.
How many hours of sleep do you get on a typical weeknight?
Well, it is 2:15 am right now, so I'll say that I average at about five hours per night—sometimes more, sometimes less. I was sort of in a "No sleep until TigerThon" mode for a while, but now that TigerThon is over, I've been trying to catch up on some sleep.
You chose Schreyer Honors College at Penn State for your next four years. What made you come to that decision?
My mom and both of my sisters went to Penn State, so the tradition was certainly there for the taking:) Academically, Penn State has a top-ranked business school, and Schreyer enriches the academic experience for its students by providing challenging honors courses, research opportunities, and many other experiences. Athletically, Penn State has a spirited sports culture. I am a big sports fan, so I am looking forward to being a part of the Penn State community on game days. Logistically, Penn State is the perfect distance from home—far enough away but not too far. We Are!!!
What are you majoring in?
I applied to Penn State as Business Undecided because I have not decided on which specific concentration of business I want to pursue. However, I enjoy economics and math, so as of now, I am exploring the idea of Actuarial Science.
Can you explain how you felt when you realized how much money TigerThon raised this year?
Since I managed the finances for TigerThon, I knew the fundraising total and knew that a six figure total was attainable going into the dance marathon. However, I kept this a surprise from the entire TigerThon committee and kept encouraging them to work for $50,000. When I added up the final numbers and saw that we actually surpassed $100K, I was truly amazed, and I went weak in the knees. It was so inspiring to see the yearlong efforts of many people come together and double our goal. It was a priceless moment to see the reactions on all of the captains' and everybody's faces in the crowds. The captains were in tears, jaw-dropped, and jumping up and down out of surprise and joy. They worked all year long for that moment, and in that moment, they realized how significant of an impact the efforts of TigerThon 2019 will have on the community and the families facing pediatric cancer. That was one of my proudest moments to be a Tiger.
Are you planning on being involved in Thon at Penn State?
Yes, I will definitely be involved with THON at Penn State. There are many different ways to be involved, so I am not sure yet what my role will be next year.
Who do you look up to the most?
Being the youngest child and one of the youngest grandchildren, I look up to each of my family members. Each of them has had a profound impact on my life, and they all live with love for our family and friends and work hard for what they achieve.
If you could only do one more thing before you died, what would you do?
There are many things that I would do, but skydiving would certainly be near the top of the list.
What is your favorite memory from high school?
I have had so many great memories over the past four years that it is hard to single out just one. Some of the best ones though from senior year were revealing the fundraising total at TigerThon, winning back to back state championships in volleyball, and having JuJu Smith-Schuster in the Student Section. While these moments were some of the highlights, the daily laughs and interactions during the school day and at practices/games truly made the past four years unforgettable.
About the Writer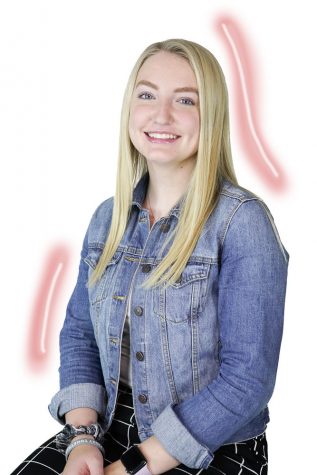 Carli Leonard, Staff Writer
Carli Leonard is a senior and returning writer to the NASH Uproar. Carli is one of the head captains for TigerThon 2020 and is also one of the Student...