Flamethrower
Ryan Partridge and the NA Baseball Team are ready to make a splash
Hang on for a minute...we're trying to find some more stories you might like.
A Penn State commit, pitcher Ryan Partridge is just one of the members of a stacked rotation and team that is vying for the WPIAL title.
How'd you really get into baseball?
You know, my dad has always been around it, and I honestly just got dragged into it at a young age like any other kid.
How do you think those lower levels of baseball helped you prepare to get to where you are now?
They helped big time for me. The coaching was big and it really helped, especially travel team. There are some organizations that only care about the money, but when you find one that cares about the kids, that's where they grow.
How was your recruitment process?
I really took things for granted. I kind of rushed everything — it felt so short and I didn't soak it all up. By the time I felt comfortable, I already had to make a decision.
Why did you choose Penn State?
I had bigger offers from bigger programs, but Penn State felt right at home. The campus, the program, the coaches, and my future teammates all just felt right to me.
What's your "go-to" pitch?
Easily my fastball. As a lefty, there's a natural ability of it to tail in on righty batters and away from lefties, so if as long as I locate it well, it's my strikeout pitch.
What pitches are you looking to add?
Right now, none. I'm comfortable with my fastball, changeup, and curveball. I've toyed with a splitter and slider, but I haven't added them in fully yet.
What's the importance of location in your pitching style?
It's huge. I've hit 90 before but it's not really my thing to blow pitches by guys. Location helps every time, so that's my main focus, because a perfectly placed pitch is almost unhittable.
What are your baseball aspirations. Do you desire to go pro?
I am just taking things as they go. I'd obviously love to reach that stage and will continue to work towards that goal and I'll never pass up that chance, but I also do need to have that contingency plan just in case baseball doesn't work out.
If you could face one batter, who would it be?
Mike Trout. He's one of the greatest hitters of all time, so facing him would be a great battle to have.
The team is in the semifinals. What do you think you guys need to do to take you over the top?
Just stick to our game. This team is full of contributors and we've really grown close over this season. It's been missing in past years, but we feel like a really complete team.  To make it to the top, we're just going with what has worked all season for us.
Does being an underdog against Penn-Trafford motivate you guys?
Absolutely, and it always will. We've felt like underdogs the whole season and now that we're facing the top speed that feeling comes back. In the pre-season, a Post-Gazette article didn't even have us ranked. We have that hung up in the locker room as a reminder to prove everyone wrong.
Why could this team go all the way?
It's that bond we have. We're a brotherhood.  It can take us just as far as it wants us to, and we're ready to go all the way.
About the Writer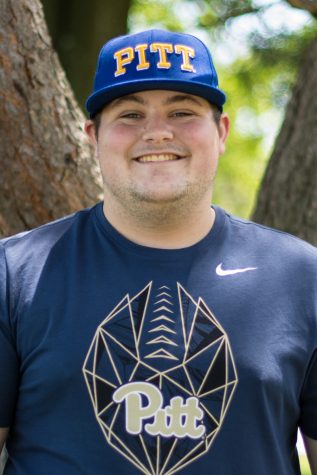 Nick Farabaugh, Sports Editor
Nick Farabaugh is a senior at NASH and the sports editor for The Uproar. Nick is a writer for SB Nation's Behind the Steel Curtain and is a WPXI Skylights...