Good Talk: Mr. Solenday
Hang on for a minute...we're trying to find some more stories you might like.
For my final interview of the year, I finally had the chance to sit down with Mr. Solenday and ask some of my most burning questions, both personal and professional.
Who is your favorite daughter?
I would have to say Lori Solenday, my favorite daughter of Paul Schwartz.
Can you explain how your calculus abilities skipped over me and went straight to Ashley?
Yeah, I took help where people offered.
What's your guilty pleasure?
Professional Wrestling. I know I shouldn't watch it, but I still watch it. I've watched it since I was twelve years old, and I'll probably never stop.
When your Alma Mater, Baldwin-Whitehall, faces NA in sports, who do you root for?
At this point, I root for the University of North Allegheny, but other than that, I still root for the fighting Highlanders in their purple and their white.
Do you have a favorite math formula or theorem or mathematician? What is it or who is it?
My favorite mathematician might be Gauss because Gauss's teacher allegedly told him to keep him busy in class to sum up the first thousand positive integers and he came back with it in a matter of seconds, and it was the basis for the sigma notation that's used in class today. And even though the story's probably not actually true, I've always liked the story, so I've always liked Carl Fredric Gauss.
What would you do if you didn't teach math?
That's a fair question and one I'll have to deal with in a few years. I'd probably be in the service industry somewhere at this point. I wouldn't mind being a bartender or a waiter if I didn't need as much money as I currently earn. I wouldn't mind taking a job like that just for fun. And I like interacting with people.
What do you and Mom fight about when I'm not home or when I'm not awake?
The same things we fight about when you are home and awake. I don't  know. I don't think we fight that much. Finances a little bit. The short answer is not much.
What do you think of Snapchat filters?
I don't understand it. I have a Facebook, I have a Twitter, I have an Instagram. I don't have a Snapchat. I think it's weird and unnecessary and silly. So I don't know. I know there's like a gender-bender formula now that's out, I think, that's somewhat controversial. I don't get any of that stuff.
When was the closest you ever came to quitting?
To quitting teaching? There was a time where a student attempted suicide and it really got to me and luckily they were unsuccessful — but that was the one point where I didn't know if I wanted to deal with all the heavy teen angst. A lot of times the teen drama is just funny and silly to me because I'm not a part of the "scene." But when serious stuff goes down with a kid, I just don't know sometimes if I have the emotional wherewithal to deal with it. During my second year, I told one of my mentor teachers, "I don't know how I'm going to get through thirty more years of this." And he said, "Well, the good news is you don't have to do them all today." So it's what I try to keep in mind, that both good days and bad days are fleeting and even though there have been times where I've considered going into another line of work, it passes. I love this job, I love this school, and I love the grades of kids that I teach.
What's your Starbucks order?
My Starbucks order is probably your Starbucks order. My Starbucks order is irrelevant is the answer. Alright, it's a large regular with just milk in it. But, for you parents/teachers/students who are out there wanting to get gifts for their teachers, maybe enough with the Starbucks cards — we don't drink that much. It's nice. The liquor store gift card was nice. The steakhouse gift card was nice. The Starbucks ones, you know this, I have a stack of them like this, and I usually just buy for Ashley's softball team. So enough with the cards. But, put this in too, they are appreciated.
What's your NASH Cafeteria order?
My NASH Cafeteria order is what used to be known as the Coach Art Walker Mashed Potato Bowl. I don't know if he still has that trademark or not, but it was delicious. And I usually just get the deli sandwich, usually the chicken salad, which is surprisingly good. As you know, I once broke a tooth on the Big Tiger Burger that they used to serve here, so that is definitely off the list. I've had numerous dental problems because of the Big Tiger Burger, and I'm still paying for it, and I think the least the school district could do is pay for that burger from the year 2005.
If you had to redecorate your classroom, what would you do?
I would install windows to see the outside world. My students know I draw a window on my wall and just longingly look out there some days when they're being…dolts. So yeah, I would have windows, and I would have skylights. I used to teach in a room in this building that had a sink. I'd put that in, I'd put some plumbing in. Maybe some shag carpet. I do want to watch this year's Super Bowl on my Promethean Board, though. I think that'll be fun.
If you had to switch places with one staff member for a day, who would it be?
I want to get a good answer for this. Like a couple names pop to mind, but that's not my official answer yet. I'd like to see what goes on in Mr. Kodenkandeth's room, so that's the first name that pops in, but I don't think that's my answer. I would like to know what Officer Ray knows. I think that would be a good one. I think Mr. Morris has a cool job. I'm not kissing up to him because this is for his class, but I think the the TV and newspaper stuff would be a cool experience for me. Let's see if there's anyone else. I think that's all I got.
What are your opinions on libraries?
I'm pro-library. Who could be anti-library?
Pitt or Penn State?
Penn State, but I've always liked Pitt, as you know. The two schools will play one more against each other, and we'll be rooting for opposite teams. If you would've chosen to become an Ohio State Buckeye, you would've become an orphan, but I have no problem with the University of Pittsburgh, even though I'm "forever true to the dear old white and blue."
Top three math teachers at NASH?
It's just all me.
What's the best thing you've ever dressed up as for Halloween?
I dressed up as Charlie Brown last year when I was at Marshall Middle School. I shaved my head and just drew one hair on the front of my forehead and wore my shirt that I got at King's Island, and it was good, except most of the kids didn't know who Charlie Brown was. I guess it is a generational difference. Peanuts is no longer a thing.
What do you do in your free time?
I cart my kids around because they don't have their drivers licenses yet. I've run some 5Ks. I am the fantasy football commissioner. I read at church. I read at weddings.
What advice would you give to NASH students?
The same advice I give to everybody is just to enjoy every stage of your life because you have no other choice. Make the best of it, even in bad situations. I sincerely hope that the days that you counted down to your last day of school or to graduation or to whatever you guys are counting down to are the worst thing you ever have to deal with in life, because if so, that's a really blessed life. But enjoy if you go to college or if you go to work or if you go to the Service — enjoy it, and then if you're someday married, enjoy that. And if someday you have kids, well, try to enjoy that.
What do you think is the best NATV video that has ever aired?
Alright, there's recency bias because it was just on last week, but I really liked the Captain Ingomar History of NA skit. Mr. Morris will tell you that the standard still is the Alleluia Smasho video with former principal Dr. Lawrence Butterini. But I think those are the top two, aside from the ones I was in. I was in the Girl Scout Cookie Bee video, the Breakfast Club one, and the PDA video.
Anything else you want to share?
I hope that it's clear to the people I work with and the students I teach that I love this job, that I have fun coming to work, and that by the end of the summer I'm definitely ready to come back, even if they're not. There are worse places to be than North Allegheny, despite the lack of windows, despite the same bricks that you see from fifteen-year-old NATV videos that are still there and haven't changed except that they're more crumbly now. Aside from the negative facts, there are so many worse places to be than here in this learning environment. I'm blessed to be here, and I'm ecstatic to be here after twenty years, and I don't see that changing over the next X years that I have left.
About the Writer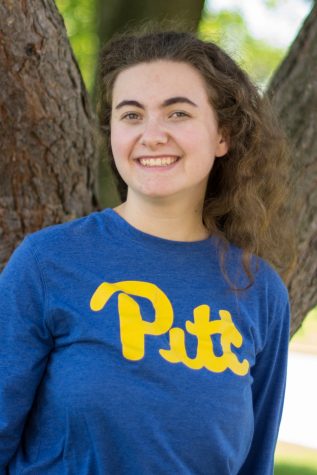 Samantha Solenday, Assignments Editor
Samantha Solenday is a senior at NASH this year. Among other things, she is a member of the NASH choirs and speech and debate team. Next year, Samantha...