One Last Lesson
Teachers share a final lesson for the class of 2019
Hang on for a minute...we're trying to find some more stories you might like.
Our teachers have been there through it all. And now at the end, the greatest influencers on our education have some last words of wisdom…
"Pay attention to what's going on around you, and take responsibility for your actions. No matter how you feel, you're responsible for what you do." – Mrs. Smith
"Explore. Everybody at this point has ideas about what comes next, but there's a lot of wonderful things out there that they don't know about yet, so in your education, if you have an opportunity to explore, take it, and see if that might become your next passion. Keep reading. And keep learning." -Mrs. Weinand
"My advice is, like the transcendentalists say, to trust yourself because the universe seems to have a way of working out when you listen to your instincts, trust yourself, and don't worry about what anyone else is doing. Just stay true to yourself. Stay strong to yourself."  -Mrs. Rhinehart
"Really make the most of your college experience. The people you meet, the classes you take, the friends you'll love, and the professors you have will profoundly affect the rest of your life. You are only young once. And the people and ideas and books we cherish in our youth, we carry with us for the rest of our lives."  -Mrs. Morris
"Always go to class. Whether you are too tired, stayed up studying all night, or just were hanging out with friends super late, always show up." -Ms. Yakich
"Everyone has told you your whole life that college will be the best years of your life. And it is, possibly, the most fun time in your life, but not at first. I knew a lot of students who went in on day one of college thinking, "I'm going to be having fun non-stop," and were shocked by the fact that it's really hard to start, and I'm not just talking about academics. You're going to a place where no one knows you anymore. They don't know your personality or understand you, and you don't understand them yet. That first semester, don't think you made a bad choice because you're not having the best time of your life. It's not that you chose the wrong school; it's that the first semester is difficult. That best time in your life will come once you get your feet under you." -Mr. Hannan
"As you go through life, make sure you take mental snapshots of the important times of your life so that you can remember them. Because life is going to go faster than you think." -Mr. Lyons
"Always strive to achieve balance in your life, but remember that to achieve balance, there is an assumption of imbalance."  -Mr. Rhinehart
"Don't let any barriers get in the way of you achieving your dreams." -Dr. Kreider
About the Contributors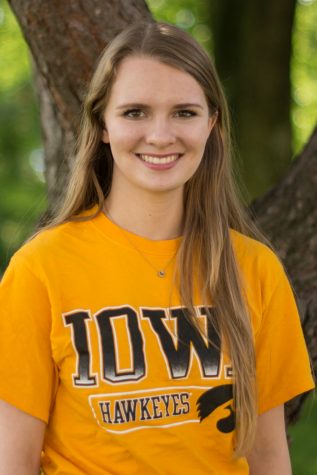 Rin Swann, Reporter
Rin Swann is a senior at NASH and, in her spare time, she enjoys drinking Peach Snapple, musical theater, and plotting for her inevitable take-over of...