New to the Mix
It can be a challenge to transition to a new school, especially one like NA.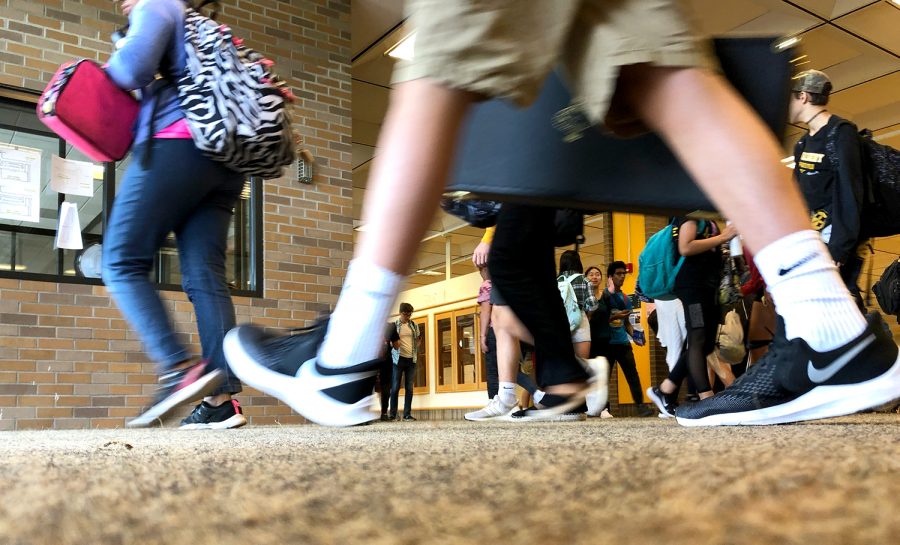 April Ramirez, Staff Writer
September 12, 2019
NA is like a mini-campus. Students who have been going here for years still probably don't know fifty percent of their grade. Just going from NAI to NASH is a big challenge. But being completely new to the district is on a whole new level.  I should know.
Some teachers don't even know whether their students are new or coming from NAI, so students new to the district are rarely acknowledged as such. It can certainly be challenging to feel like an unknown in such a bustling building, but for some new students, the experience can be life-changing.
"I was so happy [to move to NA]," said Haylee Oravitz, a junior. "It is so much better than Northgate,"
Another new junior, Luisa Stevens, came from Germany to Pittsburgh. "It's definitely a big difference," she said. "It's going to take a lot of time to feel at home here."
Coming from one school to another can be difficult and sometimes intimidating, especially if it's a big school like NA. I also just moved to NA from Avonworth, so I know how these two juniors feel. At first, I was intimidated and a little afraid to come here, as I came from a small school with graduating classes that barely reach 100 students. Before Avonworth, I was at Gateway, and Baldwin before that.
"
Coming from one school to another can be difficult and sometimes intimidating, especially if it's a big school like NA."
The first day here at NA wasn't hard, though I admit it was scary because I was not used to how NA runs.  But after a few days, I was glad I moved.
My counselor proposed that I would sit with another student at lunch who is also new to the district. I was hesitant at first, but then I took the opportunity to meet Haylee and Luisa. We all had different experiences to moving, Haylee was happy, Luisa thought it was a lot different, and I was feeling both. We all thought it was a new change — challenging, yes, but it was not a vigorous change. Just different. Even kids who have gone to NA since middle school can be intimidated. I quickly realized that everyone feels different here, whether it's an exciting feeling or a scared feeling. Some kids might feel both or nothing at all.
School is stressful enough as it is, but being in an unfamiliar setting can throw your whole pattern off, making it difficult to focus on schoolwork or extracurricular activities. Some kids are not able to have time for themselves or their friends. Many don't start working until summer, because they feel hurried to finish work for school, have practice for sports or certain clubs to attend.  Being the new kid can make all of that even more difficult.
The process of moving to a new district can be long and hard. For some new students, it can be easy to settle in with the crowd and get used to the schedule, or maybe it is just that they are used to moving to and from other places. For other students, it can be hard and maybe even frightening.
But if I've learned anything from my experience, it's that moving to a new school can give you a lot more opportunities to branch and find new hobbies and potential careers, as well as meet new people.