Haleymae Takes Friday Night
Football kicker Haleymae Graf makes history as the first female to score a varsity point.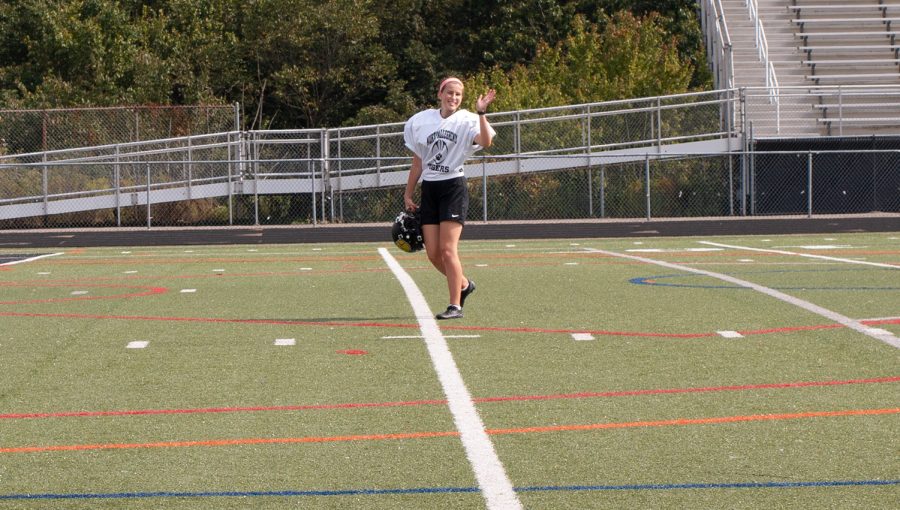 Maria Cima, Director of Podcasts
September 13, 2019
This year there is a new sight pulling people from their homes and to Newman Stadium on Friday nights. For the first time in NA high school history, there is a girl scoring points on the varsity football team. While this might sound like a mediocre Disney Channel original movie, it's actually the remarkable story of Haleymae Graf.
While Graf, a junior, is not scoring touchdowns or tackling the quarterback, she has the important duty, along with her teammates on the kicking squad, of scoring extra points and field goals.
"The first time I became interested in being the kicker was 7th grade when my grandma told me about my grandfather, Joe Frank," Graf said. "He was an NA middle school football coach. She told me that he had a girl kicker on the team for a season, and she was actually pretty good. She then mentioned that I should try to kick a football since I was good at soccer. It stuck with me ever since."
Football kickers inevitably face a daunting task, as their performance can change the outcome of a game.  For a female on an all-male team, the pressure is even more amplified.
"
This is not all about me, I am part of a team, and we can't win unless we have all parts."
— Haleymae Graf, NA Football Kicker
"There was a time when I was unsure about playing football," Graf said. "I wondered if I could handle the pressure, if I would get hurt, and if I could keep up with the boys. Even though I had these doubts, I continued forward and quickly learned that the team had my back, and it didn't matter if I failed or not. I was going after my dream."  
Graf went into tryouts with little fear and tackled the expectations of her critics.
"It was very intimidating being with all the boys, especially the first practice, but I quickly became more comfortable with the help of the coaches and the other kickers," she said. "They went out of their way to make sure I was always informed and felt comfortable at practice."
Kicking Coach Dom Gliozzi has been especially pleased with Graf's progress.
"Haleymae is a fine athlete who wanted to try something different, and kicking has been a good fit for her," Gliozzi said. "She works hard at her craft, and just as importantly, she realizes how much of a team sport this is. She doesn't look for individual glory but focuses on using her position to help the team win."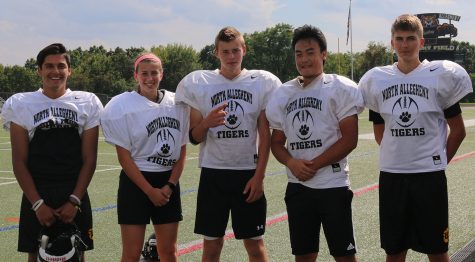 While it would be easy for Graf to let all the publicity go to her head, she has taken the philosophy of the coaching staff to heart.
"This is not all about me," she said. "I am part of a team, and we can't win unless we have all parts. I just wanted to kick field goals, and now I am doing my best to complete my job to suit the team."
Graf made history when she scored against Norwin late last month.  She became the first female in NA Football history to score a varsity point.
"I really had a 'wow' moment after the first game when I  realized what I had accomplished," Graf said.
With a solid lineup of kickers on hand, Gliozzi is delighted to see how Graf has found a home on the team.
"Her teammates accept her as they would anyone else–very willingly," he said. "She has secured the job as the placekicker for the junior varsity squad, and we look forward to continued improvement from her as the season moves along."
About the Contributor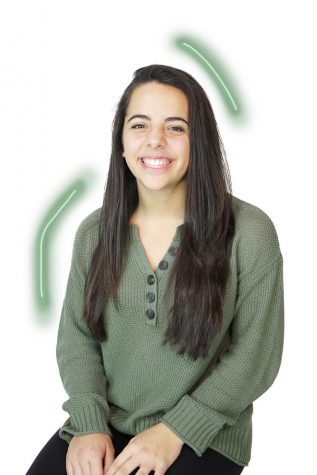 Maria Cima, Director of Podcasts
Maria Cima is a senior at NASH and on her third year as a staff writer for the school newspaper. As well as writing for the Uproar, she is also a captain...