Final Countdown: Friday Night
A photo timeline of the antics and the events before and after a Friday night with the Marching Band
Hang on for a minute...we're trying to find some more stories you might like.
Each Friday night during the fall, thousands of spectators witness the Marching Band's performance.  Significantly fewer, however, see what the group does before and after the big night.  The timeline below shows how, from the moment the school day ends until nearly midnight, a typical fall Friday is filled with excitement and focused preparation.
//2:30pm//
Alex Hoare and Noah DiBiasi play the marimba with two mallets in each hand, as Lily Stromberg watches in amazement. The Marching Band's front ensemble includes 17 members who play various instruments, including marimba, vibraphone, xylophone, and electronics. The music for the front is very difficult, so the members like to practice every chance they get.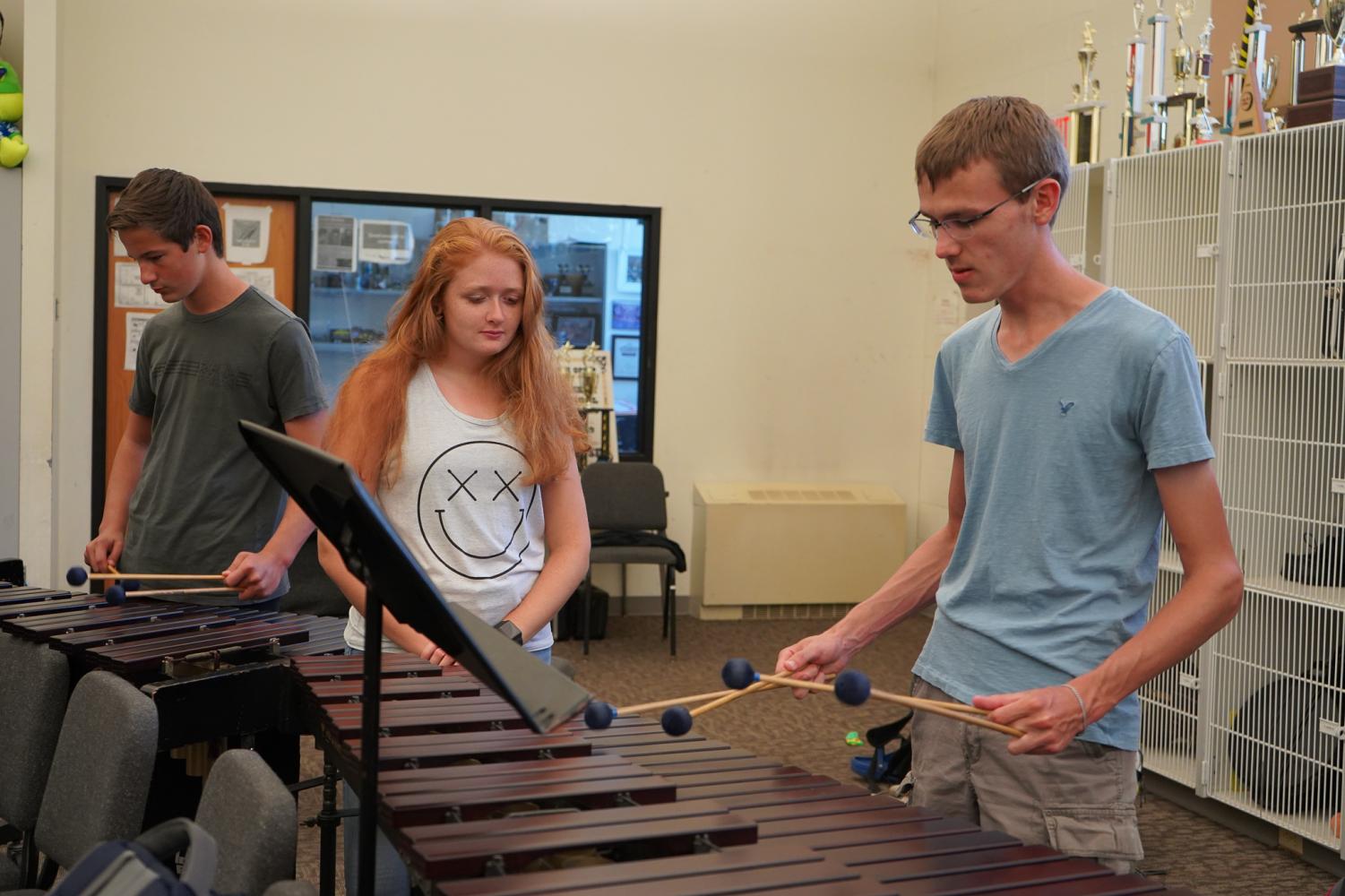 //3:00pm//
Snare Captain Malia Wilson practices various cadences before the Friday night performance. Malia starts every cadence during parades and the pregame show, so she has to have all that music memorized.
"My favorite part about being snare captain is that I get to bring together kids from all grades and unite them through music — that's just plain cool," she said. Malia has been co-drum captain for two years, along with senior bass drummer Brett McCutcheon.
//3:30pm//
Alana Porche chows down on Moe's chips before the big game against Central Catholic. The members sometimes have to eat dinner at abnormal times in order to be ready to leave for the game at the early call-time.
"My favorite place to eat is under the tree in the front of the school," Porche said. "I don't care what food we eat, but I like eating there because it is fun to sit with all your friends on the grass, it's like a picnic. It's not in a restaurant, so you can sit in a circle and see everyone and say whatever you want without any judgment."
//3:45pm//
Joe Wiethorn, Ainsley Ferron, Tori Huchinson, Jack Palicki, and Jared Pfister play on a Nintendo Switch ahead of their call-time at 5:30. Many of the students have downtime before they leave, so they like to hang out with friends.
"I like to practice the guitar immediately after school and then drive to dinner and hang out with all my friends," Ferron said.
//4:00pm//
Amanda Slusser, a senior snare player, practices to memorize her music on her drum pad. A part of being a percussionist for the Marching Band is having to memorize all of the music before going onto the field, rather than carrying a lyre and flipbook attached to the instruments. 
Band kids are talented at memorization. They must have at least ten songs memorized every season, including the entire pre-game show, stand tunes, the halftime show, and all the parade tunes.
//4:30pm//
Sarah Foody gives a big thumbs up after putting her majorette makeup on.
"I like home games and away games pretty evenly," Foody said. "They both have their pros and cons. During home games, we actually have our batons and get to perform on the sidelines. On the other hand, at away games, we just have our baby batons, but I like the long bus rides."
//4:45pm//
Carly Graham assists Samia Parvez in putting on false eyelashes before twirling the baton on the field. The auxiliaries all hang out in the cafeteria while eating, having fun, and assisting one another with makeup and hairstyling.
"I think that my favorite part of the band is being a part of a group that is so supportive and being able to create great memories with them that I think will stay with me throughout my life," Parvez said.
//5:00//
Autumn Bulebush-Clouse shows off her makeup job, which lasts through sweat, rain, and long parades. All the auxiliaries, including the dance team, the majorettes, and the color guard, have an earlier call time every Friday to work on their makeup and hair. 
//5:15pm//
Holly Dougherty and Hope Wright quickly eat their pizza as call-time approaches. On Friday nights, the members of the band like to eat out with their friends at the various restaurants near the school.
Some students don't have enough time to eat before call-time, so they bring their food with them on the bus ride to the game — a favorite being the Monte Cello's Conley Cookie.
//5:20pm//
Color guard member Corrin Greenleaf helps put Mary-Grace Miller's hair in the traditional ponytail with a poof. In October, they add pink bows into their hair for Breast Cancer Awareness.
Every Friday, the Color Guard can be seen on the field waving their flags and tossing rifles during the pre-game halftime shows.
//5:25pm//
The uniform room opens, and Theo DiBiasi takes his black uniform to the trumpet section of the auditorium — the loudest area of the auditorium. The trumpet section, consisting of 40 members, amazes the crowd every week with their 2019 show, "Right Now."
The uniform room is located along the stage and holds all 150 of the musicians' uniforms, hats, sewing materials, and so much more. They open an hour before the band's call-time to assist students with any fashion needs or wants.
//5:30pm//
The loading crew loads the trailer. Ben Cochran, Brandon Zeitler, Michael Barnett, and Nate Gierzynski load sousaphones, trombones, bari saxes, tenor saxes, and drums to be transported to the field. The smaller instruments, like flutes, clarinets, trumpets, and alto saxophones all ride on the school buses with the students.
"There are so many aspects that I enjoy about the loading crew," Zeitler said. "I like how we can change out of our uniforms immediately after the game, and we can relax before and after putting instruments onto the trailer."
//5:45pm//
Junior Thomas Wang runs up the aisle of the auditorium with his uniform bag, trying to get back to the auditorium seats before the band directors dismiss students to the buses.
"I had to run up the aisle because I was already late for a club meeting, and I didn't want to be late for this call-time," Wang said
//5:45pm//
Band Directors Mr. Stefan and Mr. Baldanzi get the band hyped before boarding the buses on the way to the game against Central Catholic. The 240 members of the Marching Band take eight buses to every away game and parade they attend. The directors ride bus one with the senior members of the band.
//6:00pm//
Andrew Johnson puts on his sequined vest before getting off the bus. The uniforms the band members currently wear are thirteen years old. The band uniform consists of black drillmaster shoes, above the ankle socks, black overalls, the vest, and a hat with a black and gold plume on top. 
//6:30pm//
Eli Prem laughs at a joke thrown about on the band bus as he puts on his uniform pants. It can be difficult to get dressed on a moving bus, but the band kids have it down with no trouble.
"I think people would be most surprised to know that we stand around and wait a lot," Prem said. "Most people probably think that we are so busy, but we're not."
//6:35pm//
Drum Major, Ian Rampton, ties his white shoes. The entire band can be seen on Friday nights sporting their black uniforms, but the drum majors wear all white to be seen easily from the stands. During away games and parades, the three drum majors wear their white uniforms, and during home games and festivals, they can be seen wearing their tuxedos.
//11:00pm//
Meryem Marasli, Mia Miller, and Sakeena Badrane are exhausted after a long and exciting game. Immediately after the late-night game, band members try to fall asleep on the bus ride home, before being rudely awakened upon their arrival back to school. 
"Since we're seniors, we cut the line," Marasli said. "We were tired and felt like it. As soon as we got home, we fell asleep." 
//11:15pm//
Band students anxiously wait to return uniforms after a long night. Parent volunteers work tirelessly in the uniform room to put uniforms back on the designated racks of all 150 musicians.
 "Waiting in the line feels like an eternity," Vicky Rojas said. "I feel hungry, I feel tired, and I just want to go home."
//11:30pm//
Aydan Klobuchar escapes the monstrous mob that is the uniform return line. As the buses arrive at the high school, students rush to get first in line because the wait can be excruciatingly long. 
"I really enjoy the thrill and fun of Friday night games," Klobuchar said. "From parades to playing stand tunes, it's all-around a dope experience. Away games don't have the same fire. It's still cool to see other schools' marching bands and watch a free game."
//11:40pm//
Emilie Whitewolf and Amy Hendricks talk to Logan Henderson while waiting in line to return uniforms after the long bus ride. Shaler Middle School is only twenty minutes away from NASH, but loading instruments and getting all 240 students back on the buses took up to an hour.
"I sit on the bus with most of the percussion section, and there's almost always at least one person with a speaker that they play music over," Hendricks said. "We all just dance and sing along, which pretty much lasts the whole bus ride."
About the Contributors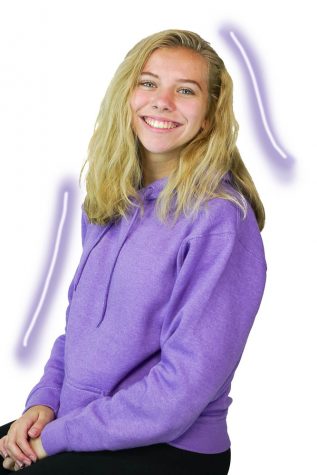 Meg Rees, Photography Editor
Meg Rees, a senior, loves everything photography. She will be majoring in commercial photography next year at Ohio University. When she's not behind the...