Spikeball Spectacular
Spikeball has been growing across the country for years, and now it has come to NASH.
On Tuesday afternoon, the area of grass in front of NASH was transformed from a desolate patch to a space full of laughter, competition, and… Spikeball nets.
Spikeball is a yard game that feels like a hybrid of mini-volleyball and foursquare. It first became popular when it first aired on the TV show "Shark Tank." In the past decade, the company has grown an astonishing 2,700%. 
Juniors Dom Gralia, Patrick Fenlon, and Dylan Noker began playing the game over the summer. They gathered some friends a few days a week and taught themselves. When the school year started, they saw an opportunity to take it one step further. 
"We played a lot over the summer," Fenlon said. "It's a fun game. We thought that we wanted to start a club."
So, the three friends got a list of signatures from students who said they were interested and enlisted Mr. Kyriazis to be the club's sponsor. Now, Spikeball is an official club at North Allegheny.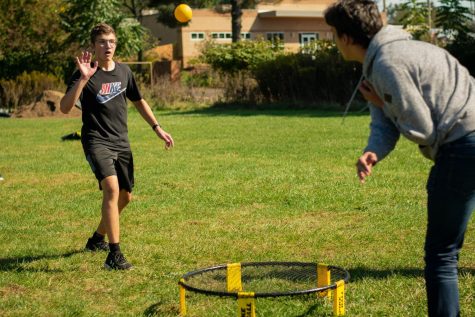 "We love it, so we wanted other people to feel that enjoyment," Noker explained.
It seems, even for those who have little experience, playing Spikeball gives them a nice chance to relax.
"I had no clue what I was doing, but I caught on after a few days," Andrew Dubinett, also a junior, said. "People should definitely come and try it. It's easy to learn." 
Junior Thomas Tyndall concurred. "I'm pretty bad at it, but I have a good time regardless,"  he added.
Gralia emphasized that enjoyment is the main goal. "I want it to be a fun, low-key environment."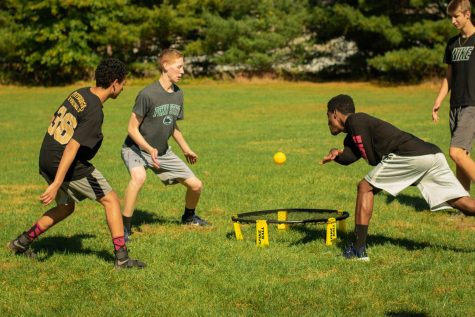 That kind of atmosphere is certainly established. However, it's not difficult to notice the lack of girls participating. While several girls did sign up and show interest, very few have attended one of the two previous meetings. This is perhaps one of the biggest struggles for the up-and-coming club, and it's something that the co-founders are trying to change. 
"We want more girls to come and try Spikeball. I just think we need that 'first-step' to increase female involvement," Gralia said. "The game is played the exact way for everybody."
He believes that, in order for more girls to come, someone initially has to try it, spread the word, and recruit their friends.
As for the future, there are already some big plans for the end of the year.
"I hope we get a big turnout for the charity tournament this spring," Gralia said. It will benefit Hearts for the Homeless, a non-profit that provides food and supplies for those in need.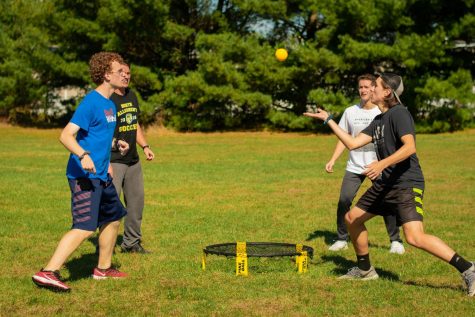 Until then, the group plans to keep playing, recruit new members, and continue to enjoy time with their friends.
"There's a sense of togetherness," junior Sam Escourt said. "Despite a person's skill level, we're all just here to play and have a great time." 
Spikeball Club meets every Tuesday after school. More information is available on their Instagram, @NASpikeball.