A Little Too Woke
YouTuber Lilly Singh deserves credit for succeeding in a media world dominated by white males, but she's squandering a valuable opportunity to make a real difference.
If you don't know who Lilly Singh is, chances are you haven't been on Youtube in the past ten years. With 14 million subscribers and over 3 billion views, she's better known as her YouTube persona iiSuperwomanii. Singh paved her way to stardom on social media platforms, especially her YouTube channel, a hub for parodies and sketches featuring her pretending to be her parents.  And her star has risen to the late-night talk show circuit, where she hosts A Little Late with Lilly Singh.
But as much as I, a fellow South Asian, have rooted for her, I can't help but admit that it has all been quite disappointing.
I remember binge-watching her videos when I was younger because she was relatable, funny, and provided Indian representation on social media. What was there not to like? I had finally found a popular YouTuber that I could relate to on many levels.
For many Generation Z kids, YouTube was a big part of our childhood, and as we grew up, so did our taste in videos. Most YouTubers had to either adapt to the platform's evolution or grow with their audience — if they didn't, they would experience a massive drop of viewers.
Singh is a case in point.  She managed to keep her content somewhat similar but didn't expand her audience, so she never really grew with her audience or created content that met the expectations of her maturing audience.
"
Imagine being lucky enough to bring in a seven-figure salary and still complain about an arbitrary and falsified list that no one under 40 probably reads."
Singh was noted as one of the 40 most powerful people in comedy. She's similar to Lele Pons and Liza Koshy, who use crude adult humor in an awkward family-friendly package. There's a market for this kind of comedy, which Singh has clearly found a way to profit from. However, it just seems that anyone over the age of 14 would have a hard time enjoying her content. Half-baked comedy is not all she is known for; she's gained attention from some of her blunders in the past. Let's just say she isn't a stranger to the old "apology on the Notes app" post.
YouTuber entitlement occurs when those who try to hide their narcissism behind a veil of dishonesty create a divide between them and their audience, aggrandizing themselves in the most manufactured, elitist way. And that's where Singh kicks it up to another level. In December 2018, when Forbes published its list of highest-paid YouTubers, including big names like Markiplier and Logan Paul, none of the top ten spots were women, which Singh was quick to point out on Twitter. As you can imagine, this tweet was not well received at all. Imagine being lucky enough to bring in a seven-figure salary and still complain about an arbitrary and falsified list that no one under 40 probably reads. Singh's forced victimhood was called out by many creators on the platform and many of her fans, forcing her to type out an undeveloped apology on Twitter that oozes contrived remorse and positivity.
The shame is that, as much as others like to complain about YouTube, it actually offers enormous opportunities for women and minorities. Success on YouTube is primarily dictated by the viewers, and there's already a large number of successful women on YouTube, including Singh.
"
It's not just the fact that she's a liberal or a feminist that distances some viewers; it's the way she imposes her identity on her audience."
Yet, whether she's going after racist white guys in her comment section or the patriarchal undertones of social media, her theatrical moral grandstanding doesn't tend to sit well with a lot of people.  It comes off as disingenuous, and it turns people away from advocacy for the important causes she claims to support.
Singh's most recent accomplishment is taking over Carson Daly's spot in late-night television. When I first heard the news, I was elated. Most late-night talk show hosts are middle-aged, straight white men — Singh is brown, bisexual, and female. I was excited for a fellow person of color to represent the South Asian community. It wasn't until the show had actually aired that I remembered why I stopped watching her videos.
Her material mostly focuses on "identity comedy," which alienates a lot of the audience. Every other joke on the show is about her being brown or female. Now, her show is only a couple of months old, so she needs time to focus on her material to find her audience. But it will probably take some serious self-examination for her to change.
It's impressive that Singh has gotten this far, and she is fortunate to be in the position that she is in, which makes it even more frustrating that she doesn't do more to make it something special. She has an incredible opportunity to do something profound with her platform.
Truly, I don't want to see Singh's show fail.  At the very least, I would like to say there is someone who looks like me on late-night TV.
About the Writer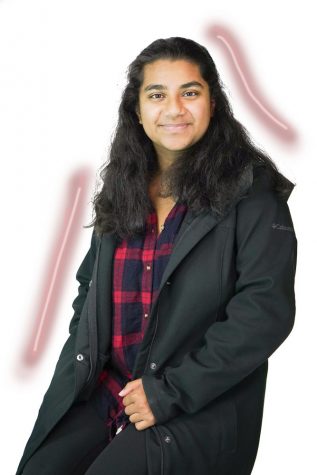 Somya Thakur, Staff Writer
Somya is a veteran member of the NASH Uproar.