The Streaming Wars
Take a closer look at Disney's new streaming service Disney+ and how it compares to leading competitor Netflix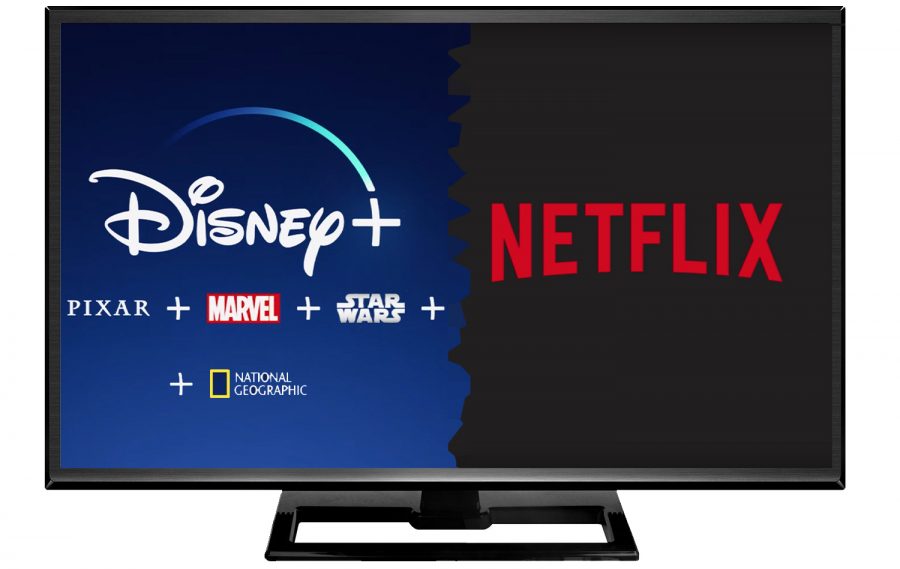 Disney's new on-demand streaming service, Disney+, launched on Tuesday, November 12. With Disney+, subscribers can watch endless Disney movies and television series from their smart TVs, phones, laptops, tablets, and gaming consoles.  The service includes unlimited downloads, so viewers can watch their favorite Disney content anytime, anywhere. 
"It's fun to reminisce on all the Disney shows I watched as a child and binge on them as a senior," Erica Negrini said.
Disney+ has proved to be a huge hit since day one. Disney announced that more than 10 million people subscribed to the new service on the first day. The Disney+ app was also downloaded more than 3.2 million times within 24 hours of the service's official launch.
Many have already been quick to compare it to leading streaming service Netflix and question whether Disney+ will overthrow Netflix's long-reigning title of most popular streaming service.
"There's more of a variety of shows on Disney+ that would never be on Netflix," Negrini added.  "But Netflix is upping their game in response to Disney." 
Regarding cost, both services have varying tiers of pricing. Disney+'s first tier costs $6.99/month, or $69.99/year ($5.83/month) for the ability to stream on up to four screens at a time. This plan includes content from Disney, Pixar, Marvel, and Star Wars studios. Payers will also get access to National Geographic and 20th Century Fox content as well as new exclusive shows. Their entry-level plan is cheaper and has more 'screens' than Netflix's most inexpensive tier, the Basic Plan, which costs $8.99/month for one screen at a time. It's also cheaper than Netflix's most popular plan, the Standard Plan, which totals at $12.99/month for just 2 screens.
Disney+ also offers a bundle deal: viewers can get Disney+, ESPN Plus, and Hulu's entry-level plan for $12.99/month with four screens, which is valued at $17.97/month when subscribed to separately. 
Disney+ includes 4K definition on select titles, compared to Netflix, which charges $15.99/month for the same feature in their Premium Plan.
Despite Disney+ being the obvious winner regarding economics and quality, many still remain loyal to the tried-and-true Netflix.  Why? It's all about the content.
Content-wise, Disney+ currently offers just under 500 films and 7,500 television episodes, ranging all the way from 1928's Steamboat Willie to movies released this very year, such as Avengers: Endgame and Dumbo. Though it's true Disney has plans to expand those numbers, many see the fact that the service only offers Disney-produced content as a limitation. 
"I'd rather just stick with [Netflix]," said junior Réka Götz. "I don't really see the appeal of paying for only Disney content."
To compare, Netflix currently has 3,931 movies and 150 television shows, not counting all the episodes its various shows have. By these numbers, Netflix has almost eight times as many movie options as Disney+.
"My family has both Netflix and Disney+," said junior Quinn Frost. "I really love both; however, I like the wider selection Netflix has to offer."
In addition, Netflix announced a multi-year partnership with Nickelodeon just days after the launch of Disney+. Together, Netflix and Nickelodeon will create original animated feature films and television series based on both the Nickelodeon library of characters as well as brand-new ones. 
"I use my friend's account for Disney+, but I still like Netflix better," said junior Mia Dudek. "There's so much more variety: I can watch Friends, Criminal Minds, or The Office. Disney+ only has Disney stuff, which I like, but Netflix definitely has more options. Plus, I'm pretty excited to see what Netflix and Nickelodeon will create together."
Others have specific shows they enjoy that aren't carried on Disney+. "I personally like Netflix better because I'm currently hooked on a show called Blacklist, and they don't offer it on Disney+," said junior Katie Oates.
Though Netflix currently seems to be holding its own against Disney+, only time will tell what will come of the newfound rivalry.
About the Writer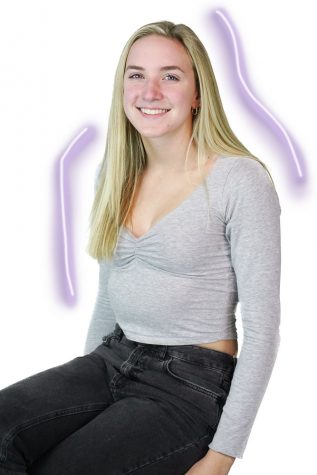 Lily Courville, Staff Writer
Lily is currently a junior at North Allegheny. This is her second year writing for newspaper staff. She swims for the North Allegheny Swimming and Diving...