Late Bloomer?
Just when it seemed that no one else could possibly decide to join the group of Democratic presidential contenders, along comes Michael Bloomberg.
We are currently at the point where the number of presidential candidates should, by all accounts, be winnowing; alas, the number continues to rise. Former New York City Mayor and 77-year old billionaire philanthropist Michael Bloomberg finally announced towards the end of November that he would be running for president after playing a yearlong game of will-he-or-won't-he. For reference, Bloomberg announced back in March that he would not be running and also publicly ruled out running as an independent back in 2016. 
Briefly, here's some context.
Being a former Republican-turned-independent mayor of New York City, Bloomberg is tossing in his hat as yet another moderate Democratic candidate. During his official announcement,  Bloomberg stated, "I'm running for president to defeat Donald Trump and rebuild America," later adding on his campaign site,"We cannot afford four more years of President Trump's reckless and unethical actions." 
He favors liberal, but not progressive, solutions to issues such as climate change and healthcare but can be considered outright libertarian when it comes to fiscal issues such as the ever-controversial topic of taxes and the regulation of banks. In response to certain progressive solutions, he has called the Green New Deal simply unrealistic, while he claims that Senator Elizabeth Warren's proposed wealth tax goes "too far" and that Medicare-for-all would be financially impossible. 
"
The toxic combination of mediocre favorability ratings, low polling numbers, and a reputation as a racist plutocrat, especially among members of his own party, further suggests that Bloomberg has several major obstacles to overcome before he can even begin to dream about winning the nomination. "
Nonetheless, he has taken a progressive turn on the issue of gun control. As an ardent supporter of universal background checks, Bloomberg is the founder and a primary financier of Everytown for Gun Safety, an organization that advocates for stricter gun control legislation and has emerged as a powerful counterweight to the National Rifle Association in the recent past. 
However, the question at hand remains not only whether Bloomberg can quickly gain traction in the polls due to his late entry but also whether he can outshine his fellow moderate candidates by bringing something new to the table. 
In my humble opinion, the simple answer is no.
There just isn't room for Bloomberg on the ballot. According to a recent poll conducted by CBS News, of 18 key primary states, a whopping 78 percent of Democrats are satisfied with their candidates, as opposed to a mere 22 percent who wanted to have more options. 
As previously mentioned, Bloomberg is merely the latest addition to the long list of existing moderate candidates. Aside from Joe Biden, as seen throughout the polls thus far, candidates from the more moderate end of the Democratic party have struggled to gain popularity. And while Bloomberg does not need to waste time making a name for himself like some others, the unfortunate reality is that it is no longer early in the race. 
According to FiveThirtyEight, approximately 62 percent of Democrats know enough about Bloomberg to form an opinion about him, yet his net favorability rating is rather low, making him a true outlier when compared to his fellow Democratic candidates. 
His overly aggressive and arguably racist policing tactic during the mayoral years is to blame for some of his low numbers. Bloomberg's "stop and frisk" policing tactic, one which allowed–maybe even encouraged–officers to detain people based on vague suspicions, search them without a warrant, and arrest them if any sort of illegal substance or weapon was found. The tactic was met with heavy backlash, as it disproportionately affected Latino and African-American men. Although he publicly apologized for his previous defense of "stop and frisk," not all of those discriminatorily affected were satisfied with his apology. Many contended that Bloomberg's apology was a desperate attempt to gain the support of the black community — as well as a rather convenient one for only having done it shortly after his decision to enter the race. MSNBC host Al Sharpton responded by saying, "My position is, clearly, it's going to take more than one speech for people to forgive and forget."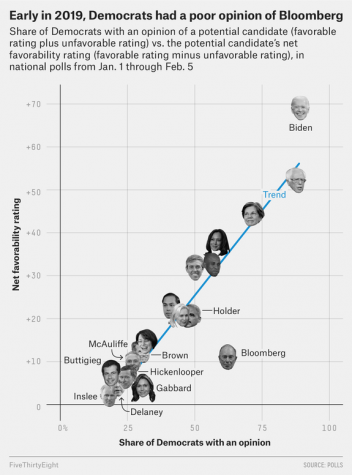 Bloomberg's decision to join the race doesn't, even in the slightest, seem to be well-received by the Democratic base, with the latest Real Clear Politics poll showing Bloomberg pulling through in 5th place at an uninspiring 4 percent. By barely polling at the qualifying threshold for the December debate, Bloomberg is a far cry from being in legitimate contention to win the nomination. And while competition in situations like these generally does not seem to be appreciated, candidates have outright criticized Bloomberg for his campaign serving as yet another testament to how the wealthy try to exert influence over politics. Senator Bernie Sanders told supporters, "You're not going to buy this election by spending hundreds of millions of dollars on media in California." Alexandria Ocasio-Cortez echoed that sentiment by telling reporters, "The billionaires are looking out for each other. They're willing to transcend difference and background and even politics."
The toxic combination of mediocre favorability ratings, low polling numbers, and a reputation as a racist plutocrat, especially among members of his own party, further suggests that Bloomberg has several major obstacles to overcome before he can even begin to dream about winning the nomination. 
Despite the intention of Bloomberg's run being not only about disallowing President Trump from having four more years in office but also fending off the left-wing of the Democratic Party, Bloomberg's presidential bid may have the opposite effect. By joining the moderates, Bloomberg may start to chip away at Biden's and Buttigieg's moderate base, while boosting progressive candidates such as Sanders and Warren. As America has seen in recent years, moderates with an agenda such as that of Bloomberg have only been successful under the support of the black and Latino communities, who tend to be more moderate than white Democrats. However, due to his limited access to this constituency, Bloomberg has little hope of securing the nomination.
Bloomberg, as it appears, is ignoring his critics–and probably his polling and favorability ratings too– and is running regardless. 
About the Contributor
Neeti Cherukupalli, Staff Writer
Neeti Cherukupalli is a senior at North Allegheny School District.  She enjoys writing about politics, eating hummus, and hates birds.