Here is the Clue
I'll take Teacher Jeopardy for $5, Alex
This Friday, December 20th, six select NASH teachers will set aside the unrelenting stress of grading tests and reprimanding students, and pick up a buzzer for the third annual Teacher Jeopardy. Entrance to the event will cost students $5 a ticket, with tickets being sold during all lunch periods.
Students who attend will be treated to several rounds of the classic American game, Jeopardy, and the impressive roster boasts Mr. Solenday, Mr. Mohr, Mr. Tangowski, Mr. Downs, Mr. Shmeich, and Mrs. Prosser.  The teachers were chosen after the distribution of an initial interest form.
"The first five spots were filled within twenty-four hours of us sending out the form," Ashley Chung, the president of the NASH Key Club and organizer of the event, said, "The last spot was filled shortly after."
In the first two rounds, the six contestants will be separated into two groups. The first group is comprised of Ms. Prosser, Mr. Solenday, and Mr. Downs, followed by leaving Mr. Mohr, Mr. Tengowski, and Mr. Shmeich in the second group. A highly classified special student guest will also be joining wining teachers from rounds one and two for the third and final round on stage. This particular student, whose identity has been kept under wraps by the Key Club officers, won't be revealed until the moment they appear on stage.  All The Uproar has been able to learn is that the mystery student's prowess is said to challenge the intelligence of all the teachers on stage.
The event, sponsored by the Key Club, will benefit Grandview Elementary School, an underprivileged school in downtown Pittsburgh.
"
Yes, I want fans cheering for me, and it's a fun activity. But, more than anything, I want them to come and support a great cause."
— Mr. Solenday
Chung said that the main purpose was to "provide access to resources: books and school supplies" and "supporting the school's annual field trip to the Science Center Downtown." Chung added that "many kids tutor at Grandview for volunteer work, so we thought it would be a particularly meaningful charity." 
While the event is ultimately about raising money for charity, the teachers are clearly enjoying the opportunity. Solenday, the AB Calc and Precalc teacher, is already specuating about the topics.
"I did this last year," he said. "I know their tricks. There's always a youth-centered subject to make [teachers] look silly." 
Across the hallway, Tengowski was having the same thoughts.
"On Friday morning, I'll be having what I call a 'pointless kids trivia day,' where I'll go through all the Tik Toks, memes, and internet stuff with my students," Tengowski said.  
Not all of the teachers share Tengowski's and Solenday's ambition, however.
Mohr, for example, claims to "know nothing about movies, pop culture, tik toks, or sports."
The AP Euro and AP Econ teacher added, with a noticeable air of confidence, "I plan on having my academic knowledge hard-carry me through the competition."
Mohr faces challenging competition on the stage, though. Tengowski, in his opinion, will be his biggest rival on the stage.
"Tengowski will win if I don't," Mohr said. "We're both history experts, and we'll be fighting it out."
NATV
While her peers are chasing victory and glory, Prosser is setting her eyes on a greater price, perhaps. She doesn't want to merely win.
"I want to represent for the ladies out in the crowd," she said. 
The intrigue is amusing — undoubtedly — but, in the end, the event is about raising money for underprivileged children, and Solenday wants his kids to know that.
"I'm encouraging my students to come," he said. "Yes, I want fans cheering for me, and it's a fun activity. But, more than anything, I want them to come and support a great cause."
Tomorrow is the last day to purchase a ticket during lunch for $5.  Key Club will be selling tickets at the door at the start of 10th period at an increased price of $7.
About the Contributor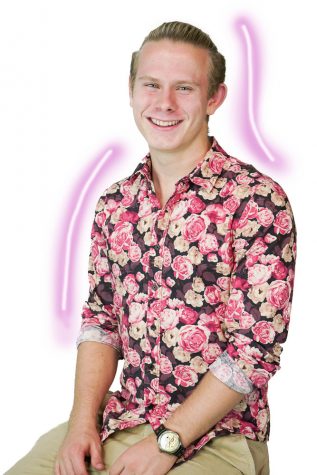 Jonathan Ross, Co-Editor-in-Chief
Jonathan Ross is a senior at NASH. He enjoys brewing kombucha, writing poetry, and starting conversations.