Tarnished Trophies
The doping of certain Russian Olympic athletes has left a stain even on innocent others.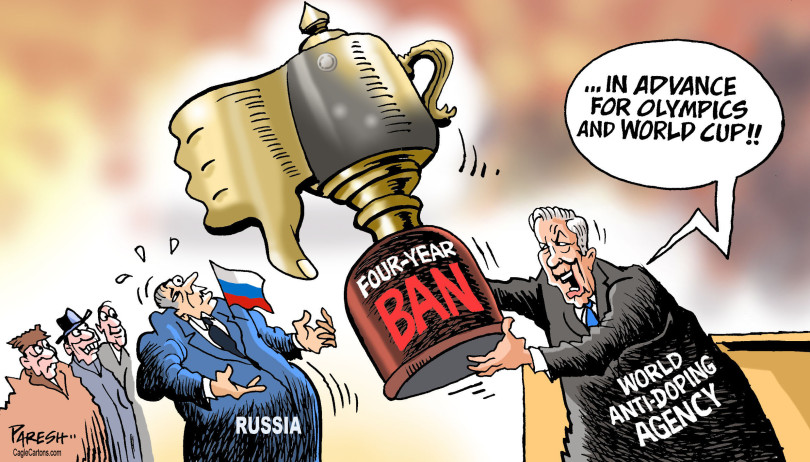 In an effort to please all of the people counting on them, in addition to wanting to satisfy their personal goals, world-class athletes often face the temptation of performance-enhancing drugs. At their level, the drive to win is particularly fierce, but all too often it is fulfilled in dishonorable ways.
Sure, anabolic steroids do have potential benefits, including muscle building and reducing muscle damage during training, therefore expediting the recovery process. But the list of risks is vast and long-lasting. From severe psychiatric disorders and aggressive behaviors to drug dependence and infections such as HIV or hepatitis, performance-enhancing drugs pose a serious threat to bot the health and legacies of top-performing athletes.. 
Despite the fact that doping amongst athletes has certainly been a serious point of conversation for as long as we can remember, Russia, in particular, seems to stand out in the limelight. As seen in the London 2012 Summer Olympics as well as in the Sochi 2014 Winter Olympics, there have been countless allegations of state-sponsored doping alongside lurid details outlining numerous scandals as laid out in a WADA-commissioned report. 
Russia finished in fourth place in London, winning 82 medals at the Olympic Stadium. However, the WADA report compiles an extensive list of Russian athletes, coaches, and doctors that should be given life bans from sport and strongly criticizes the International Association of Athletics Federations (IAAF) as well as the Russia Anti-Doping Agency (Rusada) for failing to stop them from competing despite various signs pointing to illicit activity taking place. 
After a subpar performance at the Vancouver 2010 Winter Olympics, the Russians meticulously planned a doping ploy to ensure their overall victory at the Games, employing dozens of Russian athletes at the 2014 Sochi Winter Olympics as a means of doing so. Facilitating one of the most elaborate and largely successful doping schemes in sports history, Grigory Rodchenkov, the former director of Russia's anti-doping laboratory and whistleblower of the scandal, claimed he had created a three-drug concoction of strictly prohibited substances to be mixed into liquor and later provided to Russian athletes. Russian officials used a "mouse hole" drilled into the wall of a laboratory to surreptitiously replace the urine samples tainted by performance-enhancing drugs with clean samples, eliminating any signs of wrongdoing. Rodchenkov estimated that roughly 100 tainted urine samples were expunged, leaving Russia without any form of punishment and the most medals, allowing them to surpass their rivals at one of the most prestigious sporting events.
With the combination of allegations and Rodchenkov's confession displaying a pattern in Russia's behavior regarding sportsmanship, recently, the World Anti-Doping Agency (WADA) has made the unanimous decision to ban Russia from competing in all major international sporting events for the next four years. As a response to undeniable evidence pointing to state-sponsored doping, the ban restricts Russia from the 2020 and 2022 Olympics as well as the 2022 World Cup. While a ban to this magnitude is unprecedented and, in this case, long overdue, it only restricts athletes from participating as representatives of Russia, thus allowing them to continue to compete as "neutral" athletes.
Although the ban may seem like a major decision that is bound to change the way in which Russians, or any athletes for that matter, handle the choice to take performance-enhancing drugs, it will not stop doping. With a long history of winning various sporting events through the use of drugs, Russia sets a prime example of low risk/high reward, as only a select few of their athletes have been caught doping while the rest remain victorious despite the fact that their accomplishments were achieved in some of the most illegitimate ways. Furthermore, although the ban still allows clean Russian athletes to compete as neutrals, it will be incredibly difficult for them to prove their innocence. Considering the amount of data manipulation and the levels at which previous corruption has occurred, it is hard to say whether the innocent Russian athletes will be able to convince others of their legitimacy. 
About the Writer
Neeti Cherukupalli, Staff Writer
Neeti Cherukupalli is a senior at North Allegheny School District.  She enjoys writing about politics, eating hummus, and hates birds.