Good Talk: Mrs. Sullivan
Meet the DECA adviser who is passionate about positivity and a little relaxation when the day's business ends!
How many years have you been teaching at NASH?
30 years of active teaching. I was hired as a long-term sub in 1987 and, after taking off 3 years to raise my kids, I never left. 
Favorite memory in your teaching career? 
It's hard to pick just one. Most of my favorite memories are seeing my students succeed, especially in DECA. I had a troubled student who came back to see me and he was in a military uniform and had really cleaned up his act. It was nice to see that he turned his life around and was doing well. I love when former students come back and visit. 
What do you enjoy doing in your free time? 
I enjoy spending time with friends and family, bargain shopping, decorating, entertaining, traveling, and walking my dog. 
What would you be if you weren't a teacher?
I have no idea because I always felt like this is what I was meant to do. 
Where do you see yourself in ten years? 
Ten years from now, I see myself retired and hopefully traveling and enjoying my retirement. 
What is your favorite movie or TV show? 
I don't have one favorite, but I like romantic comedies best. 
What would your perfect vacation entail?
Sitting on a lounge chair on the beach, watching the waves rolling, and relaxing. 
Any standout DECA memories?
I was working at graduation and Dr. Kreider announced DECA among the list of academic student achievements. It was the first time it was publicly recognized in front of lots of people. 
What are you looking forward to the rest of this school year? 
Going to Nashville for the DECA ICDC. 
Favorite food or restaurant? 
I hardly ever go out, but my husband's an excellent cook, so anything he makes I love. 
What class or topic do you like teaching the most? 
It's probably Marketing because it encompasses a lot of different topics. 
Favorite place you've traveled to?
San Francisco and the wine country. 
What is something that people wouldn't know about you?
I listen to positive, encouraging KLove 98.3, and I listen to a lot of self-improvement books because I am always trying to better myself. Also, for years I taught with my high school teacher from Bethel Park, took her spot when she had a baby, and then moved back into teaching Marketing when she retired. We worked on DECA together and became really close friends, which is kind of interesting considering that she was my teacher. 
If you could choose to do anything for a day, what would it be?
Go to the spa for the day and get the full treatment. 
Best advice you were ever given? 
Don't worry about things you can't change. 
What is a song that puts you in a good mood? 
"Walking on Sunshine."
Best thing you ever won?
Last winter, I bought a $30 raffle ticket and won a trip for two to the Hotel Ixtapan and Spa in Mexico. It included all meals, treatments, and lessons. I had never felt so relaxed! I could get used to that! 
What is one of your biggest pet peeves? 
When people begin a sentence with "Sooo……"
About the Writer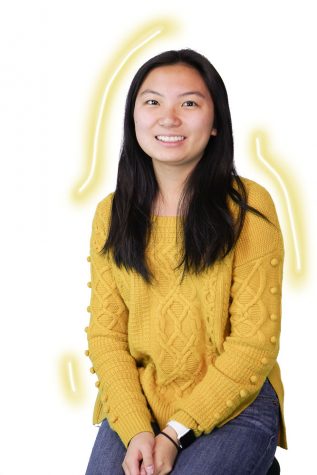 Phoebe Liu, Staff Writer
Phoebe Liu is a senior at North Allegheny Senior High. She enjoys playing music, especially the piano and violin. Her free time is spent volunteering or...