The Rise of Nico-Teen
As a new generation of teens becomes hooked on nicotine, health concerns become more and more prominent.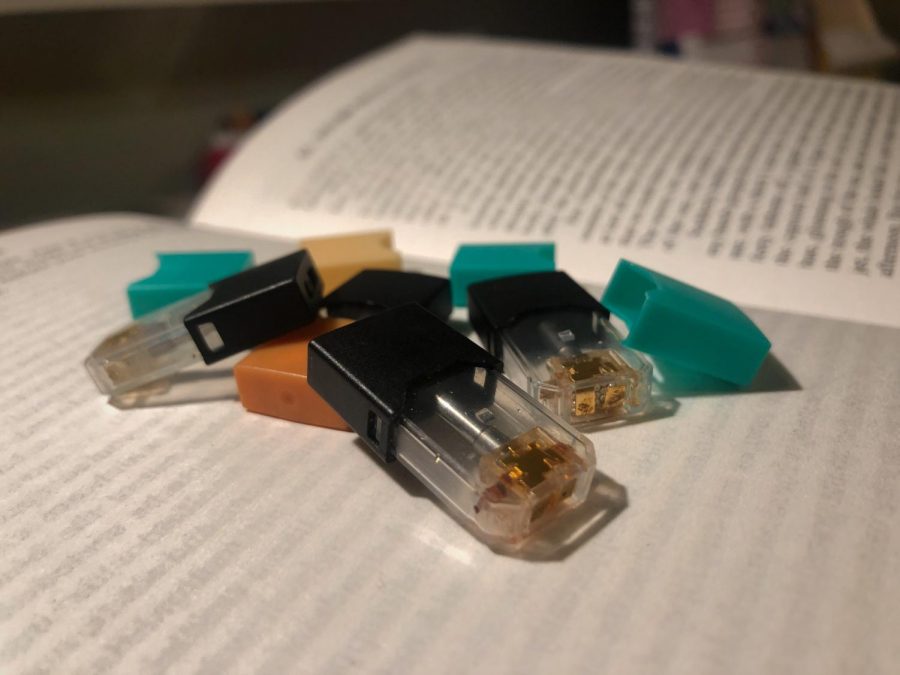 Almost every high schooler has seen it — the puff of vapor coming from a bathroom stall or the slick passing of what looks like a flash drive from one friend to another. Teen e-cigarette and vaping figures have grown exponentially in recent years. While brands like Juul are thriving, many point to concerns about teen health and well-being alongside the industry boom.
"From 2017 to 2018, e-cigarette use increased from 11.7 percent to 20.8 percent among high school students," explained Dr. Anne Schuchat from the Centers for Disease Control and Prevention (CDC) in a press briefing last year. "The increase is being driven by a surge in e-cigarette use in these young people. There were 1.5 million more youth using e-cigarettes in 2018 compared to 2017."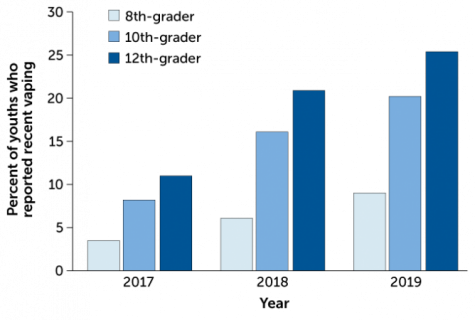 E-cigarettes, like Juul, are discreet, USB-drive looking devices that convert nicotine pods into a vapor that users "smoke." Most Juul pods contain approximately five percent nicotine, which is around the same amount as a pack of cigarettes. In August of 2018, however, the brand introduced pods that contained 3 percent nicotine, pulling back the average for most e-cigarettes and vapes on the market.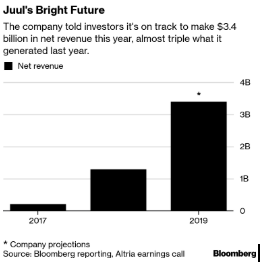 Juul's founders, Adam Bowen and James Monsees, are both former smokers who have stated that they created the company with the goal to help those with nicotine addiction. But the high level of success they've seen has grown the company far beyond their original business aspirations. According to Fast Company, Juul now controls over 70 percent of the country's e-cigarette market. Despite many allegations against the company, including an FDA warning, Juul still continues to grow and expand as a company, with a multi-billion dollar revenue from 2019. 
For teens specifically, this product appeals much more than traditional cigarettes. A "starter pack," which contains the e-cigarette, four pods, and a USB charger, sells for around $49.99. According to the CDC, the average pack of cigarettes costs around $6.28. As a reusable device, Juul products are significantly more cost effective for teens. The company was also able to target younger audiences by creating a wide range of Juul pod flavors, like mango, mint, and cream, which are considerably more palatable than the flavor of tobacco cigarettes. In fact, almost 70 percent of tobacco and e-cigarette users in middle school and high school reported using flavored products last year, according to the CDC.
By catering many of these business tactics towards a younger consumer group, e-cigarette companies have sparked a teen vaping epidemic that continues to intensify. About 55 percent of teen e-cigarette users reported that they first tried them because they were curious about the product, a statistic which sparks new questions as to how teens initially become introduced. According to the CDC, in 2019, nearly 82 percent of teens reported exposure to tobacco and e-cigarette product marketing.
"The advertising will bring a horse to water; the flavors will get them to drink, and the nicotine will keep them coming back for more," said Dr. Brian King during the same press briefing. "…Exposure to tobacco product advertising and imaging through various media including retail stores, the Internet, television, and other sources can cause youth to start using tobacco products."
One of the most dangerous misconceptions made by teens about e-cigarettes and vapes is that they are significantly healthier than cigarettes because they don't contain tobacco. However, many of these products contain nicotine, a chemical derived from tobacco. E-cigarettes haven't been popular long enough for researchers to know the long-term health effects yet, but the alarming rate of hospitalizations and even deaths in recent months have many concerned about the products' potential harmful effects, especially in developing bodies.
In a special report done by the CDC, as of earlier this month, there have been a total of 2,602 EVALI (e-cigarette or vaping product use-associated lung injury) related hospitalizations in the U.S. territories and 57 confirmed deaths. Beside the fatal side effects, vaping has caused issues such as lung spasms, chest pain, and diarrhea in users, as well as a stress on brain health.
According to Dr. Schuchat, "Nicotine is highly addictive and can harm brain development including harmful effects on learning, memory, and attention."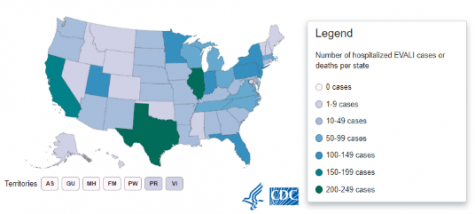 In light of e-cigarettes' popularity amongst teens, the U.S. government has acknowledged the epidemic and is currently taking great strides with the hopes to decrease these statistics. On December 20, 2019, President Trump signed the Tobacco 21 bill into a law. By raising the age of sale for tobacco products from 18 to 21, the National Academy of Medicine estimates 223,000 lives could be saved. Taking into consideration that many smokers aged 18 supply tobacco products to younger peers, the U.S. government expects the number of high school-aged e-cigarette users to decrease significantly. 
"The increasing number of reports that we're hearing albeit anecdotally of kids who are either becoming addicted or showing signs of addiction to especially these pod-based products is really concerning," said Mitch Zeller, Director of FDA's Center for Tobacco Products. "In the past when we had lots of kids smoking cigarettes, there were no FDA approved medicines. There still aren't, so this remains a gap in the treatment arsenal that needs to be closed, and we are working closely with colleagues to try to do that."
Although organizations like the FDA and CDC have taken great strides to help decrease e-cigarette and vaping figures amongst teens, the natural rebellious nature of the age has made it difficult. With the new Tobacco 21 law, however, many hope the epidemic will find its resolution, and the severe health problem statistics will reduce.
To some, however, the end-all, be-all solution is simple.
"Teens should not use any tobacco products, including e-cigarettes," explained Dr. Schuchat. "They shouldn't be using these products routinely or even experimenting with them."
And while this solution may seem well out of reach, many commend the efforts made by the CDC and FDA as a step in the right direction towards ending the teen vaping epidemic once and for all.
About the Contributor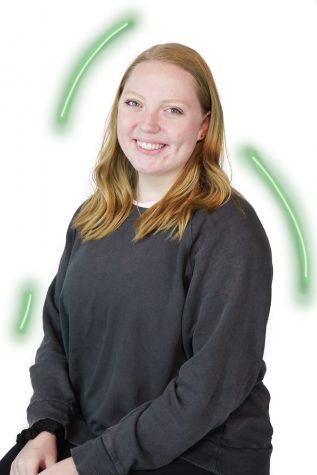 Lucie Flagg, Staff Writer
Lucie Flagg is a junior this year. She enjoys the finer things in life, such as sushi, napping, and petting other people's dogs. Along with writing for...