Kaitlin Bennett vs. Ohio University
The recent Kaitlin Bennett protest at Ohio University raises a question: Who was in the wrong?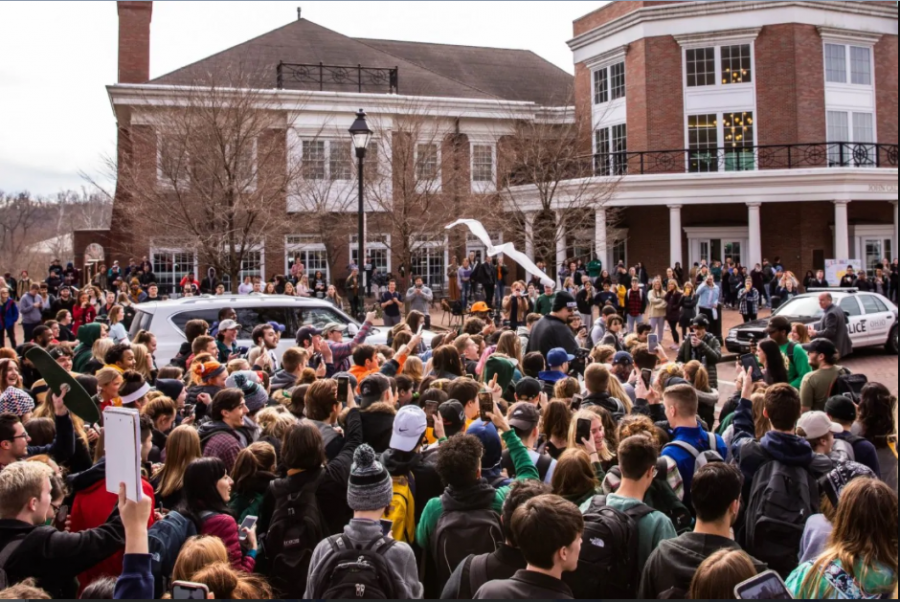 This past Presidents' Day, conservative gun rights activist Kaitlin Bennett made a surprise visit to Ohio University. Her intentions for the visit were to film a segment for her YouTube channel, but upon her arrival a multitude of university students protested her presence. There are both facts and untruths on both sides of the story, but more context is needed to fully understand the reasoning behind such an event. 
Bennett, more commonly known as the "Kent State Gun Girl," gained popularity in 2018 when she took her graduation photos at Kent State University with an AR-10 strapped to her back. In one of her videos titled "How My Graduation Photo Changed My Life," she explained that Kent State prohibits students, but not guests, from carrying firearms on campus. She could not conceal-carry her handgun while attending the university, so Bennett went to the campus one day after graduation with an AR-10 in hand to protest the rule. 
Since her political debut, she has traveled to cities and college campuses across the country to ask people questions regarding many trivial topics, including abortion, transgender rights, and gun control. Because of her large social media and internet presence, Bennett is a well-known figure on both political sides.  
Once word of Kaitlin's arrival spread around the Ohio campus, students quickly banded together and confronted the right-wing personality. Gabriela Gabennesch, a junior at Ohio University, said that this was the largest on-campus protest she had ever seen.
"People were skipping classes to come and see her," she commented. "It definitely wasn't expected that she was going to be on our campus." 
What started out as individual confrontations quickly escalated to what Bennett called a violent "riot". Some students shouted obscenities at Bennett and chanted "go home". Cups of water were tossed in her direction along with toilet paper, a reference to a rumor that Bennett had "pooped her pants" at a frat house party. 
Bennett also claimed that "they threw projectiles and poured hot coffee on us". 
The protesters surrounded Bennett and her bodyguard as they walked throughout the campus back to their truck. She left the campus almost two hours after she arrived.
In some now-viral tweets, Bennett posted video clips of her encounter saying "This is what happens when a Trump supporter goes to a college campus. Leftists at @ohiou started a riot when @Joelpatrick1776 and I showed up, and the @oupolice let it happen. I think @realDonaldTrump should strip funding from universities like this that harbor terrorists."
The OU campus police released a statement saying, "Contrary to allegations circulating social media, the incident did not rise to the level of a riot. There was strong language, and allegations that some unknown person(s) in the crowd splashed water, but there were no reported injuries or violence, and no one was arrested during the event". 
People nationwide have reacted to her claims and posts, either decrying the student's actions or blaming her for the reaction she caused. Some even called the protesters a "violent leftist cult". 
"This is what happens when a conservative woman named Kaitlin Bennett goes to Ohio University. This what happens when you send your children off to the majority of colleges in this country. They become a bunch of drooling, pitchfork wielding lunatics," a tweet from Kash Jackson reads.
For days after her visit, Bennett retweeted the posts of her supporters, including one that said, "It doesn't really matter what you think of @KaitMarieox. I just don't know how you can watch something like this and think they haven't gone way too far". 
It is difficult in a situation like this to point fingers when there are so many sides to the story. Bennett's polarizing opinions could be to blame for the intensity of the protest, but so are the students in attendance. Overall, both parties could have reacted differently to Bennett's visit. 
Bennett's internet popularity comes from the numbers of people who dislike her political opinions and stance. She recently tweeted, "People only know who I am because of leftists who have been giving me free promotion for two years now. The people mad at my existence are the ones responsible for my platform".

If the OU students simply ignored her arrival, she wouldn't have gotten the reaction she wanted. Since the protest last Monday, Bennett's social media platforms have skyrocketed. She gained 62k new followers on Twitter, 37k likes on Facebook, 25k followers on Instagram, and 18k subscribers on YouTube. 
Even though no one was hurt or arrested on campus, the students still reacted with anger and low-level violence. They pushed her out of the college town, threw objects at her, and flipped her off. Conversing more calmly, ignoring her questions, and simply walking away would have sent the same message that Bennett and her opinions were not welcome. 
Despite the intensity of the protest, Bennett's actions and words are offensive to many cultures and groups of people. Her stance on gun control is concerning, considering the fact that she carried an automatic weapon in a public area; an action that could threaten the safety of the people around her. 
Some of her interviews have been criticized for bias as their wording tries to produce answers that align with conservative values.
PLEASE WATCH: Here's a clip of Kaitlin Bennett saying she's a woman of color when she is clearly white. She then stated that she can change her race. pic.twitter.com/hig837B7os

— cat (@its_catherine_) February 17, 2020
Many controversial statements have been linked to Bennett, including a recent video clip of her saying she is a "woman of color" and "if I can change my gender, I can change my race."  Bennett's social media accounts, more specifically her Twitter page, are accused of filtering out opposing views and featuring the more extreme interactions she has with those who disagree. Others classify her more polarizing comments as hate speech 
Overall, the Ohio University protest, along with many other political or religious arguments, could have been more peaceful or avoided completely. Everyone has a right to share their beliefs and morals with others, and even discuss their differences. You don't have to agree with opinions that you don't approve of, but having respect for others is essential. Just because someone disagrees with you does not make them a bad person. If people simply agreed to disagree more, there would be less of a divide between parties and extremist views. But a line must be drawn somewhere to define acceptable ways of sharing opinions.
About the Writer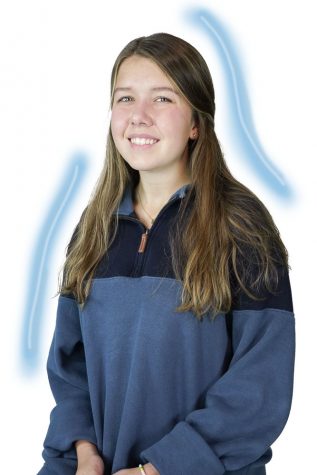 Rachel Morrell, Staff Writer
Rachel Morrell is a senior at NASH and excited to be on The Uproar staff again this year. She enjoys running, watching Downton Abbey, and eating chocolate.