Outta This World
The debut of "Roswell, New Mexico" broke down barriers in the television industry, and its upcoming sophomore season promises to do the same.
Some cowboys, a few aliens, one nostalgic love story, and a thrilling murder mystery. This may sound like something that resembles a bad joke, but it's also a pretty accurate description of  Roswell, New Mexico– a show that may, quite literally, have it all.
Roswell was originally a TV show that aired in the late 1990s about a group of teenage aliens who landed during a 1947 UFO crash. They assimilated to normal human life and dealt with the typical adolescent tragedies and triumphs. The show ended after three seasons, but in 2019 its reboot, Roswell, New Mexico, aired for the first time. Season one was a hit, and its sophomore season is coming soon.
The current show splits its focus between alien siblings Max, Isobel, and Michael Evans and human sisters Liz and Rosa Ortecho. Instead of focusing on their high school years, it begins a decade later– ten years after Rosa was murdered and Liz left town without so much as a goodbye.
Before Liz left, she and Max had gotten close, so when she comes back to town, she has to face the consequences of her sister's death and her almost-high school sweetheart.
The story, in many ways, revolves around Liz and Max, and the couple captured my attention right away. There's something about the wishful emotions from their teenage years, in addition to their feelings from the very first moment they're on screen together, that makes the two seem inevitable. But just when things seem to be going their way, Liz learns that Max was somehow involved in her sister's death.
That revelation launches the big arc of the season. Liz vows to find out the truth about Rosa, even if it comes at the price of Max's downfall. It creates such an interesting dynamic between the characters. Of course, they care for each other, but does love for a person absolve them of the wrongs they've done, especially if they had good intentions?
Roswell, New Mexico, at its core, embodies and embraces nostalgia. Everything the characters do can be traced back to who they were ten years prior. The relationships and the grief all feel intensely fresh, no matter when they originally took place. And it makes you long for, and reflect upon, the past in a way I haven't seen any other TV show accomplish.
However, perhaps my favorite aspect of the show is Liz Ortecho herself. She's the daughter of an illegal immigrant and a biomedical researcher. She's intelligent, unapologetic, compassionate, stubborn, and, simply, representative of everything I've ever wanted to be. 
"
Roswell, New Mexico pulls no punches, and that's what makes it so enjoyable."
And Liz is all these things without ever being seen as perfect, because she is also judgmental, impatient, and defensive at times. She lets her heart guide her whenever it goes— even if it's complete chaos. Most of all, her messy emotions are painted as a side effect of her big heart, not as a weakness. It's so refreshing to watch feminine traits not be portrayed as a character's downfall.
Not to mention, every episode has a fantastic soundtrack. The pilot alone features songs like "Mrs. Potter's Lullaby" by Counting Crows (my personal favorite and a song of great significance throughout the show), "Sedona" by Houndmouth, and "Carry You" by Novo Amor. 
And in addition to an intriguing storyline and some great songs, Roswell, New Mexico is something I can feel good about supporting.  It's the first time I can ever remember watching a TV show and seeing a same-sex couple receive just as much screen time as the main, straight couple. It's politically charged, and often makes references to unethical immigration laws, the current White House administration, and the hardships immigrants face every day.
The show pulls no punches, and that's what makes it so enjoyable.
Plus, producer and writer Carina Adly MacKenzie promised that, in season two, at least half of the directors would be women, people of color, or people who identify as non-binary. In an industry typically dominated by white males, MacKenzie's decisions are of no small importance.
I'm not saying the show is perfect, but it's trying. We need that kind of effort in entertainment, so I, for one, surely appreciate it.
That's why Roswell, New Mexico is a must-watch. It's socially conscious, all while making you want to jam to '90s rock songs and take on the world. It possesses a consuming kind of boldness. It has love, aliens, and, perhaps most importantly, characters that can inspire anyone to walk with their head held high.
Season two premieres Monday, March 16th. Until then, you can binge-watch the first thirteen episodes on Netflix. 
About the Writer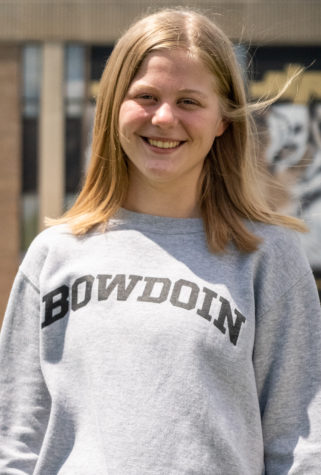 Kristen Kinzler, Co-Editor-in-Chief
Kristen Kinzler is a senior at NASH who loves expressing her opinions and drinking excessive amounts of coffee and tea. When she's not writing or rewatching Supernatural for the fourteenth time, she can probably be found playing lacrosse, reading, or watching hockey. She plans to attend Bowdoin College next fall.