In the Bag
Many people have applauded Giant Eagle's new 5-year initiative to decrease single-use plastics.
We've all seen the blue plastic bags, whether they're carrying our groceries, blowing around aimlessly in parking lots, or hanging from roadside tree limbs.  It's long been known that single-use plastic bags are wasteful and environmentally harmful, but the U.S. has been slow to catch up to other developed countries that have banned or significantly limited their use.
Recently, however, more American stores have begun selling their own branded reusable bags. For a low price, customers can purchase a bag made of durable material to bring with them on all shopping occasions, with one cause in mind: sustainability.
But one popular local company is going far beyond sustainability, with high hopes for the environmental future.
In December 2019, Giant Eagle grocery stores issued a press release introducing their new initiative to be free of single-use plastics by 2025. By this deadline, the company hopes to be free of all plastics beyond just these simple plastic bags.
"Giant Eagle will commence work to move away from single-use plastics in areas such as plastic bags, straws, single serve fresh food containers, bottled beverages and more," the company said in the press release. 
Earlier this year, beginning January 1st, 25 Giant Eagle stores in the Pittsburgh and Ohio regions, including the Waterworks Market District, began phasing out plastic bags. The stores sell reusable bags for $0.99 each and single-use paper bags for $0.10 each.
Many applaud Giant Eagle for taking this large step and see it as a strong precedent for .
"I feel really good about this initiative," said junior Emma Bernardi. "I think that people should be taking climate change and the Earth much more seriously."
"
It is really pleasing to see that a large company is taking a major stride to help the environment."
— Daniel Schaub, junior
NASH junior Daniel Schaub is in full agreement.
"If you buy a few reusable bags, you are saving the environment hundreds of plastic bags per year at such a small investment," Schaub said. "It is really pleasing to see that a large company is taking a major stride to help the environment."
The company has also introduced the "one perk per reusable bag used" promotion for a limited time, encouraging customers to bring their own bags with a reward of Giant Eagle's FuelPerks+. The incentive gives shoppers the opportunity to save money on gas and food by providing their own bags at the checkout. 
"I think the impact of this initiative will depend solely on the response of the customers," added Bernardi. "If Giant Eagle customers appreciate the change and show what a positive impact it can create, then other companies and stores will start to follow in their steps and reduce plastic use dramatically."
The company plans to phase out the infamous blue plastic bags in all of their Pittsburgh locations within the upcoming months.
"I commend Giant Eagle on their bold pledge to eliminate single use plastic by 2025, a major advancement towards tackling our challenges with litter and recycling quality in Pittsburgh," said Mayor Bill Peduto, in response to the press release. 
"Many stores in our community have already done away with plastic bags, such as Trader Joe's and ALDI," said Schaub. "I think it is amazing that the arguably most popular grocery store in our area is taking this initiative, and that it can really only mean good for the environment and the community."
Many months of change are ahead for Giant Eagle as the company begins to eliminate single-use plastic products. Shoppers in the city of Pittsburgh and neighboring counties will soon need to invest in these reusable bags, but for Mayor Peduto, the change is just a part of the solution.
"Strong and strategic partnerships and bold actions, like this, are what will be required to achieve the City's climate action goals," he said.
About the Writer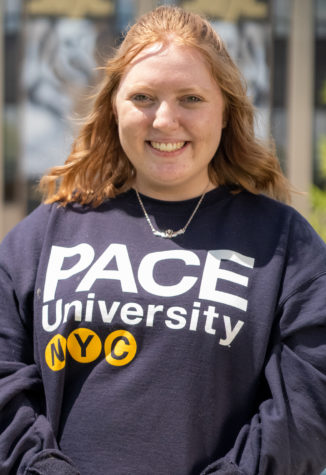 Lucie Flagg, Co-Editor-in-Chief
Lucie Flagg is a senior this year. She enjoys the finer things in life, such as sushi, napping, and her dog, Daisy. Along with writing for The Uproar, she also contributes to NATV. Outside of school, Lucie works at Naturally Soergel's, and she watches Impractical Jokers whenever that's not happening. Lucie plans to attend Pace University in New York City next year to pursue a career in media production.