From Two Weeks to To Be Determined
As the third week of the school closure begins, we find ourselves missing school more than we could have ever fathomed.
On Friday, March 13, the majority of NASH students, myself included, were all immeasurably thrilled and overjoyed to hear the highly anticipated news over the loudspeaker that school was out for two weeks and online classes would soon be in place. Shouts of "See you in two weeks!" and carefree laughs and smiles were exchanged en masse as students exited the building, but little did we know the difficulties that lay ahead.
As we begin the third week of the closure, the coronavirus pandemic continues to torment us with the uncertainty. It baffles us to think that that ordinary Friday, just over a couple of weeks ago, could very well be our last day together.
Like a whole lot of us this morning, I never thought that I would genuinely, even sorely, miss school — but here we are.
Spending most of my day cooped up in my room, I've had a lot of time to reflect on how the pandemic is overtaking practically every aspect of our lives, school included.  Unquestionably, online school has its advantages, the main one being more time to sleep in. However, despite how much I love not having to force myself to wake up at 5 AM and being able to complete my assignments from the comfort of my own bed, I find myself wishing for the return of the normal routine.
"
I've realized that more than anything that I took for granted so many little things throughout the school day."
—
I've realized that more than anything that I took for granted so many little things throughout the school day. Being able to see my friends every day was one of the best parts of my day, but merely being able to be in the presence of others and experience the same things was comforting in comparison to social distancing. 
Understandably, the pandemic is causing widespread anxiety and apprehension.  We are witnessing a drastic change, and fear is a natural response. It has put the fragility of human life into perspective and causes us to take notice of what really matters: our loved ones, our health, and our livelihood, and it has brought much-needed attention to the vulnerability of the elderly, sick, poverty-stricken, and those who live in densely populated urban areas. 
Nevertheless, we need to direct our outlook from fear to hope.  We need to remind ourselves that all pandemics come to an end and that school will resume, even though we don't know when.  As the student quotes below show, we are all conflicted at the moment.  It's to be expected, but we can learn to live with the presence of both fear and hope in our lives, and we can choose to focus on the positive.
******
"I miss sitting in an actual classroom rather than my bed. I mean, it's nice waking up, not having to get ready and then getting started on school work right away. But I've been doing it for almost a week now and I'm starting to lose the motivation to even just wake up. I feel like physically being in a classroom, interacting with your teacher face to face, and seeing your friends everyday gives you more motivation to do what you're supposed to do and get things done." – Almira Kusuma
"When everyone first heard about the coronavirus, we all made it into a joke. I remember people posting on their Instagram stories a fake news website displaying the news that all US schools were going to be shut down because of the virus. Of course, we never expected it to actually happen, especially not at NA. I never thought that I would miss school, but I do. I miss walking to classes with my friends and being able to talk to my teachers in person when I have questions. I just hope that we can go back to school before the end of the year." – Katrina Evancho
"At first, I was enjoying having a break from school, as a lot of other people probably were, too. But after two weeks of alienating myself, I feel completely drained of energy, of motivation to get up, clean, work out, you name it. Immediately losing a daily routine has really messed me up. My sleep schedule is all over the place, I'm always tired, and I miss my friends that I used to see every day." – Kelista Lundgren
"We all thought that a two-week break from school would be nice, but by five days in we all wanted to go back and see our friends. Even if that means waking up at 5 am and spending seven hours in a building, it would be better than spending 24 hours a day at home." – Meredith Blough
"I'm happy that we get this time to sleep a healthy amount. A lot of my classes still expect me to give them my all and although I do wish I was back in school to be able to learn things like sciences in real life, quarantine is allowing students to create routines and have normal amounts of time to complete tasks for all of their classes. I'm taking a few AP classes, so not being able to prepare with the complete guidance of my teachers is a bit of a struggle. All in all, I'm about 50/50 missing school. I now have time to pay attention to my mental health and take advantage of my body and mind, but I'm at a disadvantage in terms of nationwide testing. – Ashnaa Bhide
"I do really miss school, seeing my friends, having structure to my day, etc., but I think this is for the greater good. Quarantine is not fun, and there isn't much to do, but I would much rather be inside than risk getting myself and others sick. Plus, I get to spend more time with my dogs, and that's a huge win." – Paige Branagan
"I never thought I would ever miss going to school, but once the first week passed, I now want to go back so badly and I miss everyone." – Hayley Gleason
About the Writer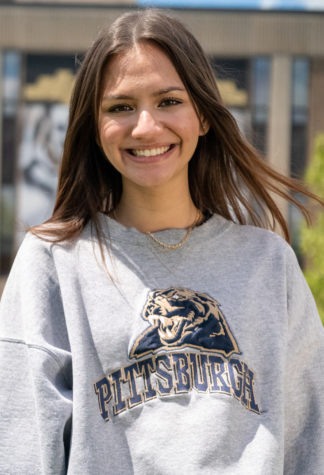 Sofia Brickner, Senior Staff Writer
Sofia Brickner is a senior at NASH who enjoys listening to oldies, watching movies, skateboarding, and playing the ukulele. When she is not working you can find her frequently adding new music to and listening to her Spotify playlists religiously, as well as editing movies.