Eating Across Bridges: Quarantine
Pittsburgh's best restaurants remain open for delivery and takeout, so now especially is the time to show your support.
I started this column with the purpose of exploring my city's many neighborhoods, and many cultures, through food. I've been to high-end Spanish tapas restaurants, food cart stalls, Halal food markets, and a one-room bakery. I've eaten wonderful food of a dozen varieties and from a dozen cultures. But during the age of coronavirus, restaurants are being shut left and right, and those that stay open are take-out only. The restaurant experience as we know it has changed. Sit-down dining is extinct for the time being, and crossing bridges yields little more than the sight of closed signs. 
Of course, the food industry isn't alone in the struggle. The government's response to the coronavirus outbreak affects all of us. Which is perhaps why food, and the camaraderie, happiness, and love that go into it, are more important than ever.
In a world where nothing is untouched by the pandemic, food allows us to find some normalcy, some brightness, some flavor in an otherwise gray and bland world. Even with social distancing, food is unifying–it brings a home together to eat, and with each bite the chef shares their work with you.
It's only fair, then, that  food lovers should share back and support our favorite restaurants by buying takeout and gift cards, or simply by making donations. But of course, I have recommendations, if you should need them. 
During the fall, almost every Friday my friends and I would go to the football games with the rest of our grade. We'd never last long, though, and soon we'd be eating pizza at Monte Cello's. Now, we can't go out, or even meet up, but a good pizza on a Friday night is something not even coronavirus can interfere with. Good news: Monte Cello's is open for takeout and delivery.
But consider expanding your horizons, too.  There are two remarkably good pizza places downtown that still offer takeout: Piccolo Forno and Iron Born Pizza. Usually, I'd refrain from reviewing two pizzas, but each pie is far too distinct to overshadow the other. 
Lawrenceville's Piccolo Forno serves wood fired pizzas, sandwiches, pasta, and gelato. The Mortadella e Pistachio and the Speck e Mascarpone pizzas are my personal favorites. While pistachio is certainly not a stereotypical pizza topping, it simply works. The pizza has two types of cheese, Burrata and Romano, and Mortadella, an Italian luncheon meat made from cured pork. Each element of the pizza is done well — the crust is crisp, with the slight char characteristic of wood-fired pizza; the cheeses are fresh and salty; and the meat provides a nice, fatty bite. But the pistachios are the standout. They're ground and used in a pesto as the pizza's base, adding a wonderful creamy nuttiness. On a thicker pizza, it would be too much, but for a thin, sour crust, it works perfectly. 
"
The crust is crisp, with the slight char characteristic of wood-fired pizza; the cheeses are fresh and salty; and the meat provides a nice, fatty bite. But the pistachios are the standout."
—
The Speck e Mascarpone offers a slightly more traditional pizza for the less adventurous. It's a red-sauced pizza with speck, which is a smoked pork belly. It, too, is clinically made with the same lovely crust. This pizza's star is the mascarpone, a mild, but buttery cheese. It nicely contrasts with the acidity of the crushed tomatoes in the red sauce. Piccolo Forno serves classy, well-executed pizzas, as simple as that. 
Iron Born's fare lacks that same classiness. But it more than makes up for it in sheer boldness and robust flavor, playing the role of the bad boy, thick-crusted Detroit cousin. The first time I had Iron Born, then located at the Smallman Gallery, I had a spicy pepperoni pizza with fresh ricotta and honey. It was a mind-blowing, spicy-sweet-creamy-savory bite of goodness. Since then, their location has changed, moving a few doors down to a stand-alone restaurant. The pizza itself, however, has stayed the same–as good as ever. The pizza I had previously had has evolved into their spicy pie, with red sauce, hot sopressata, Mike's hot honey, and banana peppers. Frankly, I miss the ricotta, which added a lovely brightness to an already solid pie. 
With that said, I'd personally go for the Forager Pie, a white sauce pie with wild mushrooms, ricotta, and honey;  and the Coffee BBQ Pie, a pulled pork pizza glazed with a coffee-infused barbeque sauce with jalapenos and cheddar. At first glance, they both seem vaguely gimmicky, but neither disappoints on the palate. The Forager rocks a lovely earthiness that even a mushroom hater like me can get behind. The coffee pie, on the other hand, has an aromatic bitterness that marries to the fattiness of the pulled pork. And both pizzas sit on a lovely, Sicilian-style crust. The bottom is crisped, giving a bite to the soft sourdough and lending structure to the pie. 
I'd be doing disservice to dozens of restaurants–and the lactose-intolerant–if I only talked about pizza places, though. Takeout is, after all, about far more than a slice of pie. It's about food of any manner, gourmet Chinese included. And, if that's your goal, look no further than Chengdu Gourmet.
Every year on Christmas Eve, my family ventures to Squirrel Hill to indulge in the mouth-numbing Sichuan cuisine. Our personal favorites include the Fish Filet in Hot Spicy Broth and the Mapo Tofu. It's important to note that each dish is very spicy but has far more layers than that. Even the spice itself is far from one-note. The fish's heat feels more like a warm sunset than a painful spice, with a lightness and gentle floral bouquet from the peppercorns. And the fish itself is white, flakey, and soft, falling apart between the chopsticks. The Mapo offers the same heat but with a unique silkiness in the tofu. It has a thin layer of red, oily suspension from the fermented black bean, or douban. The heat melds nicely with the umami of the black bean and coolness of the tofu. It will, however, leave your mouth numb, in the best way possible.
Still, Chinese food isn't for everyone, and people might prefer an American classic: the simple chicken sandwich. In that case, it's not Chick-Fil-A, but Bird on the Run, that you should flock to. Sitting on the edge of East Liberty and Shadyside, this counter-serve chicken shop churns out some of the best fried chicken in Pittsburgh. The menu is simple, composed almost entirely of fried food. But, while they do serve fried fish, chicken is the only real option. The chicken can be ordered on a heat scale from zero to four, with zero being spiceless, and four being "hot af." Personally, I prefer the hotter options–but be warned, four does live up to its name. Regardless of spice, though, the chicken is awe-inspiring. I swear by Chick-Fil-A, but Bird on the Run makes it look a bit fowl. The sandwiches are served with mayo and pickle on a brioche bun, and the chicken hangs out over the edge, dangling like a forbidden fruit. And realistically, the chicken is exclusively important.. It is the chicken that makes the meal, so entirely crunchy and so entirely moist. It's genuinely difficult to fathom how the simplicity of fried chicken can be this satisfying. 
I suppose that it's a satisfaction that comes only from the marriage of ingredients and flavors, of technique and effort. After all, people are reflected in the food they make, and in the food they eat. I consume calories when I eat a fried chicken breast, but I also take in a part of whoever made it. I give my money to the restaurant when I buy my Mapo Tofu, and the restaurant gives me something back–a piece of food, a piece of culture.
It can be difficult to relate, to remember humanity, when we're all at least six feet apart. But it gets a whole lot easier over some good food.
***
All of the restaurants reviewed above are currently open for takeout.
Bird on the Run ~ 412-450-8915
Chengdu Gourmet ~ 412-521-2088
Iron Born Pizza ~ 412-588-0094
Piccolo Forno ~412-622-0111
About the Writer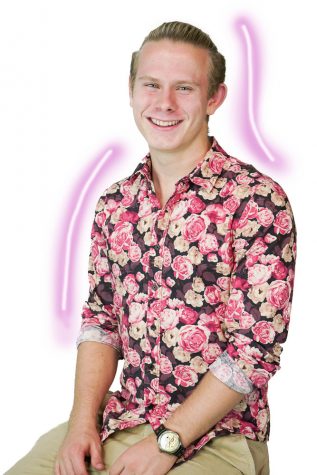 Jonathan Ross, Co-Editor-in-Chief
Jonathan Ross is a senior at NASH. He enjoys brewing kombucha, writing poetry, and starting conversations.