Common App vs. Coronavirus
Juniors are contending with more than the usual amount of stress as they prepare for the opening of the Common Application amid the pandemic.
Like many 11th graders this year, junior Will Palicki had a trip scheduled over spring break to tour college campuses. But then the pandemic arrived.
"I have always been pretty stressed about college," said Palicki. "But the fact that I cannot visit these schools makes me especially nervous now."
Touring colleges is a major factor in the application process, and it usually occurs earlier than the other steps. Prospective students are given the opportunity to observe life on campus and learn more about the school's academic and extra-curricular programs.
With the shutdown, however, many juniors this year are feeling overwhelmed by their college choices and unprepared for the opening of the Common Application on August 1st. 
"When I begin to apply to schools, I'm going to have to take a blind shot," said junior Nina Georgieva. "I'm frustrated that I can't tour campuses because physically being at the school should be a huge factor in my decision." 
Juniors are hopeful that they will be able to tour their college choices in the fall after they apply, though they are having to adjust their original plans. 
"Prior to the virus, I believed that I would be able to visit the schools before the opening of the Common Application," said Palicki. "With less of a gauge on the right college for me, the list of schools I plan to apply to has expanded."
An expanded list of prospective colleges necessarily entails greater outlays on applications fees, which may add to financial strain that families are currently experiencing.
Additionally, several colleges have decided to waive standardized test scores on their upcoming applications, as spring and summer SAT/ACT dates were canceled. While some juniors must be relieved, others are concerned that a major part of their college applications will be missing. 
"I'm very good at standardized tests, and my scores were most likely going to be the strongest part of my application," said Georgieva. "It makes me worried that I won't appear compelling to admissions officers and could hurt my chances of getting into my top schools." 
Palicki understands this stress and fears, like Georgieva, that a vital strength will be lacking on his applications. 
"I know I have more potential and could improve my score by a few points if I could take the tests again before the Common Application opens," he said. "I am just hoping that I get to accurately portray myself and my strengths when I apply."
It's likely that the widespread changes to high school students' lives will reinforce a growing practice in college admissions offices — the holistic application approach, which places less emphasis on grades and test scores.  Nevertheless, it's hard for juniors to shake the notion that the SAT and ACT are tremendously important.
"Though some schools plan on judging test scores more loosely because of the virus, there understandably has not been a set, specific number to aim for," said Palicki. "Before, there was a clear line of where your standardized test score needs to be, but now that line is hazy."
To keep the process moving forward for their future applicants, many colleges have begun holding remote information sessions, where families have the opportunity to learn more about schools without leaving their own homes.
"I've been to schools' information sessions that I would never have the opportunity to tour in person," said Georgieva. "It's made it much easier to show interest."
August is quickly approaching, but a return to normalcy may lie further ahead.  But if the upcoming fall for class of 2021 will require new approaches to the college search, the excitement for a long-awaited rite of passage remains as strong as ever.
"I can't believe it's almost time to apply for college," Palicki said. "It has always felt so far away, but now it feels way too close."
About the Writer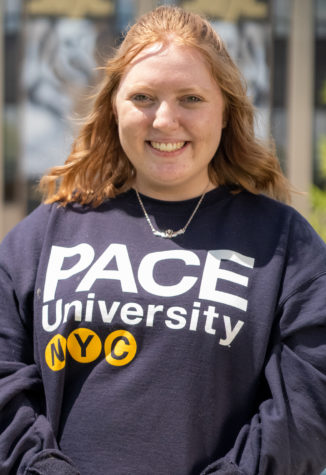 Lucie Flagg, Co-Editor-in-Chief
Lucie Flagg is a senior this year. She enjoys the finer things in life, such as sushi, napping, and her dog, Daisy. Along with writing for The Uproar, she also contributes to NATV. Outside of school, Lucie works at Naturally Soergel's, and she watches Impractical Jokers whenever that's not happening. Lucie plans to attend Pace University in New York City next year to pursue a career in media production.