Signs of Compassion and Congratulations
Over 230 NA staff volunteers met at NASH yesterday morning to begin a day-long, district-wide deployment of signs in the front yards of all the homes in the Class of 2020.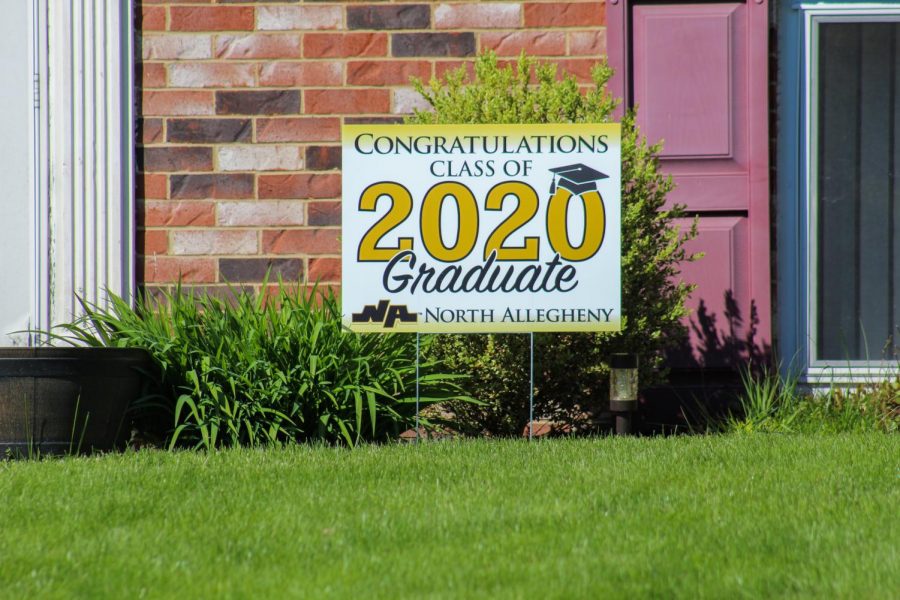 I was getting ready to sit down yesterday for lunch when the doorbell rang. The last thing I expected to find at my front door was my first-semester Philosophy teacher, Mr. Pirring, wearing a face mask and holding a graduation yard sign for me. Teachers, staff, and volunteers from NASH were busy roaming the nearby neighborhoods and generously donating their time to visit and surprise all of this year's 638 graduating seniors.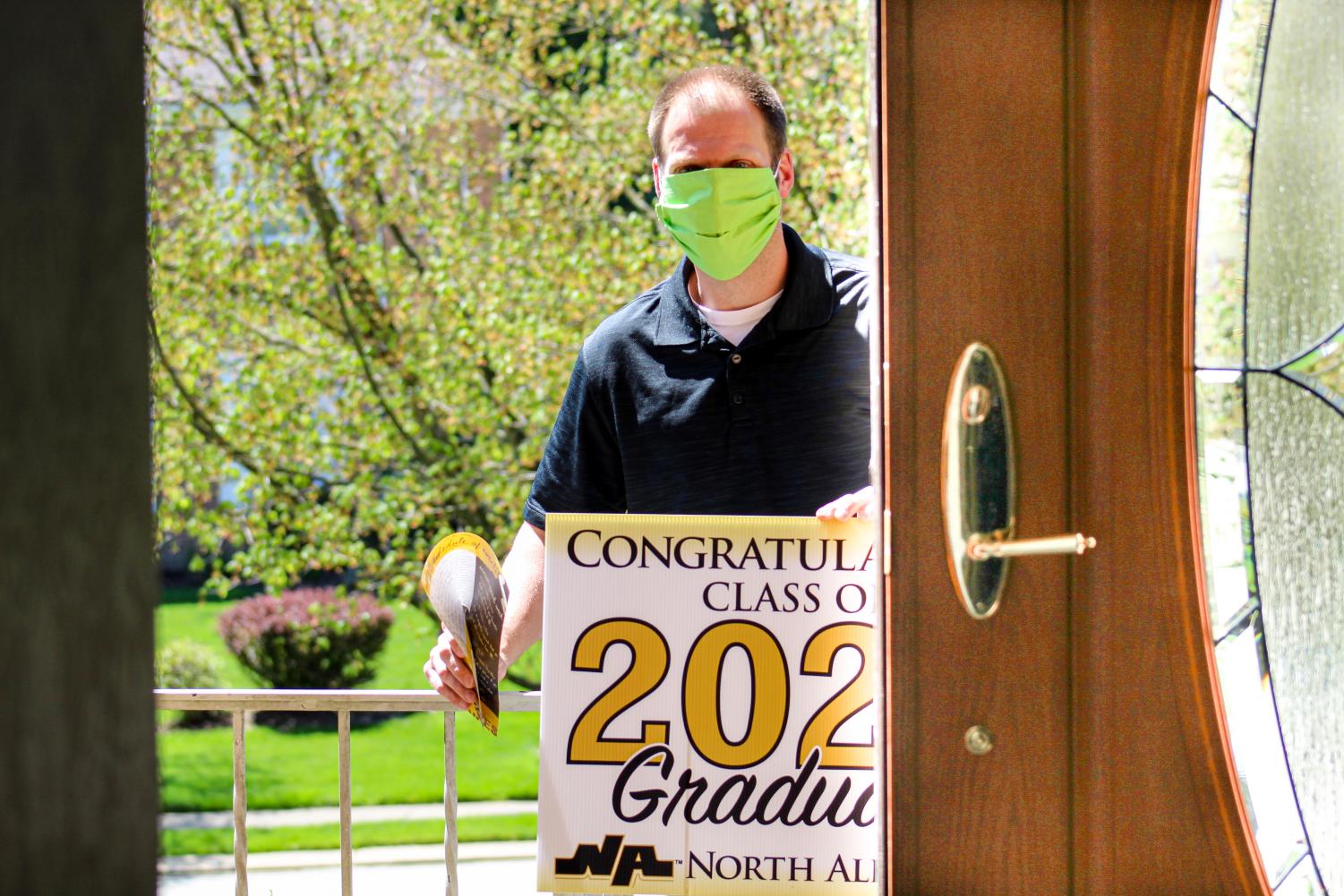 All the social distancing from friends and school that we've been experiencing since March 13 made me think that nobody really cared about all the milestones and memories the seniors were missing out on because of the pandemic closures.
But when journalism teacher Mr. Morris contacted me through Blackboard Collaborate to tell me about "a secret mission" to celebrate seniors and asked me to take pictures of it for The Uproar, my thinking began to change.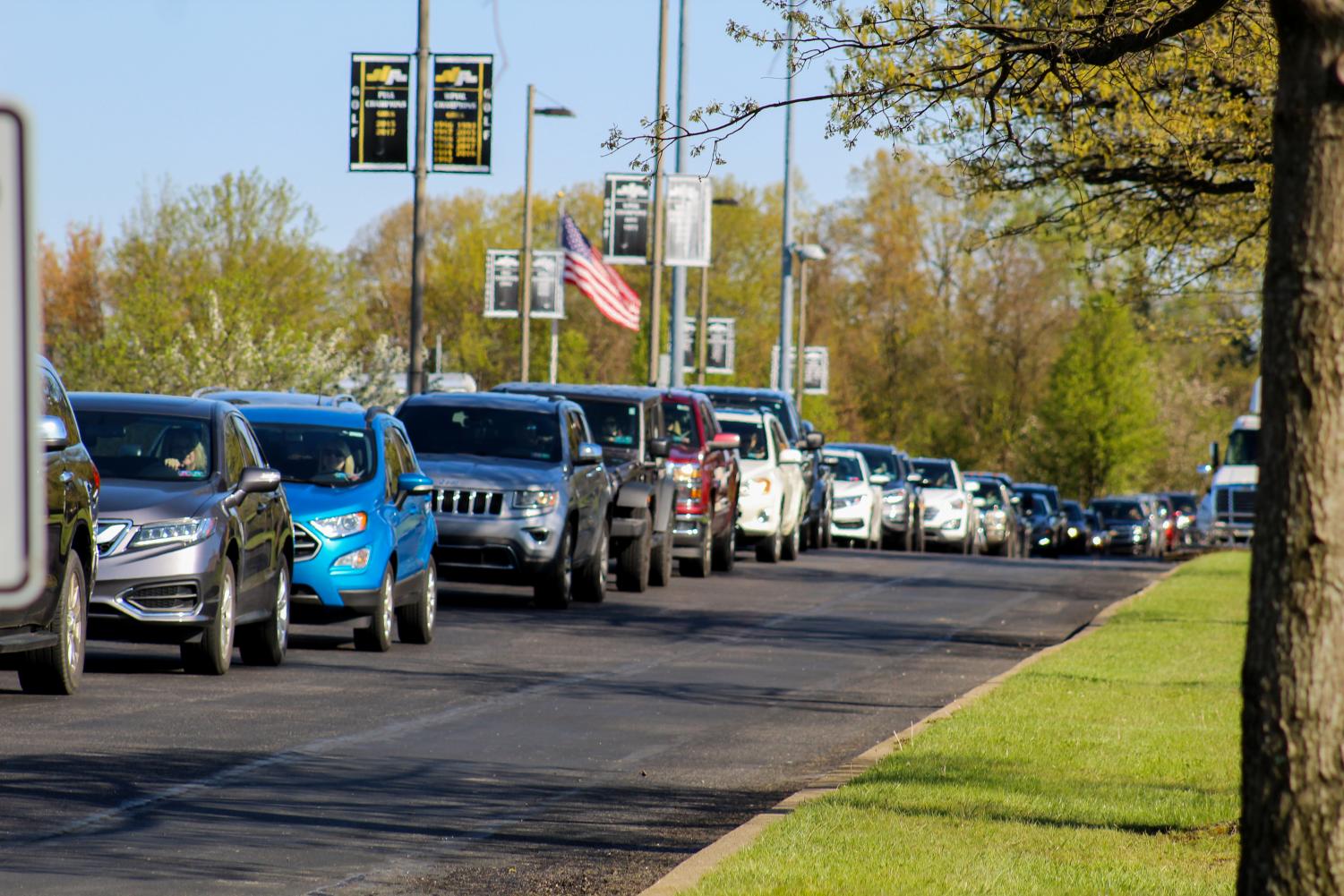 My instructions were to arrive at NASH with my camera at 9 am to begin the shoot. I found NA teachers, staff, and volunteers lined up in their cars to pick up yard signs to plant in seniors' front yards. The signs were a gesture to congratulate the upcoming graduates and show them how much the NA community cares about their final year in the district.
The line of cars, SUVs, pick-up trucks and mini-vans wrapped from the Newman Stadium entrance at the southern tip of campus all the way up the parking lot and around the band room at the northern end of the school building.  The sight brought tears to my eyes and made me realize how much our district truly cares for us.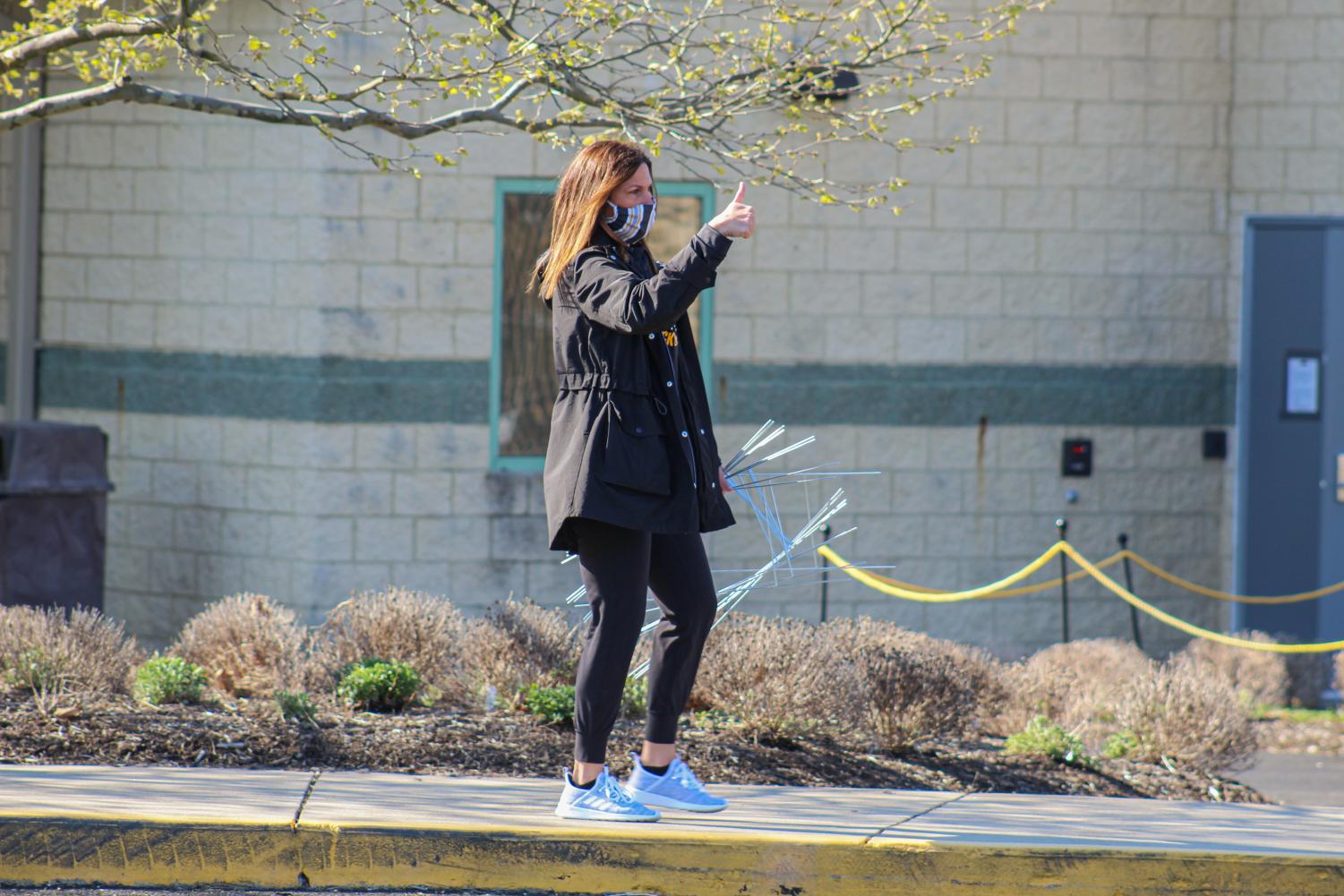 Approximately 230 teachers and staff members in 220 cars assembled at NASH yesterday morning between 9 am and 9:30 am to obtain their signs and begin their routes to seniors' homes.
NASH principal Ms. Dirda was among the group who directed the project. The senior class advisors, NASH staff members, and Assistant Superintendent Dr. Friez had been planning the effort for two months.
"We want to make sure that we honor our Class of 2020 in every way possible," said Dirda, pictured above giving a thumbs up to teachers driving up to retrieve their yard signs.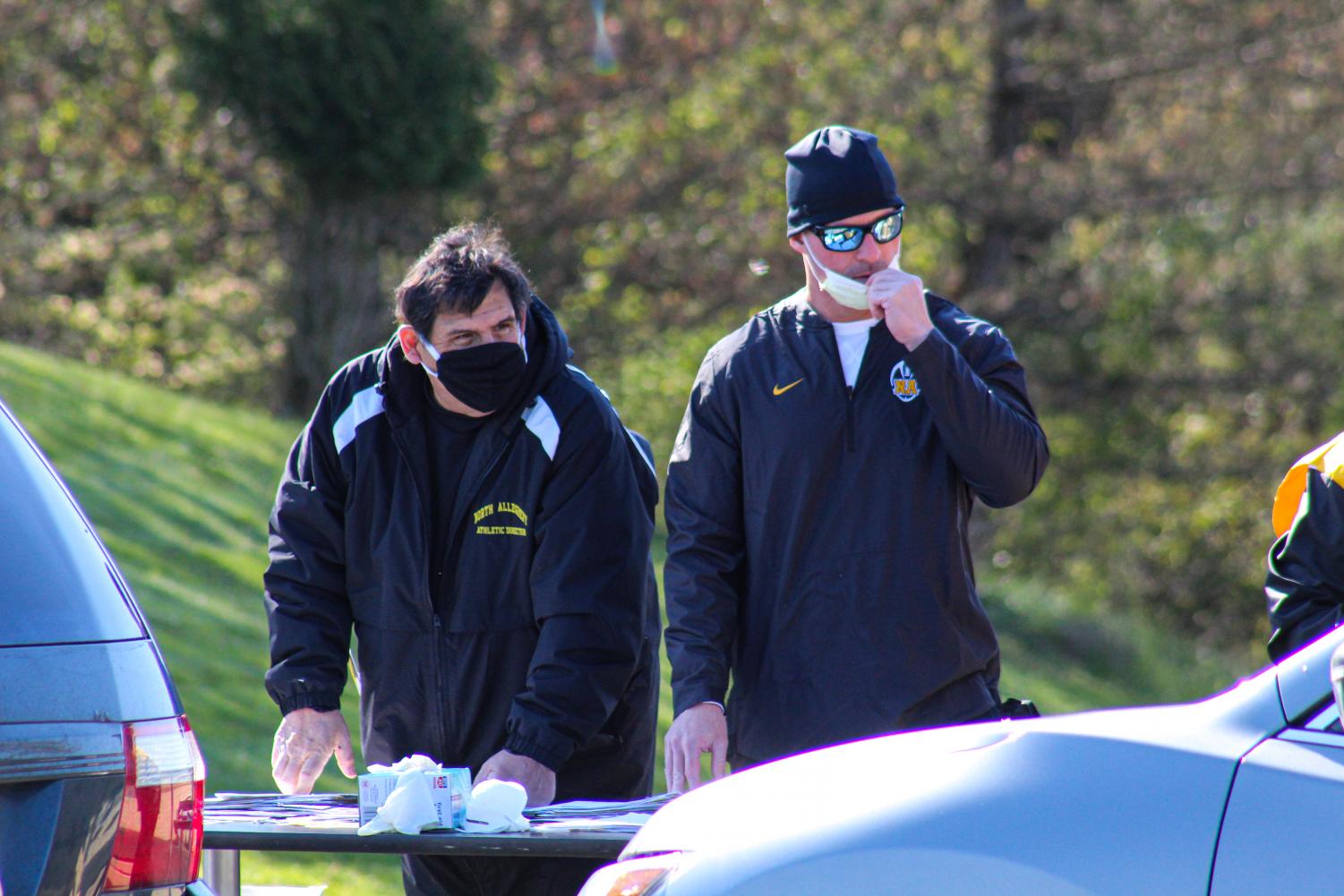 The whole process was efficiently organized, and all necessary safety precautions were taken. Mr. Bozzuto and Dr. McGahee, pictured above, were among the staff that handed out students' names, directions to their neighborhoods, flyers detailing upcoming senior events, yard signs, and posts.
The 230+ volunteers included teachers from every school in the district (elementary, middle, NAI, and NASH), school counselors, secretaries, coaches, support staff members, members of the athletic department, staff members from central administration, and school board members.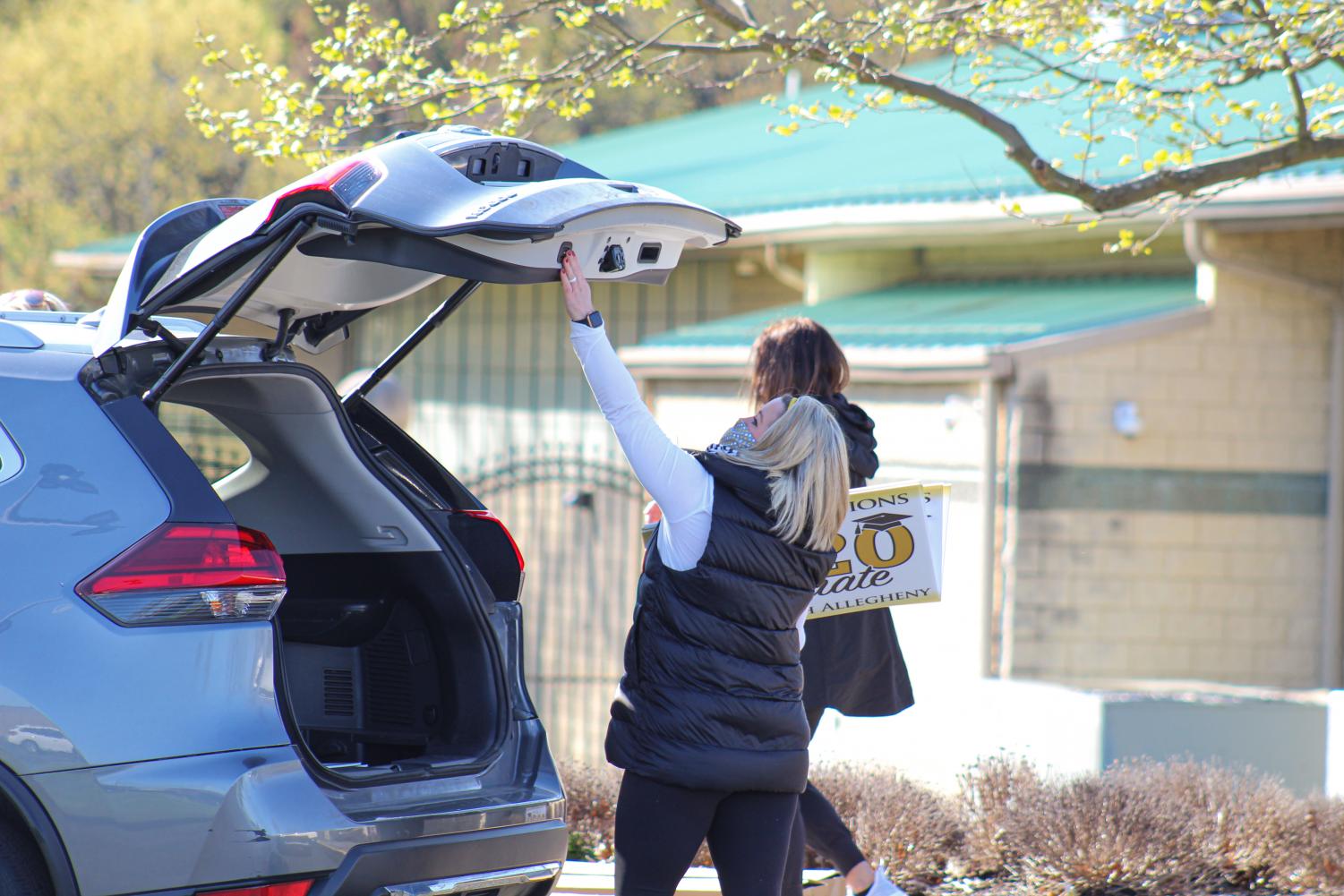 NAI principal Mrs. Ewing, pictured above, loaded a handful of yard signs into the back of each car as they pulled up to the curb at the Baierl Center. Each car picked up between two to six yard signs to deliver to specific neighborhoods throughout the district. In total, these volunteers traveled 47 square miles to cover the entire district and reach the homes of all 638 students graduating in the Class of 2020.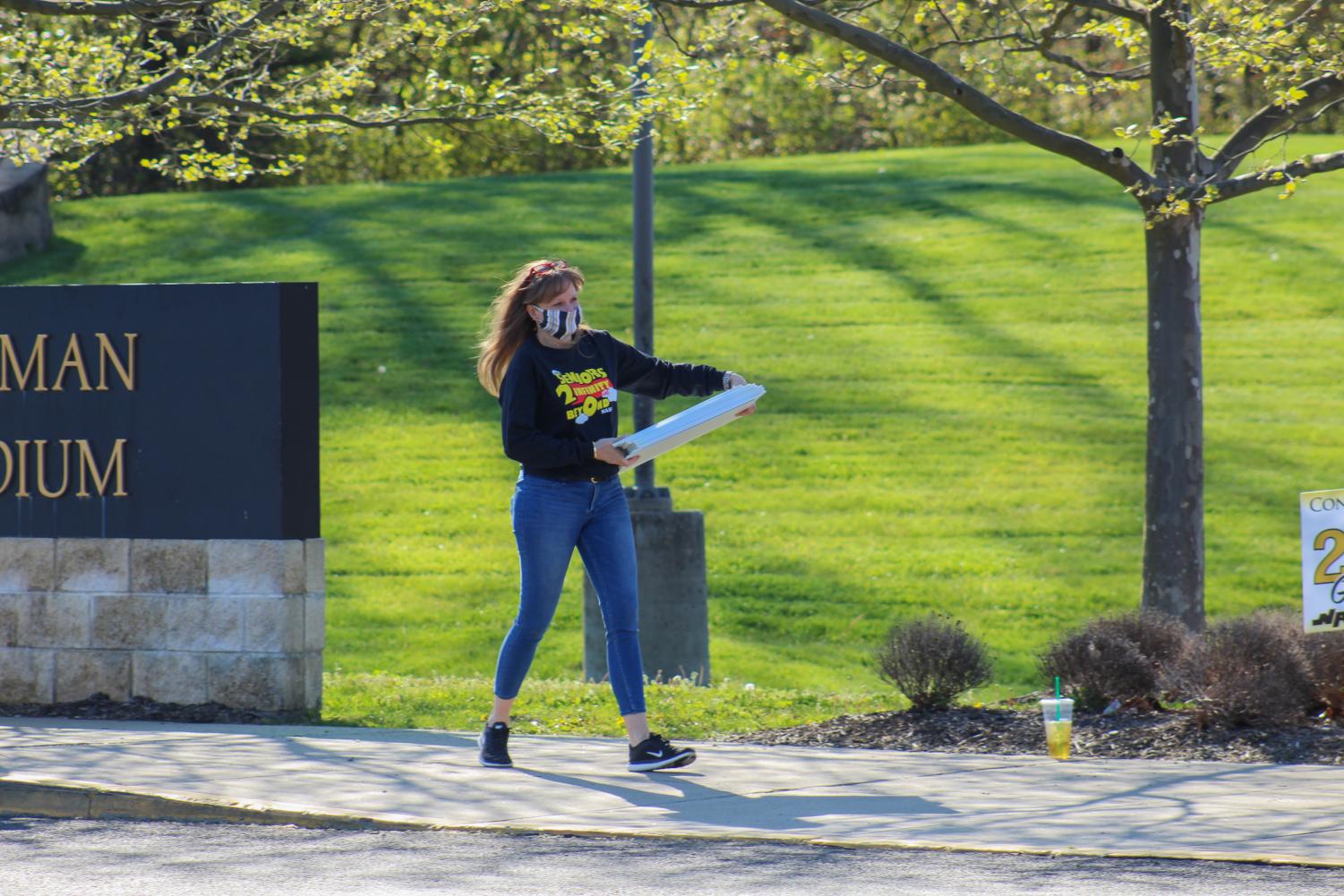 Senior class advisor Mrs. Perry, pictured above, showed her support for the graduating class by wearing the 2020 senior shirt while helping to pass out signs.
"For the past 10 years, I have been a senior class advisor and have been able to be a part of some of what I feel are the most memorable occasions during the senior year," Perry said. "This year, like no other, has had a huge obstacle for us all to overcome. When the administration suggested purchasing yard signs and having volunteers hand-deliver them, I jumped at the opportunity to help out."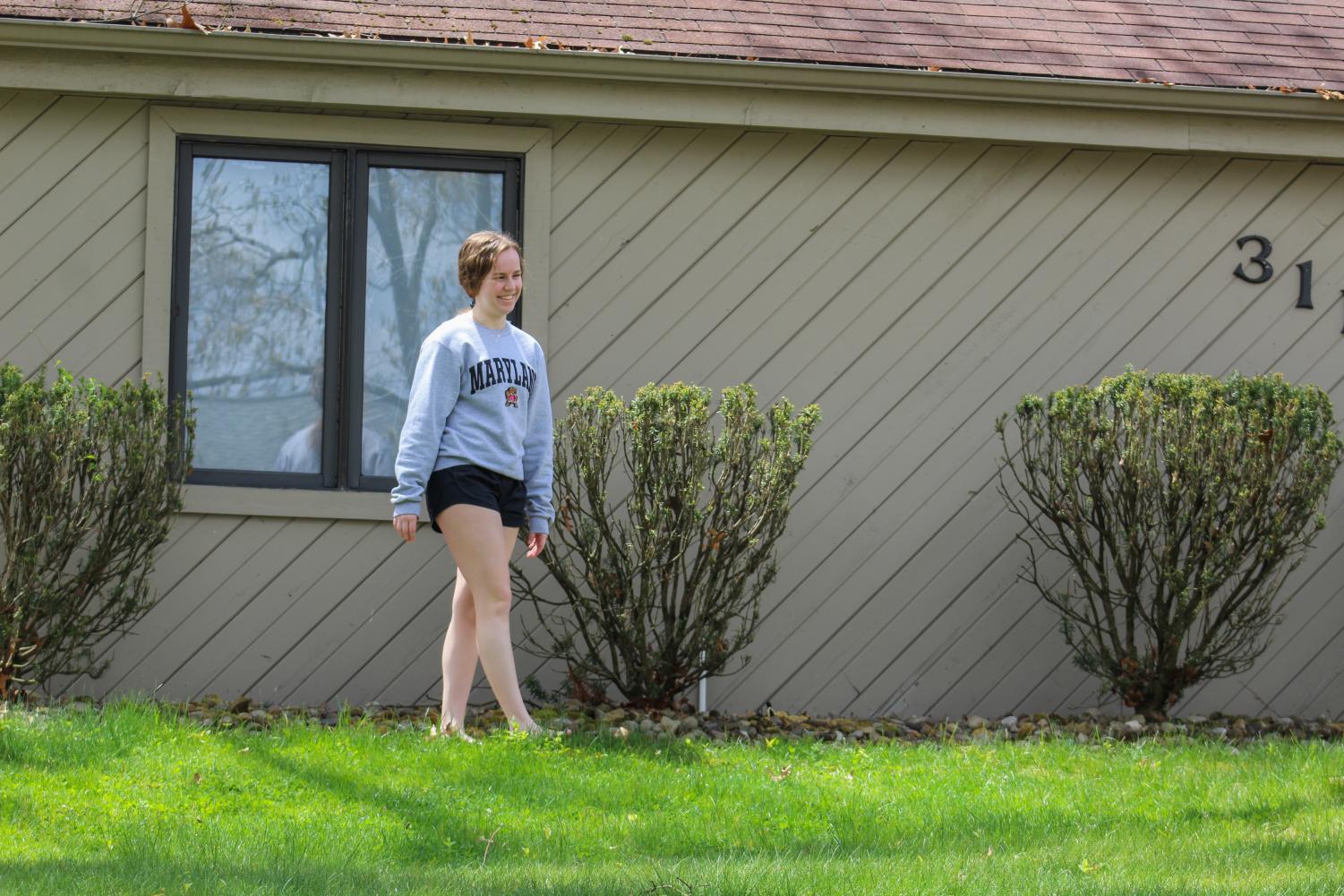 Senior Morgan Pople, pictured above, was genuinely surprised to walk out her front door to find an NA volunteer planting a graduation sign in her front lawn.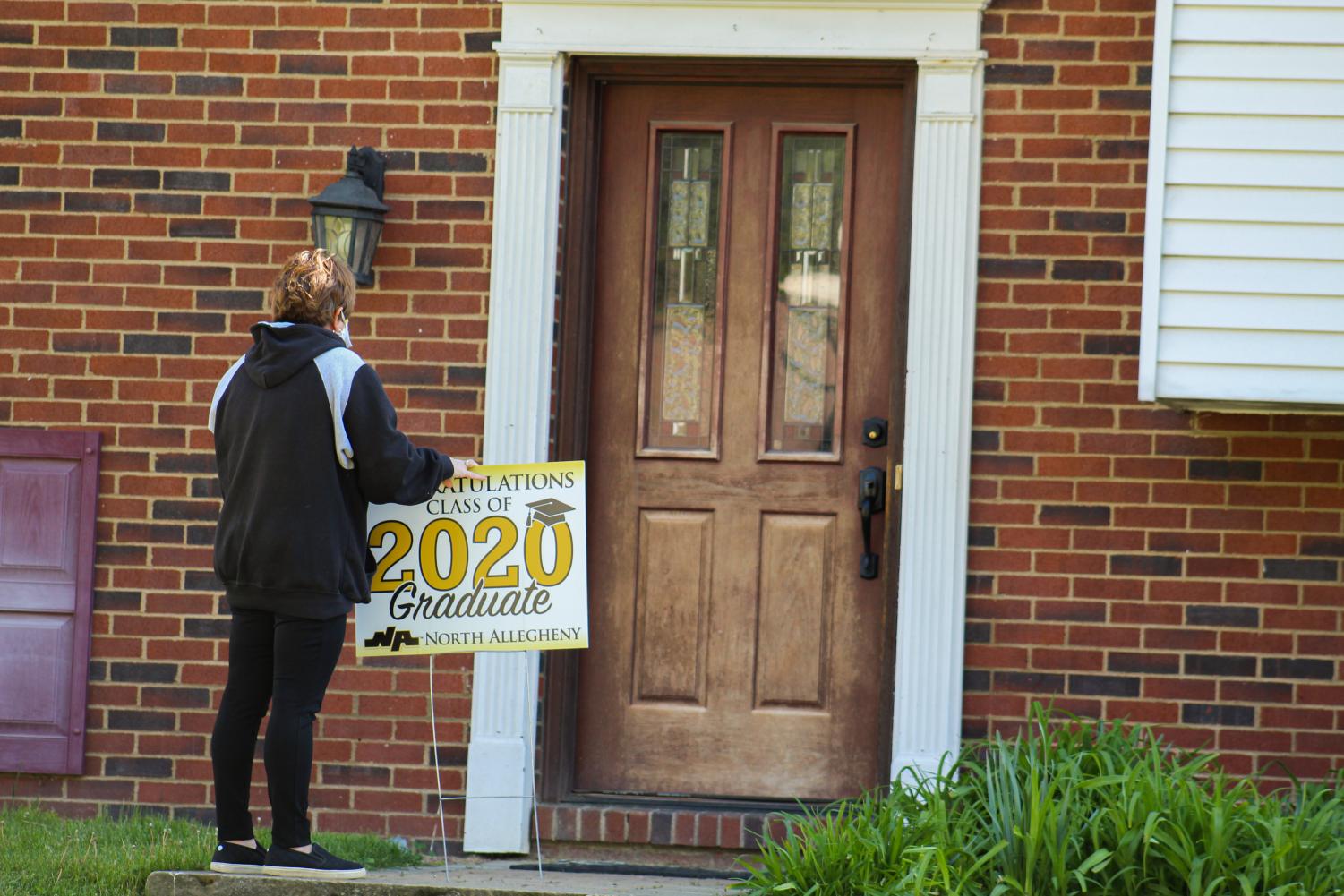 Not all of the volunteers who delivered signs were teachers from NASH. Ms. Bosack, a fourth-grade teacher from Peebles Elementary School, was eager to participate and was excited to ring doorbells in the hope of seeing some of her former students who are now graduating.
"Our teachers throughout the district have expressed how much they miss all of their students and were beyond excited to hand-deliver signs," Dirda said. "Their faces said it all."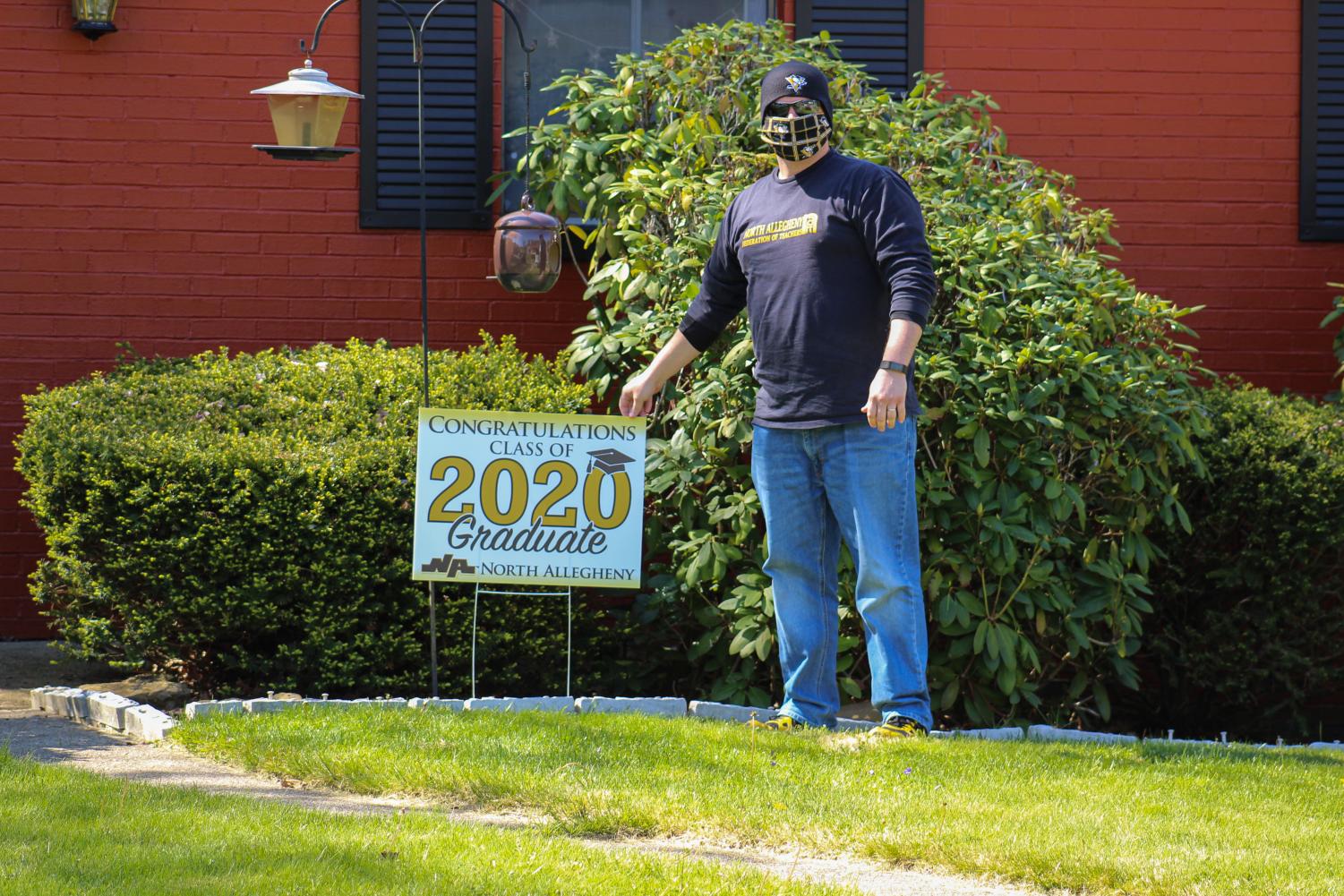 NAI American History teacher Mr. Lamm, pictured above, brought along his wife and their baby, Jack, to deliver the signs. To the Lamm family, the day served as a much-needed outing during the ongoing stay-at-home order.
Typically it takes some serious arm-twisting to get people to volunteer for a project, but not yesterday, according to Perry. More NA staff members than anyone expected offered to lend a helping hand.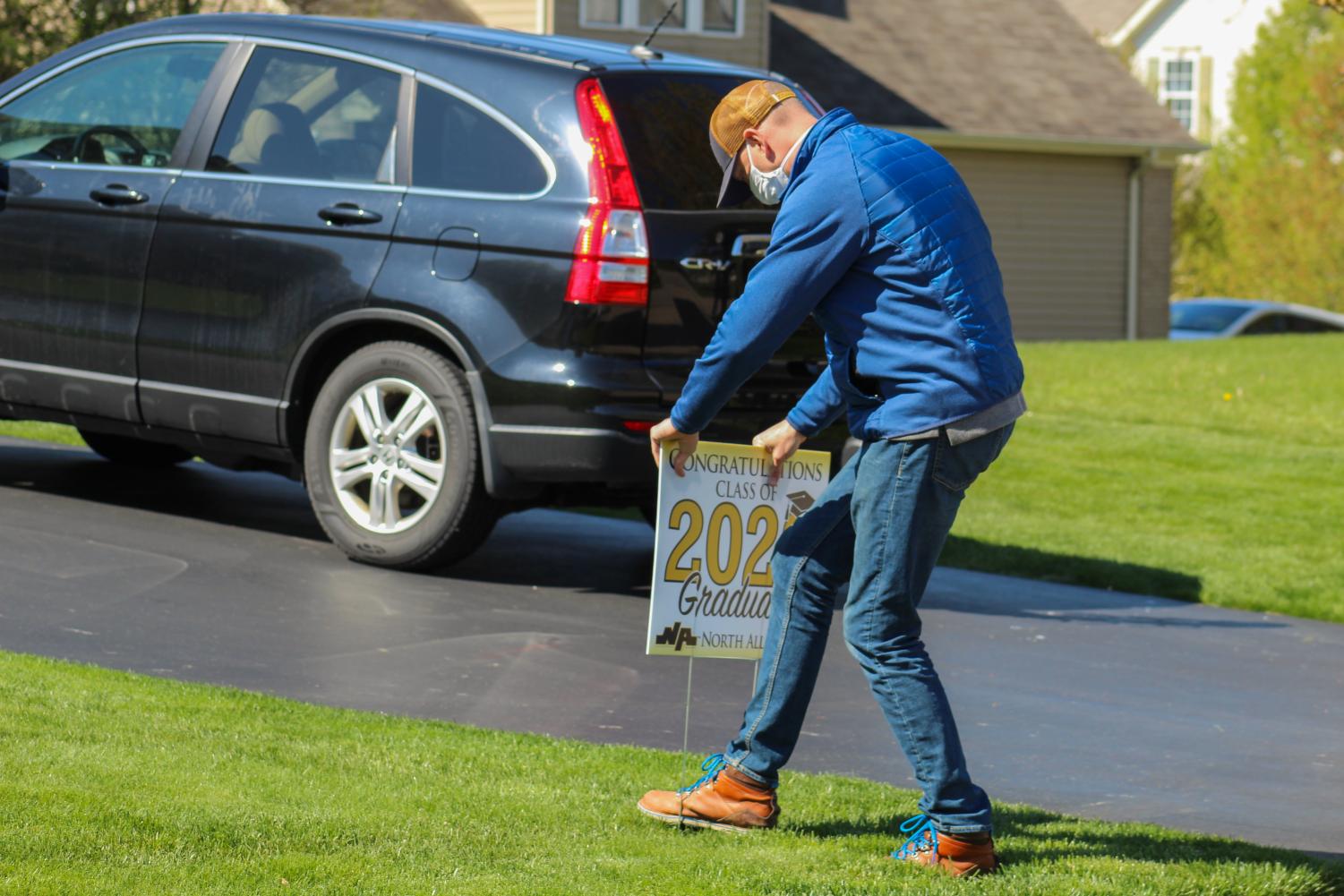 NASH English teacher Mr. Mooney, pictured above, planted signs throughout the Settler's Walk neighborhood.
Superintendent Dr. Scherrer said, "I love the fact that our staff members were able to show their students how much they care for them and still celebrate this important milestone.  The yard sign is a visible way to recognize our seniors in the community."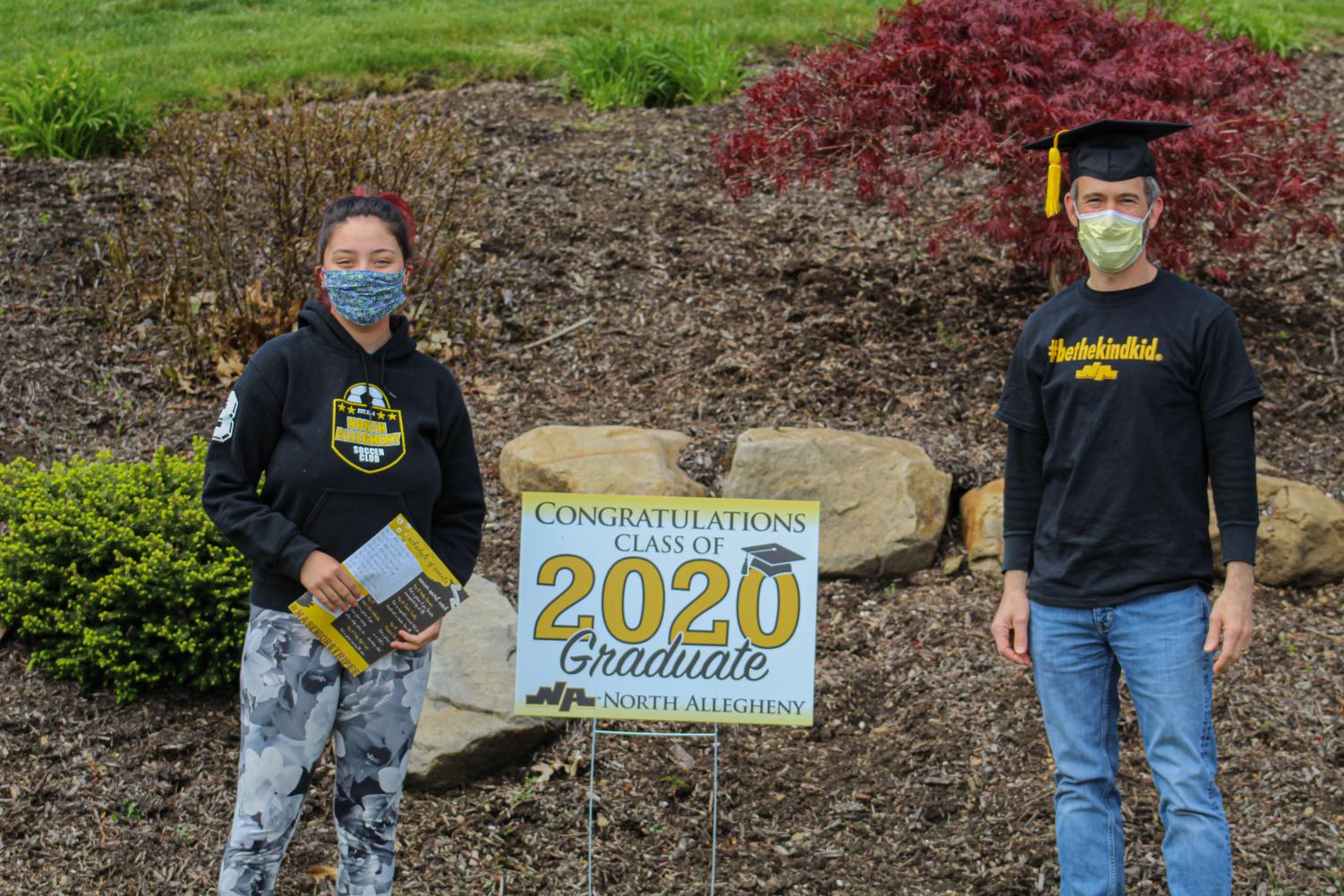 Senior Gabby Parker was fortune to have the superintendent assigned to her house.
"I am disappointed about the way our senior year is ending," Parker said. "But it made me happy that Dr. Scherrer came to my house to visit. I also loved that he wore a graduation cap to complete the outfit."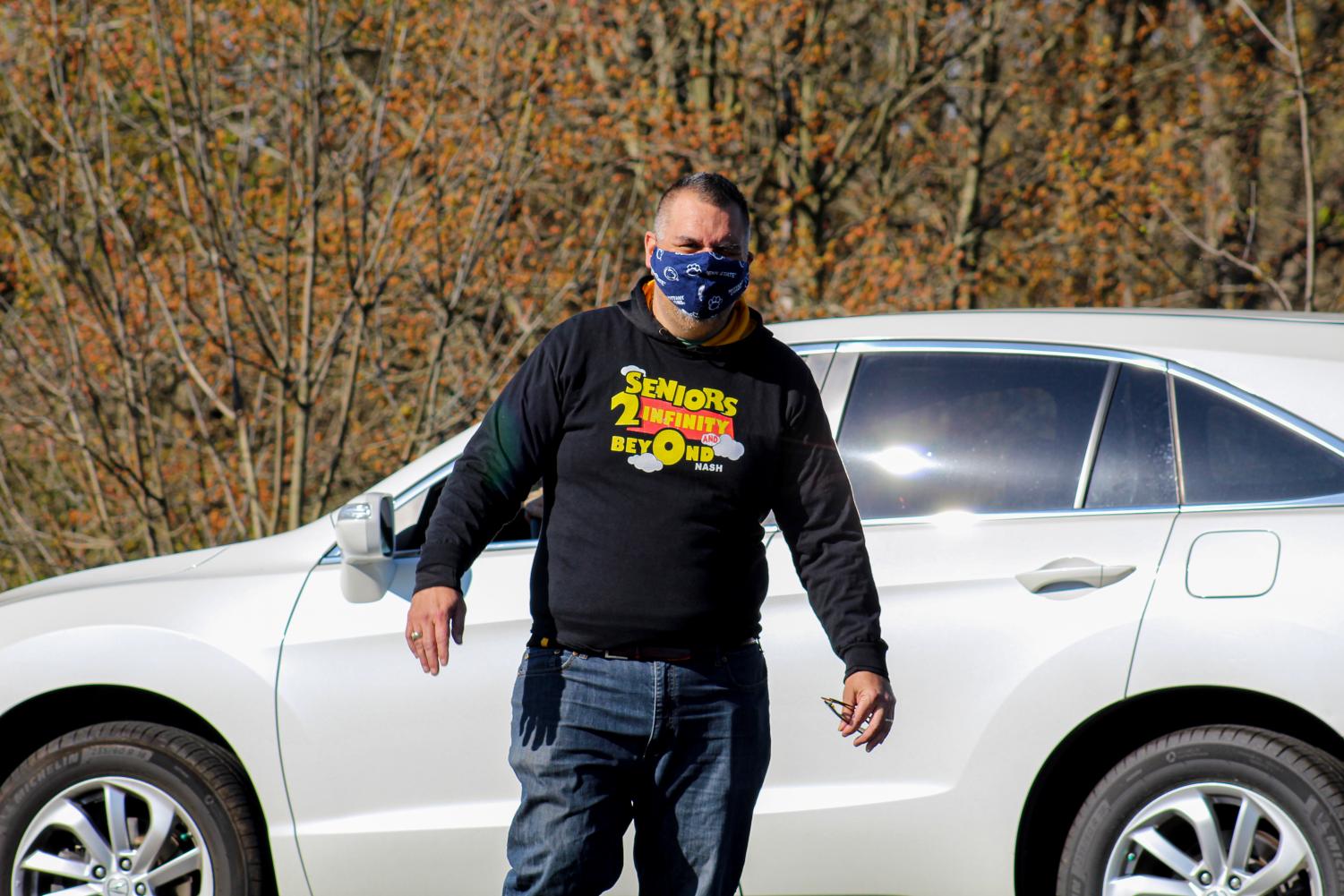 ​"The team of staff members that worked together on this project was a direct reflection of the love our entire school community has for our graduates," Dirda said. "It was a powerful reminder of how lucky I am to work in such a caring and supportive school district. Our North Allegheny school community is remarkable, and today was surreal."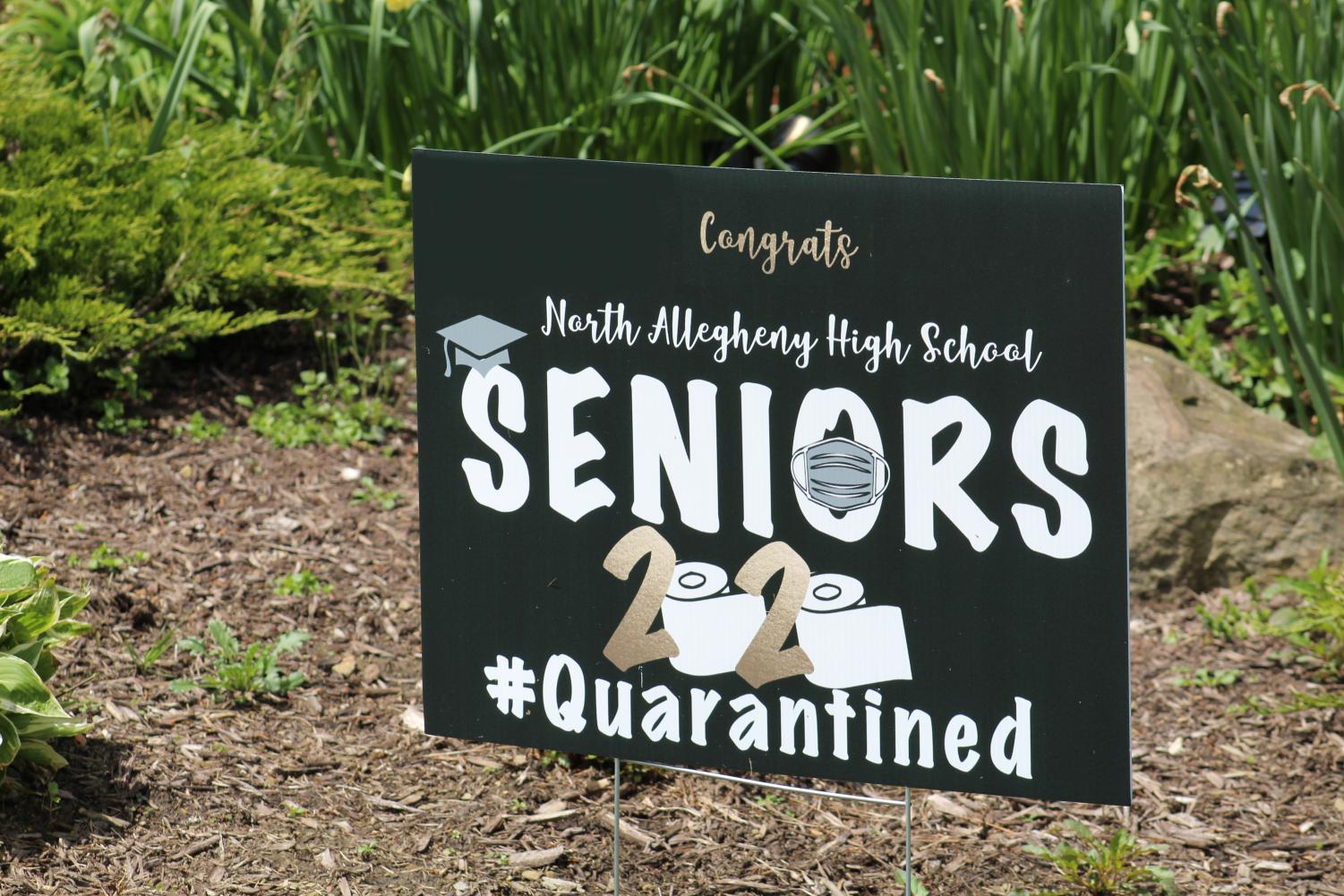 As one of the recipients of these yard signs, I can attest that the project made the senior class realize how lucky we are to be at NA, where kind acts like this show that teachers and staff really do care.
As I write this, Teacher Appreciation Week is wrapping up. Maybe today is a good time for seniors to return the favor and let our teachers know how much we care about them, too.
About the Writer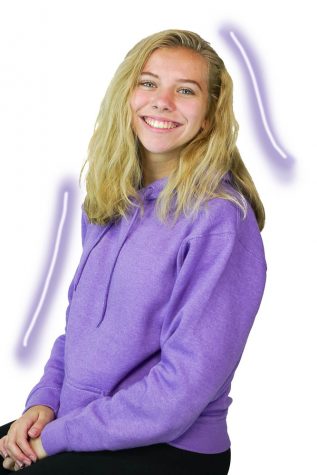 Meg Rees, Photography Editor
Meg Rees, a senior, loves everything photography. She will be majoring in commercial photography next year at Ohio University. When she's not behind the...