Summer Playlist
With the realization setting in of the school year ending, however sooner than expected, comes the excitement of summer fast approaching just around the corner. Although this summer may not be everything we imagined and planned for, making the most of it through simply listening to music that gives off a feel-good vibe is a good step towards experiencing that "main character" story feel that we all pursue. I've compiled a mix of both throwback songs and newer ones that I believe embody the feeling of adventure, unforgettable memories, good times, and carefree days that summer never fails to bring.
******
"Mr. Blue Sky" by Electric Light Orchestra
"Mr. Blue Sky" is one of my most favorite songs that I think perfectly represents summer, as its constant, upbeat tune and bright and cheerful lyrics paint the picture of a perfect sunny day. It never fails to put me in a good mood, and leaves me inspired to make the most of the rest of my day.
"My Little" by Ryan Leahan
I discovered this song on TikTok last summer, and I am not ashamed to admit that I have listened to it almost every day since without fail, and I am somehow still not tired of listening to it. One of my top favorite songs of all time, I think "My Little" perfectly embodies summer with its upbeat and catchy lyrics. It gives off a nostalgic oldies feel while exhibiting upbeat pop at the same time to create an incomparable song.
"Sh-Boom" by The Chords
Most definitely a top favorite song of mine, "Sh-Boom" is the ultimate song to listen to this summer. As beautiful as it is timeless, the warm and beautiful melody combined with its charming lyrics will have you feeling content and dreaming of paradise.
"Winnebago" by Quinn XCII, Daniel Wilson, Gryffin
The very first time I heard this song during the summer of 2018, I instantly added it to my playlist. The catchy whistling and beat of the music from the very beginning of the song immediately caught my interest, as the lyrics had me imagining I was travelling on a road trip without a care in the world. The song then builds up into this beat drop, and then eases back into the beat of the beginning. I highly recommend blasting "Winnebago" in the car, as it is sure to have you envisioning a road trip full of adventure.
"Alright" by Supergrass
Listening to this song makes me realize the importance of living in the moment, and its carefree lyrics definitely makes it a staple summer song.
"Come on Eileen" by Dexys Midnight Runners
Impossible not to love, the continuous upbeat rhythm throughout this song will have you singing "Too ra loo ra too ra loo rye aye" along for Eileen to come on!
"Tongue Tied" by Grouplove
This song is most enjoyable blasted through speakers, as I'm sure it leaves many nostalgic of good times.
"Everybody Talks" by Neon Trees
A well-known throwback, "Everybody Talks" is a perfect song to jam out to and reminisce about good times.
"Uptown Girl" by Billy Joel
Listening to this song always brightens my day, as the catchy chorus, inspired by the music of Frankie Valli and the Four Seasons,  makes me want to yell the lyrics out at the top of my lungs.
"Sunday Best" by Surfaces
Listening to "Sunday Best" is sure to have you starting out your day on the right foot-feeling blessed, never stressed.
"Freaking Out the Neighborhood" by Mac DeMarco
With its steady upbeat rhythm and unique and catchy guitar riff, "Freaking Out the Neighborhood" stands out as a song that's hard to forget.
"Summer" by Calvin Harris
By the title, obviously, "Summer" is a must-have song to put in your summer playlist. It is a carefree, nostalgic track that brings back memories.
About the Writer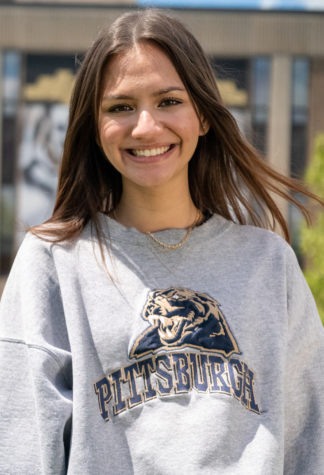 Sofia Brickner, Senior Staff Writer
Sofia Brickner is a senior at NASH who enjoys listening to oldies, watching movies, skateboarding, and playing the ukulele. When she is not working you can find her frequently adding new music to and listening to her Spotify playlists religiously, as well as editing movies.