Good Talk: Mr. Walkowiak
Tell me about your background.
I went to Knoch High School, and I attended college at the Merchant Marine Academy and studied Marine Science and Aeronautical Engineering. I spent four years in the Navy and eight years on reserve.  
How many years have you been teaching and how many have been at NA?
I've been teaching for 30 years—29 at NA.
What's your favorite part about teaching at NA?
Interacting with students and colleagues. 
What motivated you to become a teacher?
I went to grad school at Duquense. Both of my parents were teachers, and I like using my engineering background in the classroom.
What was your favorite vacation you ever took?
Ocean City, Maryland. I went with most of my extended family and we were right on the boardwalk, and it was great to be with family there.
What is your favorite musical genre and artist/band?
90's rock would be my favorite. Me and Mr. Kuffer never miss a Pearl Jam or Springsteen concert close by. I also love Tom Petty—rest in peace to him. I would say my tastes are diversified.
If you could have dinner with one person ever, who would it be?
That's a great question. The obvious answer would be Jesus. Just to be able to listen more than converse. 
What's the craziest thing that you have seen a student do at NASH?
We've had a couple of situations. One group of students broke into the pool and changed the color of the pool to purple. The chemistry department had to change the color back but the pool was shut down for a couple of days. Ten years ago we had a group of students release about a dozen chickens in the school. Of course, the administration found out and suspended the students for the rest of the year, but they were able to walk for graduation. That was a great senior prank.  
What do you enjoy doing in your free time?
Watching sports and spending time with my family are my favorite things to do. 
What is one piece of advice that would like to give the students at NASH for this year?
My dad had a quote that always stuck with me. Although my daughter hates it, I think it's important and it's this: The first 25 years of your life determine the next 50. I talked to some of the seniors last year and I said that it's not the best idea for any gap in education. Get as highly educated as possible. We have so many talented students, and they don't realize how important grants and scholarships are to them. Any aid and scholarships are absolutely worth the time and effort. 
About the Writer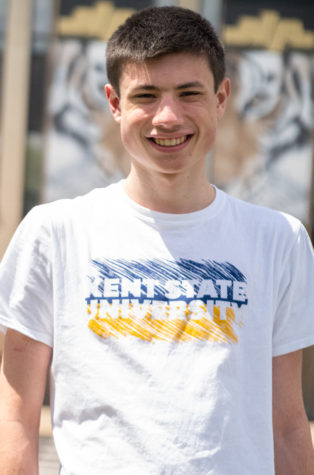 Zachary Ludwick, Staff Writer
Zach Ludwick is a senior at NASH this year and is in his first year of journalism. Strongly opinionated, journalism is a natural fit for him.  His interests include sports, politics, and entertainment.