Screened In
NACA teachers are adjusting to an entirely new daily routine
Teaching during a global pandemic is hard enough on its own, but some teachers are taking on even more unique challenges by teaching for North Allegheny's cyber school, NACA.
For Academic and Honors Chemistry teacher Ms. Uhernik, teaching at NACA is a unique and exciting opportunity. 
"I applied for the position because NACA was offering the two classes that I have always taught," Uhernik said. "I thought it would be an easy transition for the department and would also provide an opportunity for me to learn new things and grow as a teacher."
Mr. Mooney, an English and creative writing teacher, said his motivations were quite similar, although he wasn't entirely certain about the decision at first.
"Given the pandemic and the uncertainty of the upcoming school year and model, I was merely interested in understanding and exploring all the options that existed professionally," Mooney said. "As an NASD employee, I have long stated that I would do anything asked of me throughout my career, and like so many of my colleagues, I find the changes in my career to be simultaneously challenging and invigorating."
While it is exciting to take on a new challenge, teachers also feel a responsibility to make sure that their subjects are taught well to every student — whether online or in person. 
"I didn't apply to teach NACA at first," AP European History and economics teacher Mr. Mohr said.  "Then I saw that AP Economics was added to the list of potential cyber courses, so I interviewed for a NACA job. I was worried that the students wouldn't have a teacher who had an economics background and could teach that class effectively. In the end, they didn't add AP Econ to the final list of NACA courses, but they asked me to stay and help out." 
"
We spend a ton of time learning new technology, building new lessons, finding creative ways to deliver content, and answering emails."
— Ms. Uhernik, NASH chemistry teacher
Mohr's schedule this year is unique, in that he is teaching both remotely and in-person. The arrangement has posed even more new challenges, such as simply trying to make it to each class on time. 
"I'm still teaching AP European History at NASH, so I get to see both sides of NA education this year," he continued. "After I teach at NASH first period, I drive home and teach four NACA classes from my dining room. I have to create all of the lessons from scratch, so I work all weekend."
The challenge associated with translating their classroom instructional techniques to the online platform has not proven easy for the NACA teachers.
"Time is a major challenge that many of the NACA teachers face," Uhernik said. "We spend a ton of time learning new technology, building new lessons, finding creative ways to deliver content, and answering emails. The saying 'there aren't enough hours in a day' couldn't be more true for NACA teachers." 
NAI English and yearbook teacher Mr. Geibel feels the same, although that is not his only concern. 
"I think my least favorite part is the platform," he complained. "With Blackboard, I can't see all the students at the same time, and most of the time the cameras are off, and that's frustrating." 
Despite the laments of not being able to work in person with their students, Uhernik is happy just to be able to teach and work with her students at all. 
"My favorite part is my students," she said. "I know they are also facing many challenges during this difficult time and their consistent efforts, positive attitudes, and willingness to learn have been inspirational." 
Geibel, on the other hand, explained that he can often feel alone and misses being in the classroom and seeing all of his students' faces. 
"The biggest challenge is not feeling the energy of the classroom," Geibel said. "I love the classroom and 'the stage' of it.  So, there is a distance now. Also, kids don't turn their cameras on, so I feel like I'm a radio DJ, talking to a screen sometimes. Ok…caller 3?"
"
I feel like I'm a radio DJ, talking to a screen sometimes. Ok…caller 3?"
— Mr. Geibel, NAI English teacher
In fact, it seems that Geibel was a little hesitant to teach entirely online from the beginning. He went on to describe his immediate thoughts after receiving the news that he was selected for NACA. 
"It was weird," he said. "On one hand, I was hoping to get a position because of our family situation. On the other, when I found out, I was swept with some sadness," he expressed. "I've been a classroom guy for 26 years, and to know that I wasn't going back to NAI, my classroom, the halls was a bit overwhelming at first."
However, it is not all bad for Geibel, as he seems excited to challenge himself to educate his students through entirely new methods, as well as think about his philosophy on teaching. 
"My favorite part is the new challenge," he said. "It is forcing me to think about education and the delivery of my material in a whole new way. It's refreshing to have to think creatively again. As Geddy Lee, the bassist of Rush, said, 'It's time to make some new mistakes.'"
The new adventure for Uhernik, Mooney, Mohr, and Geibel is growing less difficult with each passing day, though the mixed emotions continue to swirl. 
"I was equally proud of myself and saddened [when I accepted the NACA position]," Mooney said. "I was thankful for the trust that the district placed in me to try something so new and proud of myself for trying something new in my career. But, in those moments after hanging up the phone, I was awash with nervousness, uncertainty, and a kind of sadness — a loss of some kind." 
About the Writer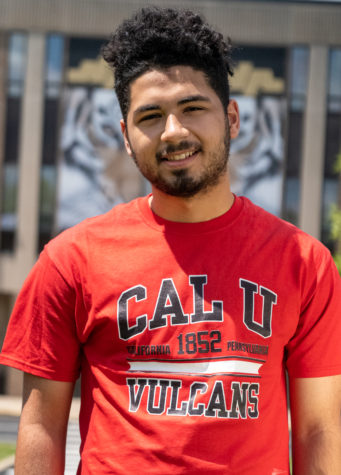 Christiaan Titus, Staff Writer
Christiaan Titus is a senior at NASH and is beginning his first year writing for the Uproar. He is also a member of the Multicultural Student Union, as well as the Social Justice Club. Some of his favorite activities include playing soccer, watching Impractical Jokers, and running.