Race to the House
Emily Skopov should be applauded for her open and responsible campaign.
On October 5th, the official Emily Skopov campaign Instagram, @emily4pa, released a post addressing her opponent Republican Rob Mercuri's failure to engage in a substantive dialogue about issues that affect PA House District 28. This was posted shortly after Mercuri ignored multiple local organizations that were attempting to host discussions between the two candidates. A few members of the Skopov Youth Team responded to this post by tagging Mercuri's account in the post's comment section, hoping that he would see it and respond in some way. 
Soon, it became apparent that he had blocked a college student on the youth team. Multiple members of the Skopov Youth Team responded to this occurrence by commenting on Mercuri's most recent Instagram post. Less than an hour later, Mercuri deleted these comments and continued to delete any other negative comments on the post almost immediately. After a while, comments were limited on Mercuri's account entirely, disallowing any concerned District 28 residents from expressing their concerns publicly, and he turned off everyone's ability to tag him in posts. 
About a week later, Mercuri sent out a mailer and posted its graphic on Facebook. The mailer's purpose was to compare him to his opponent. One accusation against Skopov, the Democratic candidate, was that she supported 'radical liberal curriculum changes in our schools.' To prove this, he cited NA For Change's petition. 
"
Throughout his campaign for a seat in the Pennsylvania legislature, Rob Mercuri has gone out of his way to avoid any sort of negative feedback, even when it is arguably well deserved.
As a member of NA for Change, I feel it necessary to set the record straight. 
The petition was created in response to the murders of George Floyd and Breonna Taylor. It was developed by a group made up of North Allegheny students and alumni and outlined a comprehensive plan to "foster an anti-racist school environment" and "establish North Allegheny's anti-racist education." As a parent of a current North Allegheny student, not as a politician, Skopov signed the petition to support students who want to work towards a more inclusive education. 
In response to Mercuri's mailer/post, concerned North Allegheny students, alumni, and parents as well as other District 28 residents criticized Mercuri via social media once again. This time, though, it was on Facebook. Because of this, comments were not limited as they were on Instagram.
As people began to post comments outlining their concerns with the content in the social media graphic, Mercuri's Facebook page quickly deleted most of the criticism and even blocked certain individuals — including me — from commenting altogether. Mercuri's page also failed to acknowledge the misuse of the term 'Marxist' in the comment section by his supporters, as people were comparing an anti-racist group of young people to an economic system. 
Another mailer from the Mercuri campaign titled "We Can't Afford Emily Skopov" accused Skopov of wanting to "raise taxes" and "defund the police" among other things.
On Skopov's website, an easily accessible page titled "Fiscal Responsibility'" under her priorities says otherwise. It explains why she believes that the government should no longer rely on borrowing or raising taxes.
She explained, "I believe we can solve Pennsylvania's fiscal challenges without burdening the taxpayer. I'll work to balance our budget responsibly by cutting wasteful spending, closing loopholes, and seeking out new areas for growth and increased revenue."
Skopov has never said she wants to defund the police. In fact, she has met with police chiefs in the area to hear what they have to say. On a post on the Skopov campaign Instagram, she says that she believes that first responders, such as those at fire and police departments, are "an integral part of our everyday lives." She has even promised to advocate for these first responders if sent to Harrisburg. 
She pledged, "I will be an advocate for individuals in police and fire departments if sent to Harrisburg, never forgetting their contributions to our townships, state, and country."
Regardless of how I personally feel about these issues, it is troubling to see blatant lies being utilized by Mercuri for political gain.
Throughout all of these incidents, the Skopov campaign began to put up new signs along highly-traveled roadways. The signs included Skopov's personal cell phone number in large font. This served as an open invitation to call Emily and have a one-on-one conversation with her about issues that affect the district.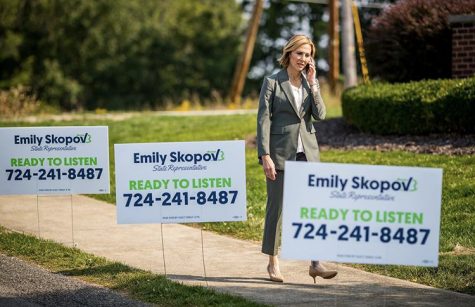 Skopov also released an accountability pledge, a detailed outline of how she will continue to be accountable to the residents of District 28 after being elected. A few promises listed in this pledge include the following: "All calls and emails will receive a response within 48 hours," "I will declare all real or perceived conflicts of interest," and "I will seek public comments on all legislation and will have an easy and accessible method to submit them on my website."
Under the issue of Government Reform on his website, Mercuri mentions accountability to citizens as well.
It reads, "Rob knows that in order to be effective, [the] government must be accountable to citizens."
While it is laudable that Mercuri is willing to acknowledge the need for greater accountability and include it on his website, actions speak louder than words. Mercuri has failed to be accountable to the citizens of District 28 that do not completely agree with him. He censors the voices of his possible constituents who wish to voice legitimate concerns. 
On all levels, government representatives are subject to criticism as they work for their current and future constituents. Throughout his campaign for a seat in the Pennsylvania legislature, Mercuri has gone out of his way to avoid any sort of negative feedback, even when it is arguably well deserved. He has continuously lied about his opponent's stances on key issues. If this is how he acts as a candidate, it is not unreasonable to assume that he will act similarly if elected. 
No matter what side of the aisle someone is on, lying and censorship should be concerning. Transparency, honesty, and accountability are necessary qualities for a good representative, and only one candidate in the 2020 race for Pennsylvania State House's 28th seat has managed to demonstrate them time and time again — her name is Emily Skopov.