A Review of Positions
Ariana Grande's sixth studio album shares her newfound confidence and how much she has grown as an individual.
Throughout all 14 tracks in her newest album, Positions, Ariana Grande describes her new romance and happiness while still trying to piece herself back together after so much heartache. This is her third album in two years and fans can tell from this album that she is finally at the surface after drowning in sadness for so long. Her ability to finally feel again after the true horror she has been through in the past is portrayed in each song.
Grande put her heart and soul into this album and her efforts have not gone unnoticed. The title track has already debuted at #1 on the Billboard Hot 100.
The first track of the album, "shut up" includes the lyric, "All them demons help me see stuff differently, so don't be sad for me." The line acts as a thesis for the rest of the album and it clears the way for her fun and beautiful vibe to come. Her mental health has improved so much, but she still battles her demons like everyone else. This track portrays her angelic voice through different riffs and the layering of her vocals. It is truly the perfect song to sing to in the car with your best friends. 
"
The line acts as a thesis for the rest of the album and it clears the way for her fun and beautiful vibe to come."
The fourth track, "just like magic," features Grande in a very confident form. She describes how at the snap of a finger, she can do anything almost like magic. The song describes The Law of Attraction, the belief that positive or negative thoughts bring positive or negative experiences into a person's life. This song has a catchy beat that just makes you want to get up and dance. 
Positions also includes featured artists such as Doja Cat, The Weeknd, and Ty Dolla $ign. A track collaboration between Doja Cat and Grande has been anticipated for a long time by both of their fandoms. They finally collaborate on the track "motive." This song has a more dance-floor beat than others on the album, but the lyrics provide a chill vibe. Doja Cat was the perfect selection to be featured on this song because of her sassy tone and execution of the lyrics.  
The Weeknd and Ariana Grande combine their voices yet again on track five, "off the table." "Love Me Harder", a single from Grande's second album, My Everything, was a huge hit in the pop world. After enormous success with that iconic single, they decided once again to join forces and create a beautiful R&B piece. Grande sings, "Might not be quite yet healed or ready / Should I be goin' too steady? / But I just wanna know is love completely off the table?" These lyrics along with the rest of the song are speculated to be about if Ariana is ready to have a serious relationship with her current boyfriend, Dalton Gomez, after losing Mac Miller. Whether or not that is true, this beautiful song gives an intimate look into Ariana's healing process.
My favorite track on the album (and possibly favorite song ever) is "pov." This song is for sure a tearjerker, as Grande's voice is so angelic and the message behind the words is unlike anything I've ever heard. Grande sings, "I wanna love me the way that you love me / For all of my pretty, and all of my ugly too / I'd love to see me from your point of view." In these words and throughout the rest of the song, she explains how she wishes she could see herself from her significant other's point of view. Grande wants to see how someone could love her so much, despite how she sees herself. Unlike the rest of the songs, this song goes in deeper to uncover her insecurities in relationships. The song showcases her insane whistle tones, harmonies, and belts and is the perfect album finale. 
Positions is one of my favorite albums from Ariana Grande as it showcases her talent and true self in each song. Nothing is better than seeing someone finally happy after going through so much pain. Throughout all 41 minutes of the album, Grande shows the world that she is moving on and having fun in her life. Her exquisite voice and craftsmanship with each song are nothing short of flawless. I'd bet this album will continue to stay at the top of the charts and Grande will continue to receive praise for this exceptional work of art.
About the Writer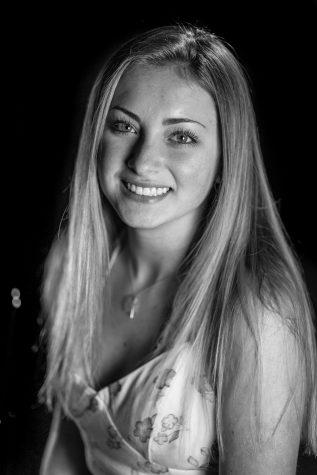 Waverly Younts, Staff Writer
Waverly Younts is a junior at NASH. She wrote for NaEye and is continuing to hone her journalistic skills this year by contributing to The Uproar. She is a cashier at Monte Cello's Wexford, near NASH. When she is not working, Waverly is most likely playing soccer, running track and field, petting her beautiful tuxedo kitten, Stella, or inventing new dishes in her kitchen.