35 Years of Mario
Since the first beloved Super Mario Bros game was released exactly 35 years ago, the brand has released many great products that built off the original.
I'm sure all of us have played at least one Super Mario game in our lives, whether it be one of the NES classics like Super Mario Bros 3, party games such as Mario Party, and Mario Kart, or some of the new games, such as New Super Mario Bros and Super Mario Odyssey. With all of these classic games, it is hard to believe that the original Super Mario Bros game was first released a whole 35 years ago! That's right, it was released all the way back in September of 1985, and Nintendo have released a whole host of new products and games to celebrate the occasion. With all these new products, I have decided to make a list of the top ten best Mario products released to celebrate the anniversary. 
 10. Monopoly: Super Mario Celebration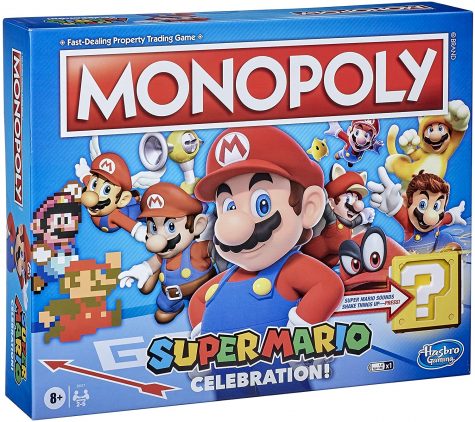 To start off our countdown we take a look at a classic board game with a new spin. Monopoly: Super Mario Celebration was released earlier this year, and is very similar to the original game. However, it is now Super Mario themed, featuring artwork from all of the iconic games. One new feature that was added is a question block that makes sounds and can affect the game. This is a fun little game, however purchasing it will set you back $30. Given the steep price tag, this game comes in at number 10, however it is still a good tribute to the Super Mario series, and is just a fun as the original!
9. Jenga: Super Mario Edition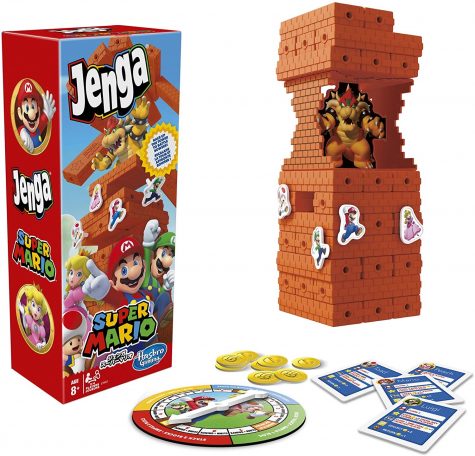 This is another classic game that was given a Super Mario twist to celebrate the anniversary. However this one changes the game a whole lot more than the previous listing. Now, when this game is played, players will move pegs shaped like characters from the series to the top of the tower as blocks are added. Once a player reaches the top of the tower they can collect points after defeating Bowser. The player with the most points wins. This is another fun game, and it also has some artwork, and neat little details to make it feel Mario themed. This one is slightly less pricey than the other game, at $20.
8. PUMA RS Dreamer Super Mario 64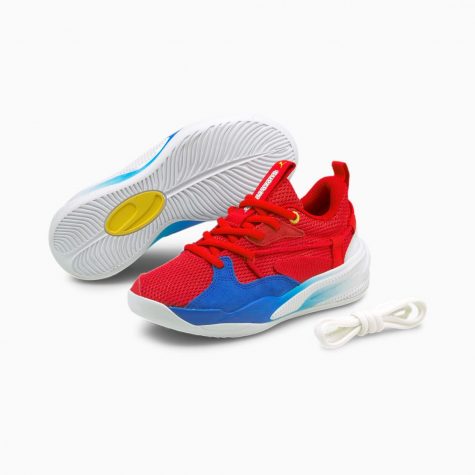 This one was honestly quite surprising. No one would have anticipated a Mario themed shoe, however, all things considered it is actually not too bad. It isn't overly flashy, and the bright red and blue make a nice combination. It has Super Mario written on the tongue, which admittedly is a little cheesy, but then again this is a Mario themed shoe. The stars on the back are also a nice detail. If you are looking to make a fashion statement, and show your love for the iconic plumber, they are available for the price of $125 on Puma's website.
7. LEGO Mario Series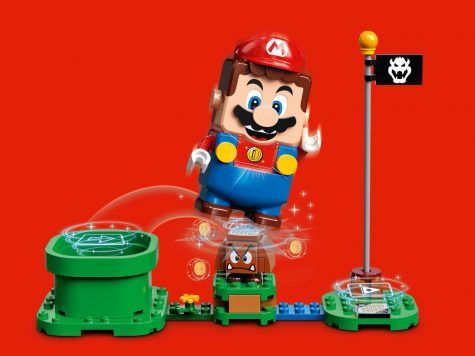 To celebrate Mario's anniversary, Nintendo teamed up with another popular company to release 16 new sets that have been available to purchase since August. This series features build of iconic characters, such as Toad, Bowser, and Yoshi, as well as an electronic Mario figure that interacts with the course builds and characters. The bottom of the figure scans codes that are on lego bricks on enemies, characters, or items to give the player coins, or other rewards. This works really well, however it is only available in the starter kit for a total of $60. Given that that is the price of an actual video game on the switch, that is a little bit high, not to mention that if you want to expand your course you must buy other sets, some of which reach $100. Of course LEGOs are typically expensive, so this isn't much of a surprise, and building the sets and expanding your course are very fun. This might have ranked higher had it not been for the annoying virtual instructions that are provided for the set, rather than the physical ones that come in other LEGO sets.
6. LEGO Mario NES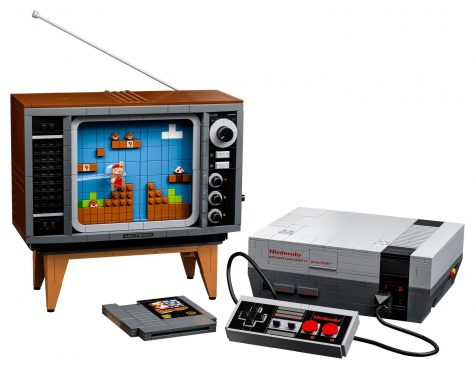 I know that this one is technically part of the LEGO Mario Series, however it so different to all of the other sets in both price and features that I had to put it in it's own category. This 2,646 piece LEGO set will set you back $299.99, and features a small TV connected to the classic Nintendo Entertainment System, that the Original Super Mario Bros. was released on. It also features a build of the cartridge for the eight-bit classic. If you can look past the exorbitant price, this set is a really cool piece to add to your collection. The NES, controller, and game cartridge are very accurate recreations, and this set can even scroll through a replica of the original 1-1 level of Super Mario Bros!
5. Super Mario Game and Watch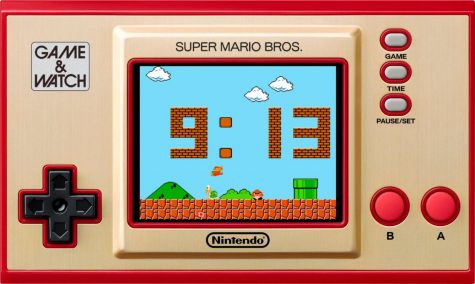 This one takes Nintendo back to one of their classics, as it is a replica of their original Game and Watch handheld system. It has various updates such as it now being in full color. This system can play the Original Super Mario Bros. as well as the Japanese sequel, known in America as, Super Mario Bros the Lost Levels. In addition to being another way to play those classic games, it also features a version of Game and Watch Ball that now has Mario instead of Mr. Game and Watch. It is available for preorder now, and will be released on the 13th of November.
4. Mario Kart Live Home Circuit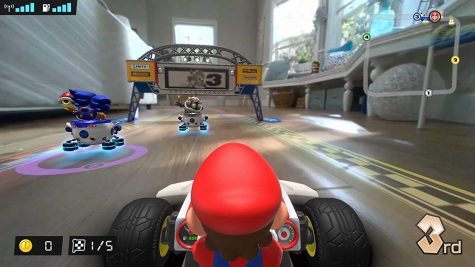 I'm sure most of us would have prefered an official Mario Kart 9 being released, as opposed to a spin off, however I have to admit that when this was announced I was really interested. This is an augmented reality game that can be played on the Nintendo Switch, and features a remote controlled car for $100, that has a figure of either Mario or his brother Luigi. This allows the player to create their own course using for gates to mark the start and finish, as well as the general path that drivers will take. It is really cool how you can add obstacles from your own home, as well as virtually. One drawback of this is that you cannot play local multiplayer unless you have two of the cars- each costing $100- and two Nintendo Switches. However courses can be played online, and it is still a fun time to make, and drive through your own courses.
3. Mario 3D World Plus Bowser's Fury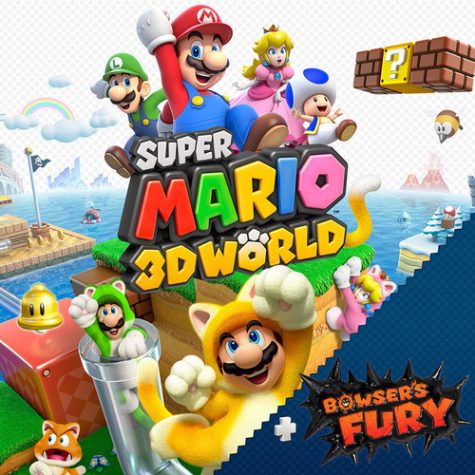 Nintendo are officially port crazy, but this time I kind of like it. It's no secret that the Wii U did not sell nearly as well as Nintendo had hoped, and this means that many people never had the chance to play what is probably it's best game, Mario 3D World. Available for preorder, and to be released on February 12th of next year, this looks to be in many ways a straight port of the original game, which at the very least will give us the chance to play it on the switch, and allow those who have never played it to experience it for the first time. However, what is really interesting, is the new Bowser's Fury mode that was teased during, the Mario 35th Anniversary Nintendo direct. This has lead to much speculation as to what it could be. This could be an entirely new game mode, another world or more levels! However. it looks like we will just have to wait and see.
2. Super Mario 35
Who ever thought that they would need a battle royale style Mario game? I certainly didn't, however this is easily one of my favorite games I have played within the last few years. The game places 35 players against each other in a contest to see who can stay alive the longest while playing the original Super Mario Bros. levels and surviving enemies sent by other players who have defeated them. A player will also be eliminated if they run out of time, and can get more time by killing enemies. It is a frantic fast paced game that leads to an overall exhilarating experience, and is a brilliant take on one of the all time classic video games. It is available to download for free for anyone who has the Nintendo Switch online membership, however it will sadly only be available to play until March 31st of 2021.
1. Mario 3D All-Stars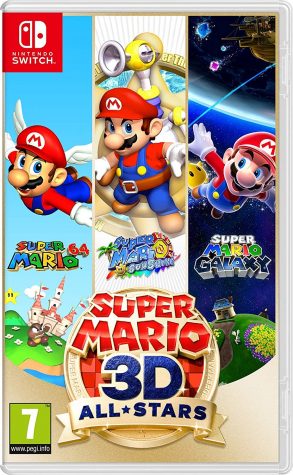 After much anticipation, speculation, and many rumors, the Mario 3D ports are finally here. To celebrate Mario's Anniversary, you can now play some of the characters greatest games, Super Mario 64, Super Mario Sunshine, and Super Mario Galaxy, albeit only the first one. This offers players a chance to relive all three of these iconic games, and will give many younger fans the opportunity to beat them for the very first time. The game includes various updates, such as increasing the games to HD, and a soundtrack that features all of the music for the three games. One notable exclusion for this collection was the sequel to Super Mario Galaxy, Super Mario Galaxy 2. Many were disappointed that it was not included, however it is still a great way to play these games in handheld mode. The price for this collection is $60, However, it will only be available to purchase until March 31st.  If purchased before that date, either Physically or digitally, it can still be played.
About the Writer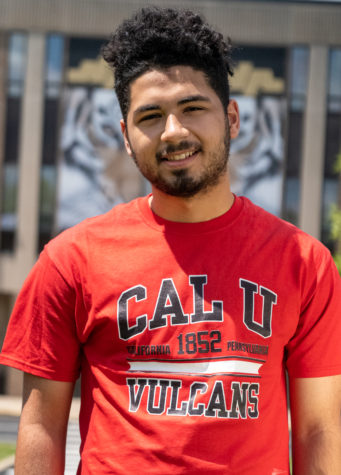 Christiaan Titus, Staff Writer
Christiaan Titus is a senior at NASH and is beginning his first year writing for the Uproar. He is also a member of the Multicultural Student Union, as well as the Social Justice Club. Some of his favorite activities include playing soccer, watching Impractical Jokers, and running.