Front Office Chaos
The NBA's plans for the 2020-21 season are ambitious, but some teams may be at a disadvantage.
The NBA Players Association has just approved a plan to start the 2020-2021 NBA season on December 22. Due to last season's delayed postseason, this year's offseason will be the shortest in NBA history. Teams are scrambling to get their necessary offseason tasks completed, and the new return date could dramatically change the season's outlook for a number of teams.
The NBA has set the draft date for November 18th, and the first day of training camp will be December 1st. However, the real issue with this tight schedule is free agency, which is set to begin on November 22 and run until the season opener one month later, giving teams just eight days to sign free agents before the start of training camp. Teams are allowed to sign players through December 22, but new signings will miss most or all of training camp. This could be devastating to teams looking to make big moves in the free agent market.
It will be challenging to acclimate these new players to the teams system in such a short time, and could cause a lack of chemistry between the players. These teams may shy away from the market this season, and they could miss out on much needed players to round out their rosters. 
So who will benefit from this quick season turnaround? Teams like the Milwaukee Bucks, Boston Celtics, Miami Heat and the defending champion Los Angeles Lakers don't have many changes to make this offseason, meaning that team chemistry will remain intact, and teams won't have to worry about restructuring their system around new players. These teams can focus on recovering their bodies from their deep playoff runs, and they won't have to worry as much about on-court adjustments. 
The scariest team coming into this season is the Golden State Warriors. The Warriors lost their superstar players, Steph Curry and Klay Thompson, to injury last year, and without them, the team finished with the worst record in the league. Not only did they secure the second overall pick in this year's draft, but in the absence of their two best players, their rookies got much needed playing time and experience. Thompson and Curry also had more time to recover due to the delayed postseason. Also, the Warriors did not qualify for the NBA Bubble, so they will be fresh and ready to go, unlike the teams that made deep playoff runs less than two months ago.
NBA front offices are already hard at work to make the necessary offseason changes happen. With the draft a week away, teams have to draft their players and worry about trades that may come up during the draft. Free agency decisions will be impacted by the draft and must be made quickly.
ESPN insider Kirk Goldsberry is one of the many skeptics of the season restart plan.
"As a former front-office guy, I can't imagine trying to pull off a draft, a free-agency period and training camp between now and Christmas," Goldsberry recently said. "Normally, the time between the playoffs and summer league is the wildest time of year for a front office — this year, it could be bonkers." 
The next month will be the most grueling test the NBA has ever seen. The December start date may seem like a bad idea, but it is essential to return the NBA calendar to normalcy.
About the Writer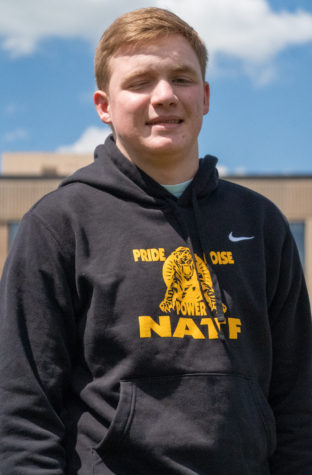 Flynn McGurrin, Staff Writer
Flynn McGurrin is a junior at NASH who enjoys golfing and watching any sport he can find.