Are Politics Killing Sports?
TV ratings for sports events have been poor since the spring, but the reasons remain debatable.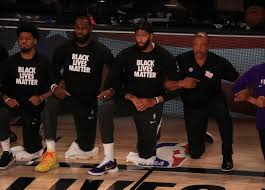 In 2020, sporting event TV ratings were the lowest they've been in years. However, the reason for the decline is highly debated. 
According to Forbes, The US Open Golf Tournament, As well as the NBA and NHL finals all saw a decline of over 50% in TV ratings compared to 2019. Even the NFL, which rules the cable TV world has seen a decline of over 13%.
Many conservative Americans attribute this decline to sports becoming "too political." Sports leagues have incorporated social justice massages into their advertisements, painted messages onto their playing surfaces, and made changes to their organizations to promote social justice. 
Many Americans use sports as an escape from the outside world. They use it as a way to relax and forget about politics for a few hours a week. Lots of these people were outraged by the promotion of social justice messages by their favorite sports teams, and they claim that sports have become the things that they try to avoid. Some conservative news outlets have criticized major sports leagues for "over politicizing" sports, which has fed the fire of criticism. 
The funny thing is that these messages are often simple things that you would think could never be controversial. They are as simple as painting the words "end racism" in the endzone of an NFL football field, or locking arms before a game as a show of support for the Black community. It really is appalling to see that so many people consider ending racism to be too political.
Although this mindset is all too common among Americans, this may only be a small part of the overall reason for the lack of sports viewership. According to a poll by the Marist Center For Sports Communication, the amount of people who said they watched less sports because of players speaking out for social justice was about the same as the number of people who watched more. 
Contrary to the decline in sports ratings, news ratings are as high as ever. According to AP News, CNN, FOX News and MSNBC are up a whopping 72% in average ratings compared to 2019. Because of the presidential election, news channel viewership has trounced sports ratings. In the past, bored TV viewers would watch any sporting event they could find to pass their time. However, it seems that viewers now would rather pass their time watching Anderson Cooper or Tucker Carlson. Fortunately, news and sports ratings should return to normal once election season eventually passes. 
Another theory involves the rescheduling of many games due to COVID-19. In a normal year, the schedules of sports leagues are spread out throughout the year, which avoids competition between them. Sports came to a stop in March, and when the restarts came, they happened at the same time. The US Open is usually held on Father's Day in midsummer, but its postponement to the week of September 17th killed its ratings, as it had to compete with the NFL on the final day of the tournament. The NBA, NHL and MLB all resumed their postseason at the same time, which left sports fans having to choose which sport they wanted to watch. This major competition between professional sports proved to be detrimental to the viewership of all sports alike. 
Fortunately, the issues that held back sports ratings are temporary and should not spell the death of sports that many conservative TV hosts suggest is imminent. Once the sports calendar returns to normalcy and the election craze subsides, sports leagues will run cable TV once again.