Beloved Memories in the Absence of Memorial
For my grandma, and for millions of other Americans who have passed away since the start of the pandemic, the closure of a memorial service remains out of reach.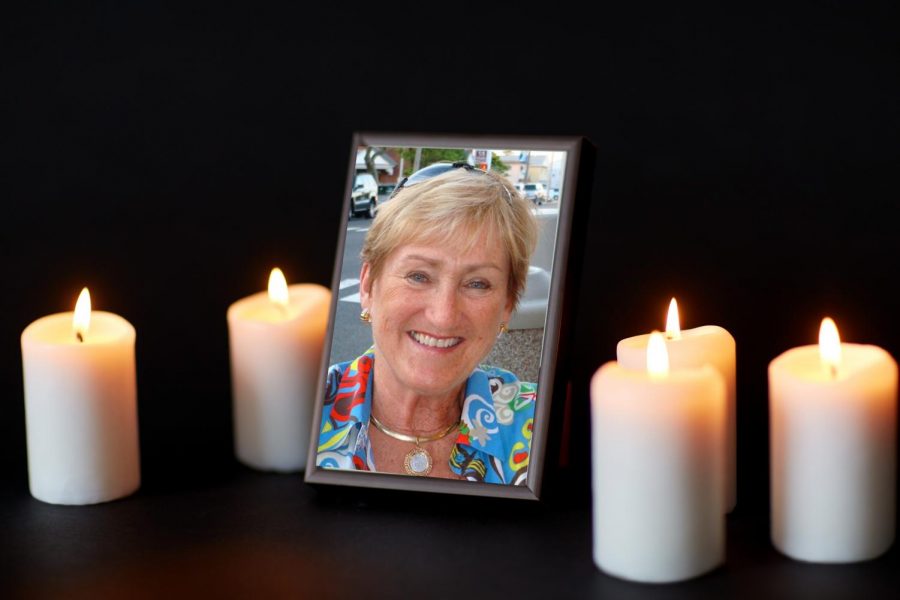 When I woke up on the morning of Friday, March 6th, 2020, it felt like a normal day. I went to school and was preparing for my musical performance later in the evening. It turned out to be a day that I can tell you almost every single step I took and will never forget. That day, I lost my grandma. 
At the time of her passing, I was in the middle of show week for the spring musical, Titanic. I had been sitting in the pit for long hours of endless rehearsals, and what we had finally worked for was here. I hate to say it, I don't really think I had time to grieve. 
My grandmother's name was Elizabeth Ann Baker.  We called her Muffy because she thought the traditional name "grandma" sounded too old. For most of my  years with her, she radiated warmth and was always fun to be around.  She was also suffering from a long battle with a disease. In her final years, she could no longer talk and wore an emotionless face whenever I would look at her. The worst part was that we knew she was in there. We all knew her death was coming, but that did not make it any easier. 
I did not learn of her passing until I got home that Friday, and I had to turn around a few short hours later to go play in the show. I remember retreating to my room after my mom told me and crying, before forcing myself to get ready for my show. I did not cry after that afternoon, somehow thinking that I would save my emotions for her memorial service that was scheduled for March 14th, 2020 — the day after school closed due to the spread of COVID-19.
That funeral has still yet to happen, having been put on hold until further notice. 
"
Losing someone so special is hard enough, but not being able to celebrate their life is deeply painful."
We had ordered flowers and memorial service programs but had to tell our family and friends to cancel their flights from out of town. The emotions that I thought I would be able to release still have yet to come out. Some days I'm afraid that they may never will.
My family's situation is not unique.  The National Funeral Directors Association reports that over 50 percent of funeral have been postponed indefinitely due to the pandemic.
It is incredibly hard to say goodbye to loved ones who have basically shaped our families. My grandma was a tremendous person, and anyone who met her would probably agree with me. We have hours of family videos from when I was little, mostly thanks to her. I like to joke with my family that she invented the vlog, or "moving pictures," as she called them, because she would try to narrate whatever she was recording. She also loved to take selfies, at times by accidentally turning the camera around while she was trying to record us.
Christmas last year was really hard. She was completely reliant on a feeding tube, which meant that she could not enjoy a tradition that she has started.  Every year, my family bakes practically a kitchen-full of cookies. The recipes originally came from my grandma. She was always one to enjoy the kitchen, and seeing her unable to to do so was very upsetting. 
Losing someone so special is hard enough, but not being able to celebrate their life is deeply painful. However, I must say, as odd as it may sound, I am relieved that my grandma passed when she did. If she had passed even a couple of days later, her nursing home would have been closed to visitors and we would not have been able to say goodbye. 
But what still eats away at me — and at the millions of families who have lost loved ones at a time when it is not safe to hold funerals — is the absence of true closure.
The last day I saw my grandma was February 29th, and I could not have known that it would be the last time I saw her. Deep inside, however, I suspected it probably was; and I was right. That remains the hardest part for me. I know why and how she died, and I prepared myself and said goodbye that last day I saw her. But now I endlessly wrestle with the reality that there was no other time to pay my sincerest and most profound respects.
I miss her every day, but I try to make the best of my situation. It helps to remind myself that my grandma would not want me to give up because of her. I take stock in the hope that we will hold a memorial service, even if it occurs years from now.  Until then, I see every day as a new day to make her proud.
About the Writer
Abby Pingpank, News Editor
Abby Pingpank is a senior at North Allegheny.  She plays the violin in the NASH Orchestra, and she also is a part of the Cross Country team. In her free time, you can find her making salads at Panera, hanging out with her friends, and practicing her photography skills.