Showstarter
The spring musical will indeed go on, as the cast and crew prepare for a livestreamed revue.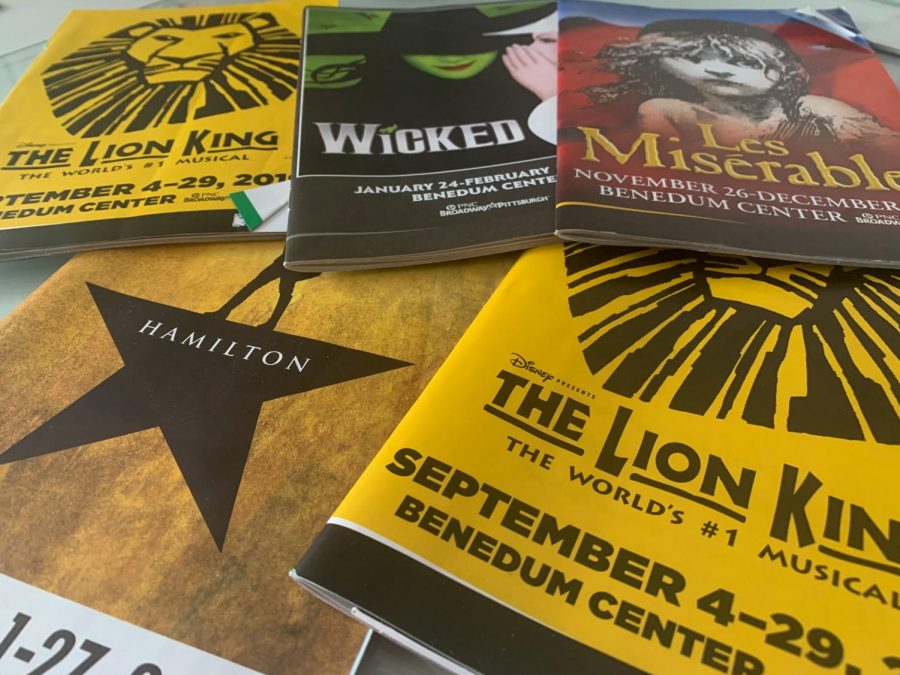 From Good News to Titanic, the North Allegheny spring musical is known for its extraordinary performances at both the middle and high school levels. With the production's excellent reputation, audiences have come to expect the best, and the department is ready to deliver — even amid a pandemic.
Despite many circulating rumors, this year's spring production is not canceled but rather adjusted to maintain COVID-19-friendly guidelines. Though there will not be a traditional performance, Mr. Tozier, the production's artistic director, is excited to have the opportunity to still put on a show—even if it looks quite different from years past.
"In August, I had serious doubts that we could do anything at all," Tozier said.  "Here we are in January of 2021, and we are ready to begin."
Due to public health precautions, Tozier and the rest of his team had to find a way to involve all of the students who would participate in a traditional spring musical. However, the challenge quickly proved difficult, as over 150 students are typically involved in a normal show.
This year's layout will therefore not be that of a traditional musical, but the cast and crew are confident that they have a great show in store for their audience. They plan to perform a collection of songs from various musicals, Tozier explained.
"We chose songs from fourteen different musicals and will perform in small groups of nine," Tozier said. "Each group has no more than nine kids and the groups will not physically intermingle. Video allows us the opportunity to virtually bring these groups together."
The pit orchestra, which acts as the musical accompaniment to the show, will rehearse and record their parts, and the cast members will perform to the recorded music. Though the pit will not be live this year, the stage crew will still be present to work the cameras and audio.
"
I think we all have to make the best of a bad situation, and this is is an excellent opportunity."
— Cole Buschmeyer, NASH senior
"Unfortunately, this will not be something that is available to the general public," Tozier explained. "Thankfully though, families and friends will be able to watch and enjoy some awesome selections from many shows."
Though the cast members are bummed, they have expressed gratitude to be able to perform anything at all.
"I'm so glad and thankful to have any theater experiences in such a challenging time," said junior Dillion Ferraro. "Since the musical involves singing, I wasn't sure if there was going to have a production at all this year. When it was announced that we would be doing a showcase, I was pleasantly surprised."
Senior Cole Buschmeyer echoed Ferraro and is ready to get back on stage.
"I am personally just as excited as I would be for a normal show," Buschmeyer said. "I think we all have to make the best of a bad situation, and this is is an excellent opportunity."
Fellow castmate of Buschmeyer and Ferraro, Kayla Tozier has outweighed the negatives with positives about this year's show.
"Of course I am disappointed about the fact that we are unable to perform a full show this year, but I am so grateful that I still get to perform with my friends," the senior said. "I am very excited to sing, dance, and act with everyone again."
Even though the cast and crew have made some drastic adaptations to what would be a normal show, they have no doubt that this year's performances will be as extraordinary as the productions of years past.
"We looked at this year as an opportunity to do things that we will probably never be able to do again," Mr. Tozier said. "When you think about that, all I can say is 'WOW.'"
About the Writer
Abby Pingpank, News Editor
Abby Pingpank is a senior at North Allegheny.  She plays the violin in the NASH Orchestra, and she also is a part of the Cross Country team. In her free time, you can find her making salads at Panera, hanging out with her friends, and practicing her photography skills.