Predictions for 2021
If all goes as planned, 2021 will be a year of cautionary travel and, above all else, unique experiences.
Most of 2020 consisted of people complaining about how they couldn't wait for the year to be over, and after 360 grueling days, it finally is. But not so fast. Even though it's a new year, many of the new trends will be heavily influenced by the last twelve months.
Although it may be a good amount of time until things return to a state of normality, there are many predicted trends for this new year that have been significantly influenced by the pandemic.
For starters, the desire to travel is more widespread than perhaps ever before. As a result of the onslaught of obstacles and cabin fever caused by the pandemic, it is predicted that for 2021, once COVID-19 is considerably better and the vaccine is much more widely distributed, many people will find themselves spending their money prioritizing experiences, such as traveling and concerts, over material goods and shopping.  Of course, this will be dependent on a gradual easing of current unemployment.
Nothing compares to the thrill of being in the crowd while music blares during your favorite artist's high-level energy performance, or the exhilarating journey and sights you can see while traveling. According to multiple travel agencies, the amount of people looking to travel has dramatically accelerated, some with inquiries for "once-in-a-lifetime" adventures.
Secluded islands such as the Maldives and the destinations in the Caribbean have gained popularity, attributed to the apparent promise of a "controlled, COVID-safe environment." Trips to the Greek Islands are up 15%, while Menorca and Ibiza vacations have increased 14% and 77%, respectively, compared to last year.
Remote retreats in sparsely populated countries in Africa have also increased with this recently-invigorated interest in much less crowded tourist spots.
Jarrod Kyte, product and sales director at Steppes Travel, explained, "Physical distancing has been a way of life in Namibia for millenia, and the wide-open spaces of the Namib Rand and Etosha [National Parks] are the perfect antidote to the current situation."
Despite the majority of airline industries struggling in the past year — the number of scheduled flights worldwide was down by 43.5% for the week of January 4, 2021 compared to the week of January 6, 2020 — new start-up airlines such as Breeze and Flypop are aiming to fly for their first time this year. Their success, and the success of the industry as a whole in the coming months, will in large part be tied to their ability to make passengers feel comfortable flying in a confined space once again as opposed to getting in their cars and driving to their destination.
Overall, the demand to leave home, travel, and see family again has drastically impacted the desire for long distance travel.  
However, after plenty of time spent confined inside their homes, many people have found themselves looking to improve their lifestyles. Mainly through the well-known app Pinterest, many new trends for have emerged, and they're expected to dominate 2021. According to Pinterest's collected data, sleep care, alternative healing methods, and New Age wellness trends are becoming more mainstream.
Aya Kanai, current head of content at Pinterest, said, "Bedtime routines will be more luxurious than ever. From home goods just for sleep, like sleep diffuser blends, to bedtime exercise routines, like sleep yoga, people will bring intention to more restful regimens."
Furthermore, many people took a liking to cooking because it gave them a new hobby and acted as a way to replicate restaurant quality food when they could not go out to eat. Even after quarantine restrictions and unemployment levels ease up, these cooking-at-home trends may well continue to accelerate for some time.
"In 2021, Pinners will experiment with new flavors, techniques, and cuisines at home. We'll see the rise of more spiced up recipes and intense flavor profiles," Kanai elaborated.
To the relief of sweatpants lovers everywhere, loungewear is predicted to become fashionable as well.
Kanai claims, "In 2021, people will take athleisure and add elegance. Enter 'athflow' with flowy jumpsuits and silky pants that you can also exercise in."
Keeping all these predictions in mind, no one knows exactly what 2021 is going to bring to the table, and there are many factors beyond just COVID to consider. However, there is certainly hope that the vaccines will be widely and efficiently distributed. I anticipate that this year will be full of opportunities that make up for last year's disappointments as we find new ways to enjoy ourselves while staying safe.
About the Writer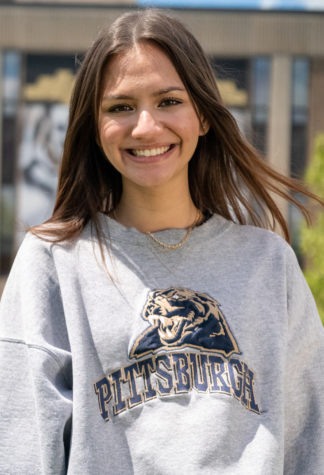 Sofia Brickner, Senior Staff Writer
Sofia Brickner is a senior at NASH who enjoys listening to oldies, watching movies, skateboarding, and playing the ukulele. When she is not working you can find her frequently adding new music to and listening to her Spotify playlists religiously, as well as editing movies.