The Woman Who Changed America
After losing the Georgia governorship, Stacey Abrams started a movement that had a massive impact on the most recent election cycle.
In only a few days time, Joe Biden will take over as president of the United States, and newly-elected Georgia Senators Jon Ossoff and Raphael Warnock will give the Democratic party control of the Senate. However, these crucial election wins have less to do with the efforts of the individual candidates and much more to do with one Georgia woman.
In 2018, Representative Stacey Abrams fell short of the Georgia governorship by only 55,000 votes. But the election was not without controversy. Abrams's opponent, Brian Kemp, was the Georgia Secretary of State. The Secretary of State is tasked with running all of the state's elections, which means that Abrams's opponent was literally in charge of their contest. 
In the years prior to the election, dating back to 2012, Secretary Kemp was able to cancel the voter registration of over 1.4 million Georgians. This process was called voter roll maintenance by Kemp, but Democrats refer to it as voter roll purging. Kemp's voter roll maintenance reviewed voter registrations and checked for mistakes. Any mistake, no matter how small, in a person's voter registration would cause their registration to be put on hold. The state of Georgia did not notify any of these resident that their registration was temporarily rescinded, and it was impossible for them to fix something that they were not aware of.
To make matters worse, the voters who were suppressed were predominantly Black. Of the over 53,000 registrations on hold, 70% of them belonged to African Americans, despite the group making up only 32% of the state's population. As a Black Democratic candidate, Abrams would have received a large percentage of these suppressed votes.
After her crushing defeat, Abrams sought to solve the problems that cost her the governorship. In 2018, Abrams established "Fair Fight," a non-profit organization committed to ending voter suppression in her home state, as well as the entire United States.
Abrams's foundation raised millions of dollars and helped to get hundreds of thousands of people registered to vote, but most importantly, it made Democrats nationwide pay serious attention to the state of Georgia. The last time Georgia fell to a Democratic candidate was in 1992, and the Republican candidate has won the state by over 5% in every election since 2000. Since Abrams focused on registering both the younger generation and Black voters, many pollsters predicted that the Georgia election could tell a different story in 2020. Georgia was no longer an immediate, undisputed win for Republicans.
On election day, Joe Biden pulled off an astounding victory in Georgia by just over 11,000 votes. Biden would go on to win a number of crucial swing states and secure the election victory. In the most important election of our lives, Stacy Abrams had engineered an improbable upset.
However, the presidential election was not the full extent of her impact. There were also two crucial Senate races happening in Georgia, and these seats would decide control of the Senate. In Georgia, if neither candidate obtains 50% of the senate vote, the election goes to a special runoff. Democratic candidates Jon Ossoff and Raphael Warnock lost the popular vote in their respective senate races, but they were able to force a runoff election that would take place January. With the presidential election in the rearview mirror, the entire Democratic party shifted their attention to the state of Georgia. 
Abrams continued to promote voter registration efforts leading up to the special election, and she had the support and trust of her party. But she still had her challenges. There would be no second runoff election should a candidate once again not reach 50% of the vote, meaning that Democrats had to win the January election outright. As Ossoff lost to Republican candidate David Perdue by over 90,000 votes in their first bout, Abrams would have to work her magic again.
Thanks to strong efforts by Abrams and her fellow Democrats, Jon Ossoff and Raphael Warnock both came out of their runoffs victorious with Ossoff winning by over 50,000 votes and Warnock winning by over 90,000. 
With these two crucial senate wins, the Senate will be split evenly between Republicans and Democrats. Because the Democrats will hold the office of the president, Vice President-Elect Kamala Harris will break any ties in favor of the Democrats. 
This is crucial, as the party desperately wants to undo President Trump's policies and replace them with their own. Now, they will be able to do so much more easily.
But let it not be forgotten to history: The party could not have accomplished this without Stacey Abrams and her team. Her foundation has not only helped her party win the most crucial election in decades, but it has also given hundreds of thousands of American citizens the opportunity to choose the people who will represent them in government.
About the Writer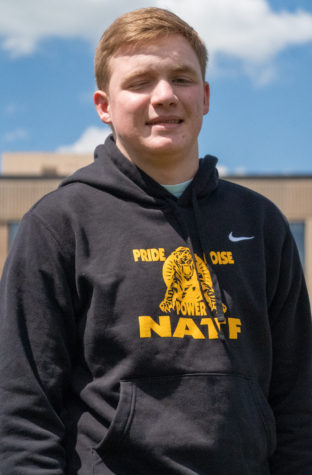 Flynn McGurrin, Staff Writer
Flynn McGurrin is a junior at NASH who enjoys golfing and watching any sport he can find.