Disgrace by Degrees
Following the riots at the Capitol last week, President Trump has lost several honorary degrees.
After his role in the Capitol storming last Wednesday, President Trump can't seem to stay afloat. He's been banned from social media sites and impeached for a second time, and now, he's losing multiple degrees.
In 1988, Trump received an honorary degree from Lehigh University in Bethlehem, Pennsylvania. Sixteen years later, he received another from Wagner College in Staten Island, New York.
"The Wagner College Board of Trustees met in a special session to review the honorary degree granted to Donald J. Trump in 2004. Today, the board voted to rescind that degree," the college wrote in a statement last Friday.
Lehigh University shared a similar message last Friday, announcing the same thing. 
It is not unfamiliar territory to President Trump. 
In 2010, he was awarded an honorary DBA, or Doctorate of Business Administration, from Robert Gordon University in Aberdeen, Scotland. Just five years later, during President Trump's first presidential campaign, the university shared the following message:
"
The university has therefore decided to revoke its award of the honorary degree."
— Robert Gordon University, 2015
"In the course of the current U.S. election campaign, Mr. Trump has made a number of statements that are wholly incompatible with the ethos and values of the university. The university has therefore decided to revoke its award of the honorary degree."
Neither Lehigh nor Wagner provided any reasoning behind the sudden decisions, though the timely proximity to last week's Capitol storming makes it fairly evident. 
Both announcements were followed by praise on social media. Statements such as "Four years late, but better than never," and "A step in the right direction," were common sentiments among commenters. 
Even Trump's own alma mater, the University of Pennsylvania, has been called out to rescind the President's degree. The problem? This one was paid for and earned, rather than gifted. 
In August of 2019, Penn instituted a new policy, allowing the university to revoke degrees from graduates who utilized fraudulent behaviors to obtain them. The president's niece, Mary Trump, claims that he paid someone to take the SAT for him.
If that were found to be true, the university theoretically could join the growing list of schools that have revoked the president's degrees. However, it would require an investigative committee and hearings involving Trump, which at this point, seems unlikely.

Of his five honorary degrees, only two remain—both of which were granted by Liberty University in Lynchburg, Virginia in 2012 and 2017. Though the Christian university has been pressured to revoke them, they have yet to do so, and very few are surprised.
The man who gave Trump the degrees, Former University President Jerry Falwell Jr., has repeatedly stated his approval of the president and the Republican party.
"I'd give him another degree if I was still at [Liberty University]," Falwell said in the statement to a Virginia news station. "He's done nothing wrong but had an election stolen from him by thugs. He said nothing to incite violence at that rally. And he fulfilled all his campaign promises as president. That almost never happened before."
Save71, a Liberty alumni-led organization that advocates for reform, disagrees with the former university president.
"It's important that Liberty makes it clear that Donald Trump, and the radical wing of his base that we saw at the Capitol, does not represent Christian values," they said in a recent Twitter post.
At this point, it's unclear whether the university plans to rescind Trump's honorary degrees. 
Under the pressure of the events that have occurred in the past week, it's no surprise that President Trump hasn't made a statement regarding the degree revokements. Though it's unlikely that he ever will, the Lehigh and Wagner communities will likely be judged by history to have acted responsibly.
About the Writer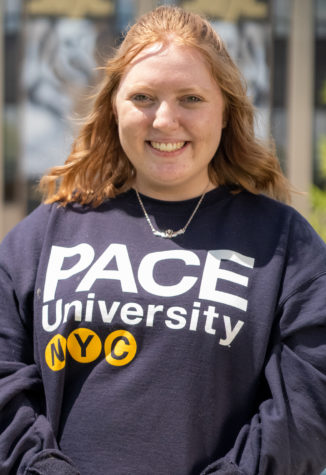 Lucie Flagg, Co-Editor-in-Chief
Lucie Flagg is a senior this year. She enjoys the finer things in life, such as sushi, napping, and her dog, Daisy. Along with writing for The Uproar, she also contributes to NATV. Outside of school, Lucie works at Naturally Soergel's, and she watches Impractical Jokers whenever that's not happening. Lucie plans to attend Pace University in New York City next year to pursue a career in media production.