A Bond across the Generations
Through the Senior Citizens Letter Writing Initiative, NASH students are finding ways to connect with their community.
During these uncertain times, it's fairly common to feel helpless or confused, and everyone seems to grasping for every last bit of positivity they can find. Well, as one of NASH's newest student-led initiatives has proven, there's no better way to combat hopelessness than by giving giving back to the community and bringing others joy. 
NASH junior Yuri Jang started the Senior Citizen Letter Writing Initiative after seeing the effects of the COVID-19 outbreak. She observed the devastating impact it has had on people worldwide, especially senior citizens who haven't been able to see their families. 
"Knowing that they were feeling very disconnected and isolated due to their vulnerability to the virus, I wondered how I could bring joy to their lives without physical contact," Jang said.
In April of 2020, she started a letter writing exchange between high schoolers and senior citizens by asking students to send handwritten letters to Korean War Veterans and people with disabilities. 
"It sparked lots of happiness and hope in the seniors, which I could see in the letters they wrote back to us," Jang added.
"
"Relationships are being built between the youth and the seniors, which a beautiful thing in these times when people feel the most alone."
— Yuri Jang
Past volunteer experience inspired Jang to be proactive in starting the exchange. In middle school, she began volunteering at the Emmaus Community of Pittsburgh, a residence for individuals with disabilities. It is also where she met many Korean War veterans. Over the years, she's created friendships with the residents and has gotten to know them better. 
"I care a lot for the seniors that I've gotten to know over the years, and I really wanted to do something that would make them feel better during the pandemic," Jang explained.
All the recipients of the letters live in their own homes, and if students have grandparents or other seniors that they know personally, they can choose to write letters directly to them. Jang buys the stamps and collects the letters, which she then mails from her house.
"This is very important to me because I personally know many of the veterans and the people with intellectual disabilities," she added. 
All students are welcome to participate in the Senior Citizen Letter Writing Initiative. Almost all of the volunteers are North Allegheny students, but anyone who wants to brighten up someone else's day can take part. There's even a high school in South Korea that has participated in the exchange.
There is no length requirement for the letters, but most volunteers write about a page or two. There is also no limit on the number of letters you can send, Jang said, every letter is appreciated.
One of the only rules in the initiative is that every letter must be handwritten.
"Writing a letter by hand shows the person behind the pen, and their thoughts are more genuine and heartfelt," Jang believes.
Responses are not guaranteed, as some recipients are not able to write replies. However, Jang encourages the volunteers to continue to send letters even if they don't receive a response back.
High schoolers who participate also are able to earn service or volunteer hours. During a time when going out somewhere to volunteer is difficult, writing a letter may be a great way to safely give back to the community.
At the end of the day, Jang stresses that the biggest benefit from the initiative is the multi-generational connection that a simple letter can create.
"Relationships are being built between the youth and the seniors, which is a beautiful thing in these times when people feel the most alone," she said.
About the Writer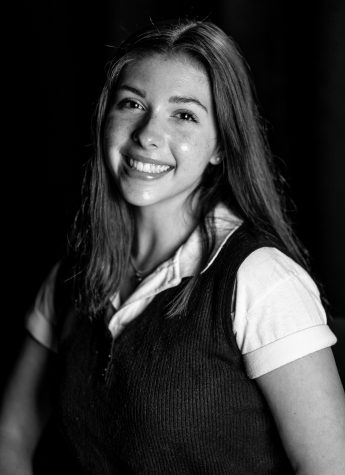 Michaela Golik, Staff Writer
Michaela Golik is a junior at NASH, and it's her first year writing for The Uproar. She enjoys dancing, spending time with her friends and family, painting, and writing. She loves filmmaking and aspires to be a director. When she's not working or dancing, you can likely find her online shopping or daydreaming about traveling the world.