The Fast Lane
NASH senior Keeley Misutka is a two-sport standout, and the race will soon continue at Bucknell.
Racing. Sometimes in life, everything seems to be a race. Whether it is a mental race, or something physically being participated in, there is one goal. To win. 
Keeley Misutka is a senior at NASH and is the star female athlete on the Cross Country and Track Teams. She has been on the teams all four years in high school.
Although her successes started in high school, her athletic career started long before that. Her uncle would come to town to run in the Pittsburgh Marathon, so, naturally, she and her cousins decided to enter the kids' marathon.
"When I was in third grade my cousins and I decided to enter the Pittsburgh Kids Marathon," she said. "I did pretty well for a third-grader, and after I ran that I asked to run more races.  My mom then signed me up for local 5k events.  I did well and was hooked!"
Running, however, was not the only sport she participated in throughout her youth. She tried soccer, basketball, and tennis before falling in love with running.
"I started playing soccer in first grade, but quickly found out that I was not very aggressive and afraid of getting hit by the ball," Misutka said. "I then tried basketball throughout elementary school, but I could never get open, and again, was afraid of the ball.  Finally, I tried tennis in fourth grade, but I did not have the necessary hand-eye coordination to be successful– and maybe, I was a little afraid of the ball."
Mitsuka sees how running has brought so much good into her life, from flying to Florida to compete in high school nation competitions to committing to run Division One in college. Within the last month,  she committed to continue her athletic and academic career at Bucknell University.
"I chose Bucknell because of their strong academic reputation, and their Division 1 ranking. The athletic facilities are phenomenal, the coaching style is similar to Coach Neff's here at NA, and it is fairly close to home," she said. "It is a school that will challenge me academically and athletically." 
Even though Misutka found her dream school, the recruitment process was nothing easy this year. Due to COVID-19 restrictions and guidelines, the process was far from normal.
"It was very different and bizarre this year," she said. "I did not have the opportunity to meet with the coaches in-person, visit all of the campuses, or hang out with the team as I would have in a normal recruiting year. Instead, it was a lot of Zoom calls and texts.  It was very difficult to make a decision on where I would be spending my next four years without going through the normal process."
Looking back at all of her successes, Misutka said she could not be here if it was not for the tremendous amount of support she has received.
"Coach Neff is definitely my biggest supporter.  He provides the team with great workouts that not only test our physical abilities but our mental capabilities as well," she said. "My team has been a big supporter, too.  We always push and motivate each other at practice, with a focus on achieving our team goals.  Also, my family.  They show up at every meet. Whether it's a home meet at Newman Stadium or a postseason race in Florida, they are there, cheering me on."
Outside of her athletic career, Misutka does more than run and study.
"I volunteer at Red Door Ministries, assembling food kits for those in need.  I also really enjoy playing the violin and ukulele, and I love singing," she said.
Misutka is a member of the NASH Choir and Orchestra. She is also a soloist in her church choir.
But as long as there's a race ahead, running remains closest to Mitsuka's heart.
"My favorite thing about XC/TF is the adrenaline rush you feel on race day," she said. "I have had the opportunity to help my XC team win three consecutive PA State Championships, which has never been done at NA before."
Leave a Comment
About the Writer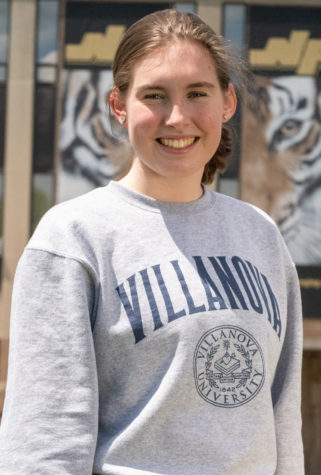 Abby Pingpank, News Editor
Abby Pingpank is a senior at North Allegheny.  She plays the violin in the NASH Orchestra, and she also is a part of the Cross Country team. In her free time, you can find her hanging out with her friends, taking long walks with her dog, and practicing her photography skills.