An Unexpected Influence
The 17−year−old singer will make history in the LBGTQ+ community.
Last Wednesday, Dance Moms star and singer JoJo Siwa released a cryptic TikTok. In the video, she sang along to the song "Born this Way" by Lady Gaga. Fans and fellow TikTokers quickly flooded the comment section, noting her significant allusions to the LBGTQ+ community. The following day, Siwa confirmed fans' suspicions by posting an image of herself wearing a new T−shirt that said "Best. Gay. Cousin. Ever."
The sudden news was quickly reported by both Hollywood−focused and major media companies, including CNN, Fox News, USA Today, and NBC News. Articles quickly began filling my social media feeds and simultaneously so did the criticism. 
Statements like "Who cares?" were common sentiments among commenters. At first glance, I somewhat agreed. There are many major historic events happening right now, so I questioned why JoJo Siwa was the only news I could find.
But as I continued to ponder, I realized just the impact that Siwa is making. 
In 1997, Ellen DeGeneres came out as gay on her sitcom, Ellen. From her supporters, she was praised as one of the first openly−gay celebrities. At the time, Degeneres was in her early 40s and influenced LGBTQ+ adults everywhere.
Children, on the other hand, have never really had an equivalent celebrity to look up to.
The average child begins to recognize their sexual orientation as early as puberty, and it can be an especially scary time. Any child, especially one who hasn't been educated on the LGBTQ+ community, may feel overwhelmed by the complexity of sexuality.
And that's where JoJo Siwa is making an impact. 
"
Siwa's music and sparkly lifestyle are admired by little girls and boys around the world, so I hope that her unapologetic stance is as well. "
She is an especially popular celebrity around younger audiences. Her platform influences children to be themselves and to dream big. Siwa's music and sparkly lifestyle are admired by little girls and boys around the world, so I hope that her unapologetic stance is as well. 
There are too many LGBTQ+ children who feel alone. In fact, LGBTQ+ children are five times more likely to attempt suicide than heterosexual children. Lack of support and resources contributes to this growing problem, but JoJo Siwa may be breaking these barriers once and for all. 
Seeing someone so influential to their age group not only being comfortable with their own identity but also proud of it will help children seek their own courage. In a world where the LGBTQ+ community is not always acknowledged or accepted, Siwa is a much-needed positive and supportive influence. 
Some have criticized the 17−year−old for coming out before legal adulthood, and many more have criticized her simply for the impact she makes on young children. 
One Instagram commenter explained that her "daughter will never watch [JoJo Siwa] again."
Siwa's unbothered response? "Okay!"
Another Facebook commenter noted that she has lost who she once believed to be a great role model. 
Though her critics have expressed their disapproval, many more have sent overwhelming messages of love to the teenager. 
Her former dance coach and fellow Dance Moms star Abby Lee Miller called Siwa a "shining example" to kids, and I couldn't agree more.
By having the courage to express self−love, JoJo Siwa will go down in history as a hero to young LGBTQ+ children everywhere.
About the Writer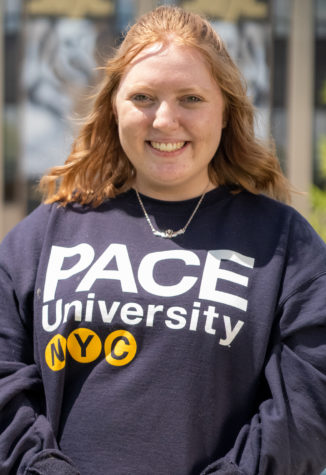 Lucie Flagg, Co-Editor-in-Chief
Lucie Flagg is a senior this year. She enjoys the finer things in life, such as sushi, napping, and her dog, Daisy. Along with writing for The Uproar, she also contributes to NATV. Outside of school, Lucie works at Naturally Soergel's, and she watches Impractical Jokers whenever that's not happening. Lucie plans to attend Pace University in New York City next year to pursue a career in media production.