All the Right Answers
North Allegheny's Hometown High Q team is advancing to the playoffs after winning a nearly perfect game.
The clock was ticking. The stakes were high. It was time for the final question.
"'Love one another.' These were the last words of what Secretary of State who served during the Civil War and later arranged the purchase of Alaska?" KDKA meteorologist Ray Petlin asked three NASH students.
"Seward," senior captain Kate Stamper answered, after conferring with her teammates, junior Owen Prem and senior Shejuti Wahed.
"Seward is right," Petlin replied, and though viewers couldn't see through their masks, North Allegheny's very own Hometown High Q team grinned ear to ear. On January 9th, they had completed a near perfect game, defeating Montour High School and Sewickley Academy.
Williams Hometown High Q is a quiz bowl tournament for high schools in western Pennsylvania. Every Saturday morning, KDKA News hosts a match between three local school districts. Each team has three contestants.
"I've watched Hometown High Q for years, and I knew going into high school that I wanted to be on the team," Stamper said. "My junior year at a GOAL meeting, the opportunity to participate was brought up, and I jumped on the chance to be a part of the team."
Making it to the KDKA's metaphorical set — the tournament was virtual this year– required some hard work.
"Anyone who wanted to [join the team] out came to practice. This totaled about 15 students. That number includes NAI students, who ultimately can't compete in the actual competition," Prem explained. "There were about five or six upperclassmen competing for three spots in the first competition slot, and our sponsor, Mrs. Ruffolo, selected the team."
However, the rest of the members still participate in practices.
"The other students who aren't on air all the time are remarkably important to our success," Wahed said. "They're the ones that practice with us and drive us to do better each game."
"
The thrill I get when I answer a really difficult question correctly is unparalleled by any cash prize I could ever receive."
— Shejuti Wahed
All the members believe that such practices are key to their impressive performances during the games.
"We basically run through old shows and see how we would do if we were competing in them," Wahed added. "Then, we identify areas of weakness and do some more research to broaden our knowledge."
As that Saturday game earlier this month proved, their preparations paid off, and it was truly a team effort. 
"At times, we're 'experts' in certain areas. For example, Owen's our history genius, Kate knows random science fiction trivia, and I take the math questions," Wahed said. "Overall, though, we all are well-rounded, which is great for our dynamic."
Since they won, they'll advance to the playoffs, but the pandemic has complicated the process.
"Normally, we would film the whole show in one take at the KDKA studio. This year we are doing it through a Zoom call in non-competitive rounds," Stamper explained. "Though it gets cut up and edited together on the actual show, we film all of our rounds at the same time in a ten minute time slot."
Taping the episode was a unique experience in itself.
"Ironically, the longest part of taping the show was the logistics and all the extra recording stuff," Wahed said. "I was definitely nervous when I had to individually introduce myself, but the least nerve-wracking part was during the actual game. I was immediately relieved once they started asking questions because we seemed to know most of them."
While they're not sure when their next game will be, the team is trying to be patient. They expect KDKA will give them about a week's notice before their next taping.
"We'll just keep practicing and wait to hear from the KDKA organizers about our next taping date," Prem said.
No matter when they'll be able to record their playoff game, the team's optimistic about their chances of winning.
"Last year, we got cut off by the pandemic before the semi-finals, so our season got cut short. This year, we are hoping to be able to finish out the season with a win," Stamper said. "The winning team gets a cash prize and the team decides what we want to do with the money."
But Wahed believes that the excitement of competing is the main factor that keeps them all motivated.
"I'm sure the other teammates agree that the most exciting part of this activity is just learning and competing. The thrill I get when I answer a really difficult question correctly is unparalleled by any cash prize I could ever receive," she said.
Until their next round airs and they have a chance at winning the championship for North Allegheny, the team is encouraging their peers to check out the show. New viewers might be surprised at how competitive it can be.
"We appreciate all the support we've gotten this year," Stamper said. "Quiz bowl is actually more interesting to watch than you might think."
About the Writer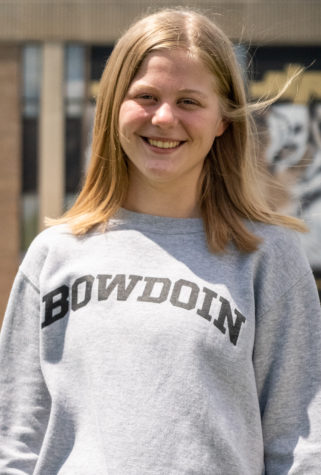 Kristen Kinzler, Co-Editor-in-Chief
Kristen Kinzler is a senior at NASH who loves expressing her opinions and drinking excessive amounts of coffee and tea. When she's not writing or rewatching Supernatural for the fourteenth time, she can probably be found playing lacrosse, reading, or watching hockey. She plans to attend Bowdoin College next fall.