Full Speed Ahead
Junior track standout Lola Akindele has high hopes for the upcoming season.
Junior Lola Akindele stands out as a stellar runner on the NA Track and Field team. Her passion and drive fuel her to be her best and continue to work hard.
Akindele has been participating in track since she was in seventh grade. She has always enjoyed running, which inspired her to join the team. Track is where she can let her competitive side thrive. 
Akindele competes in the 100m, 200m, 400m, 4x100m, and 4x400m races. She has a love and talent for running, but she would also like to be able to branch out and experiment with different skills.
"I'd love to be able to do some kind of jumps such as long-jump or high jump, but I am not super coordinated in my feet," she explained.
Currently, Akindele practices three days a week. However, once the outdoor part of the season starts in March, the team will switch to daily practices. Meets vary depending on how far it is into the season, but on average, they have meets twice a week.
Outside of track practice, Akindele has trained through specialized sports performance training in the Lab.
"It has been very enjoyable, and I've been performing for them for about two years now," she said.
Akindele noted that one of her proudest track moments was when she and three other girls broke the NA indoor record for the 4x200m relay. Akindele, Emily Naughton, Sara Hogan, and Casey Burton broke the school record with a third-place finish time of 1:47:38.  
Throughout Akindele's track experience so far, her favorite memory was going to states during her freshman year. A small fraction of the team went on the two-day trip to Shippensburg to compete. 
"It gave me the opportunity to get closer with the older kids," Akindele recalled the bonding experience.
Of the many things she loves about her sport, her favorite is being able to have fun while still staying in shape. She loves that track motivates her to stay active throughout the week and work hard to achieve her goals.
This upcoming season, Akindele is most looking forward to being able to have real outdoor meets in the sunny weather. Due to the shutdown, there were no outdoor meets last spring. Akindele hasn't been to one since freshman year, so she is looking forward to experiencing the excitement of an outdoor meet once again. 
"I always noticed that when it's nicer outside, everyone is happier and performs their best," she said. "The energy just radiates in the stands and on the field when it's sunny."
Akindele is very thankful for her teammates, who are her biggest supporters.
"We are always cheering each other on, and when one person wins a race, it feels like the whole team won," she explained.
In the future, Akindele hopes to continue running to stay active throughout her life. She would love to continue running track in college. 
"I think it would be a great opportunity for me to go to a good school and have a close group of friends that can all bond over our sport," she remarked. 
Akindele's passion for the sport has given her many memorable experiences, and she looks forward to seeing what the future holds for her last two track seasons at NA.
About the Writer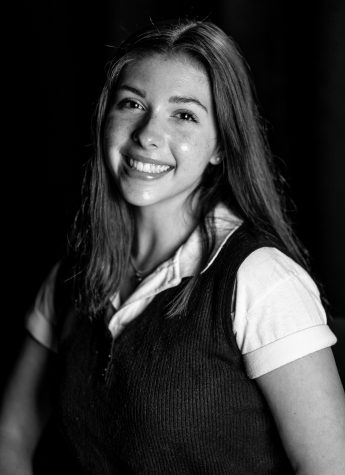 Michaela Golik, Staff Writer
Michaela Golik is a junior at NASH, and it's her first year writing for The Uproar. She enjoys dancing, spending time with her friends and family, painting, and writing. She loves filmmaking and aspires to be a director. When she's not working or dancing, you can likely find her online shopping or daydreaming about traveling the world.