Valentine's Day Playlist
Whether you look forward to Valentine's Day or you dread it, you can't deny that there are countless iconic love songs to listen to on the holiday. To get into the lovey-dovey mood, I recommend listening to the following 10 songs.
"Line Without a Hook" by Ricky Montgomery
The honesty of this love song's lyrics encapsulates the feeling of all-encompassing love. Lyrics like "all my emotions feel like explosions when you are around" and "I am a wreck when I'm without you" communicate the narrator's passionate feelings toward the one he loves.
******
"Wish That You Were Here" by Florence + The Machine
This song describes the feeling of always wanting to be on your own, until you meet someone that you can't imagine being without. Florence Welch's passionate singing communicates the speaker's desire to go home and be with the one they love. 
******
"In Luv with U" by Finn
In this song, Finn captures the feeling of being head-over-heels in love with someone. This love song has a soft and sweet vibe, created by the cheerful piano melody and dreamy lyrics.
******
"Home" by Edward Sharpe & The Magnetic Zeros 
This upbeat tune can describe both platonic and romantic love. The lyric "home is wherever I'm with you" demonstrates the feeling that home isn't always a place, sometimes home is more about being around the ones you love.
******
"Can't Take My Eyes Off You" by Frankie Valli
Featured in the '90s rom-com 10 Things I Hate About You, this song is about falling more and more in love with someone every time you see them. If you can't have Heath Ledger sing it to you while running around a football stadium, you can at least dance around your bedroom singing the catchy lyrics.
******
"Real Love Baby" by Father John Misty
This catchy tune by folk singer Father John Misty is the perfect song to play on Valentine's Day. As its title suggests, this song is about wanting a real love that makes you feel alive.
******
"million little reasons" by Oscar Lang
When you're in love, you can find a million different things you like about that person—so many that you may run out of ink while trying to write them down. This peaceful and wholesome song communicates that feeling perfectly, making it a perfect addition to your Valentine's Day playlist.
******
"Love Story (Taylor's Version)" by Taylor Swift
This week, Taylor Swift released a new version of Love Story, one of her most popular songs. The lyrics tell of forbidden love, alluding to Romeo and Juliet. The song deals with being young and in love, hoping it will work out even if the odds are against you.
******
"Video Games" by The Young Professionals
The Young Professionals' cover of this Lana Del Rey song changes the mood from the original. While the original is eerie and haunting, this cover is much more cheerful and positive. The lyric "heaven is a place on earth with you" describes the serenity and comfort love can bring.
******
"Put Your Head On My Shoulder" by Paul Anka
A classic old-school love song, Put Your Head On My Shoulder is a must-have on a Valentine's Day playlist. This '50s classic is guaranteed to put a smile on your face.
About the Writer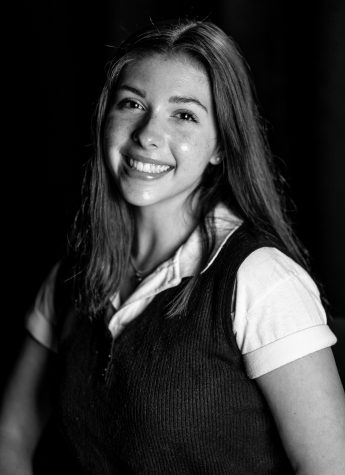 Michaela Golik, Staff Writer
Michaela Golik is a junior at NASH, and it's her first year writing for The Uproar. She enjoys dancing, spending time with her friends and family, painting, and writing. She loves filmmaking and aspires to be a director. When she's not working or dancing, you can likely find her online shopping or daydreaming about traveling the world.