TikTok: Beyond Dancing
The popular app is topping charts and continues to grow.
We all know what TikTok is at this point, right? You know—the app that former-President Donald Trump tried to ban. Though many see it as a collection of provocative teen dances, TikTok may just have the power to influence an entire generation. I mean, it's already influencing our politics. 
In layman's terms, TikTok is an app where anyone can make and view short (under a minute long) videos. Although the idea of scrolling feeds is not new, TikTok's algorithm is truly what sets it apart from other social media apps. 
With algorithms like the ones used by Instagram and Facebook, you really only view the posts that those you follow make. On TikTok, however, anyone can view anyone's else's public post, which can make even the smallest of online presences sudden internet stars. 
Despite its global surge in popularity, TikTok's origins were quite modest—it started as a joke. The app Musical.ly was first created in China and introduced to the United States in 2014. It quickly became used by American teenagers to show off videos of them lip-syncing to popular songs. 
While the app grew quite suddenly among music-loving teens, others saw it as—to be frank—cringey. In fact, many TikTok lovers claim that they originally downloaded the app as "a joke." 
It wasn't until 2016, when Musical.ly merged with a Chinese company called ByteDance when the app finally changed the face of social media forever. After the merger, the two companies rebranded to create TikTok. 
It began on the same foundation as Musical.ly—primarily teenage girls lip-syncing to popular songs. But, as the app gained in popularity, the musical emphasis shifted to a more diverse range of video content.
Dance videos are common on the app, of course, but so are comedic skits, educational videos, and even coverage of current events. The short video length—often fifteen seconds or less—allows viewers to consume more information at a much faster rate than other media outlets allow. 
It's no exaggeration to state that TikTok is revolutionizing the way social media works. People no longer have to open a newspaper when an entire day's worth of news can be watched in a fraction of the time they were once accustomed to. With the world at their fingertips, Gen Z may be the best informed generation in history.
There are, of course, serious problems that have arisen in regard to younger generation's attachment to social media. Members of Gen Z struggle with anxiety and depression, likely caused by frequent use of social media, so the surge in popularity of apps like TikTok should be viewed with a critical eye.
Nevertheless, the app gives teens a voice in a society where they are often undervalued. Whether it's through artistic expression, comedy, or even the sharing of songs, the app presents a platform to everyone–and an audience, too.
Just this month, a woman shared a simple pasta recipe that went viral, and now grocery stores around the world are sold out of feta cheese. 
Or let's not forget when a group of TikTok teens came together and registered for tickets at a Trump rally. When the teens didn't show up, they had successfully pranked the President of the United States, leaving almost 17,000 seats at his event empty.
That is the impact that TikTok has on our world, and it's only growing. In fact, as of this week, the app was number two on the iOS free app charts. What's even crazier is that the number one app, High Heels!, got to its ranking because of its advertisements on TikTok.
TikTok had 62 million downloads last month alone and reached 2.6 billion downloads worldwide last December. Studies have shown that 60% of TikTok users are members of Gen Z, and a majority of them spend an average of 80 minutes per day on the app.
video/illustration by Jaden Urbi/WSJ
TikTok has quickly become one of the most defining features of Gen Z culture. Especially in the time of a pandemic, it has helped to bring teens together—to support one another and offer a little comic relief.
"We had these amazing creators just tell inspiring stories all year long and that just continued, which then led to the adoption of the platform for a variety of audiences," said TikTok's VP of global business solutions and head of ad sales Blake Chandlee in a Variety podcast.
There's a mutual bonding that occurs with teens on the app, especially nowadays. Jokes about online learning, mask-wearing, and general COVID-19 culture have helped the app grow immensely.
Although it's already huge, TikTok is only getting bigger. It is estimated that it will have over 60 million active users in the U.S. by 2024.
The app celebrates diversity and inclusivity, giving everyone the same opportunity for success. It's an outlet for teens to express themselves and to find similar people to follow. As it continues to grow, society must prepare for a more educated and aware Gen Z—because this is just the start.
About the Writer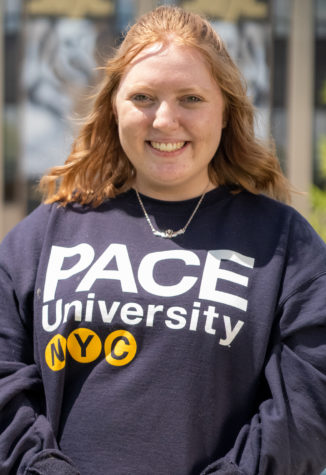 Lucie Flagg, Co-Editor-in-Chief
Lucie Flagg is a senior this year. She enjoys the finer things in life, such as sushi, napping, and her dog, Daisy. Along with writing for The Uproar, she also contributes to NATV. Outside of school, Lucie works at Naturally Soergel's, and she watches Impractical Jokers whenever that's not happening. Lucie plans to attend Pace University in New York City next year to pursue a career in media production.