Full-Time in the Offing
The district announced plans on Monday to reopen for full-time in-person instruction.
Like most NASH seniors, Sophia Elliott has had to acclimate to an ever-changing school year. Although back and forth between the classroom and remote learning has proven difficult, she was even more upset yesterday when the district announced their plans for full-time in-person instruction. 
"It's like [the decision] came out of nowhere," she said. "Even though cases in the county are going down, the virus is still a prominent issue."
On Monday afternoon, North Allegheny alerted parents about their plans to return to full-time instruction in the upcoming weeks.
"As of Friday, February 19, 2021, the county will have been in Moderate spread for one week. If we are in Moderate spread, ending Friday, February 26, 2021, we will begin phasing students into NAI and NASH on Monday, March 1, 2021," the district explained in an email. 
Following the announcement, members of the North Allegheny community expressed mixed thoughts about the decision. For senior Marissa Dorman, the prospect of a return to full-time in-person instruction is a positive development.
"In-person instruction works a lot better than online," she said. "When we're here in person, we're incorporated into our classes and get a lot more out of them than we do when we're on a computer at home."
But for Elliott, yesterday's email from the district was worrisome.
"It's dangerous. Not everyone has the vaccine yet, and even more are high risk," she continued. "Frankly, it's an irresponsible decision by the district."
At the time of their announcement, three North Allegheny buildings (MES, MCK, and MMS) were in temporary shut-down.
"These schools are shut down right now because they went back full-time, and cases went up," said senior Kathy Reynolds. "NASH has more students who go out, play sports, and work, so I don't think it's time yet."
When the email was sent to parents, there were 27 active COVID-19 cases districtwide and almost 300 people in quarantine.
"Sure, this pandemic is horrible. We're all tired of it, but the virus is still spreading rapidly," Reynolds said.
Although the district plans to utilize a phased reopening plan (pictured below), some simply feel as though the decision is rash.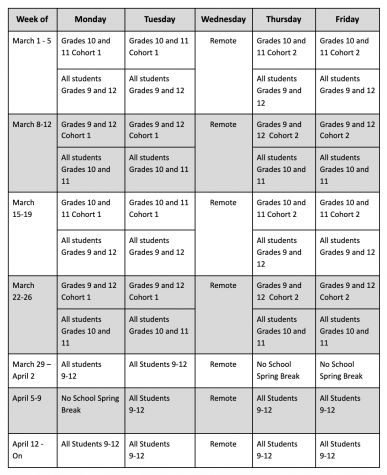 "They are really rushing into it," senior Bobby Hohman said. "We just came back from remote learning at the beginning of the semester, and now they're going for five days already. It seems a little fast."
After the parent protest in early December, where a group of NA families urged for the reopening of schools, it's no surprise to many that the district made the decision when the opportunity was presented. 
"To be honest, I think it's about time we go back full-time," said senior Caroline Kasunich. "All of the other schools (elementary and middle levels) have gone back except for us."
Even though low student attentiveness has been a huge issue throughout remote learning, some students aren't yet comfortable with the return.
"I just wish there was a way to go back safely," said senior Grace Elliott. "Mental health is being seriously affected in the hybrid model."
The district has yet to confirm the plans and is awaiting final approval from Allegheny County. If this week's COVID-19 transmission level remains in the Moderate spread category, the district will likely begin full-time phasing on Monday, March 1st, alternating weeks between seniors and juniors.
"I'd feel better about going back full-time if the school's policies surrounding mask-wearing and social distancing were enforced better," Sophia Elliott concluded. "The school struggles to enforce guidelines with half of the students in the building, so how can we expect them to do better with everyone there?"
North Allegheny will likely contact NA families by the end of the week to explain plans for the upcoming month. No matter what decision is made, students are still expected to attend in-person classes on their assigned days.
"Families that selected the in-person instruction model for the third quarter did so knowing that a student may return to the full-time in-person instruction model," the school explained in Monday's email.
Though many feel that this decision is long overdue, others are worried about the impact it may have on the district's COVID-19 transmission level. Nevertheless, students must remain flexible as changes in instruction may be made at any time.
About the Writer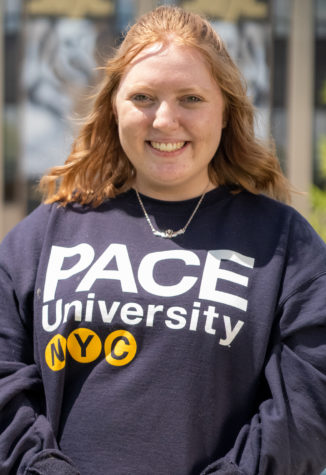 Lucie Flagg, Co-Editor-in-Chief
Lucie Flagg is a senior this year. She enjoys the finer things in life, such as sushi, napping, and her dog, Daisy. Along with writing for The Uproar, she also contributes to NATV. Outside of school, Lucie works at Naturally Soergel's, and she watches Impractical Jokers whenever that's not happening. Lucie plans to attend Pace University in New York City next year to pursue a career in media production.