The New Rhetoric of Hate
Anti-Asian racism rears its ugly head in national politics and our own backyards.
In 2015, the World Health Organization (WHO) issued what they believed to be the best practices for naming new human infectious diseases. They did so in acknowledgement that, after reports on newly-identified human diseases are made public, their name is often hard to change.
ABC News
One condition that the WHO proposed was avoiding the usage of locations in naming prominent viruses.
"Terms that should be avoided in disease names include geographic locations," the organization noted. 
Ignoring this stipulation, former-president Donald Trump frequently referred to COVID-19 as the "Chinese virus" and "Kung Flu," excusing his behavior by saying that the virus's origins may link back to China. 
After American rhetoric surrounding COVID-19 became largely politicized and targeted against Asian-Americans, or more specifically, Americans of East-Asian descent, rates of anti-Asian racism and violence expectedly escalated.
In spite of his initial practice, Trump took to Twitter to speak on the issue and say that the Asian-American community is not to blame.
"It is very important that we totally protect our Asian American community in the United States," Trump said. He included that the virus "is not their fault in any way, shape or form."
Many still believe that his rhetoric during the pandemic could be categorized as xenophobia and racist towards Asian Americans. 
Joe Biden, within his first week in office, created a memorandum to condemn and combat racism, xenophobia, and intolerance against Asian-Americans and Pacific Islanders (AAPI) in the United States.
The Biden administration cited the rise in hatred against APPI during the COVID-19 pandemic as the reason for this policy.
"During the coronavirus disease 2019 (COVID-19) pandemic, inflammatory and xenophobic rhetoric has put Asian-American and Pacific Islander persons, families, communities, and businesses at risk," their website read.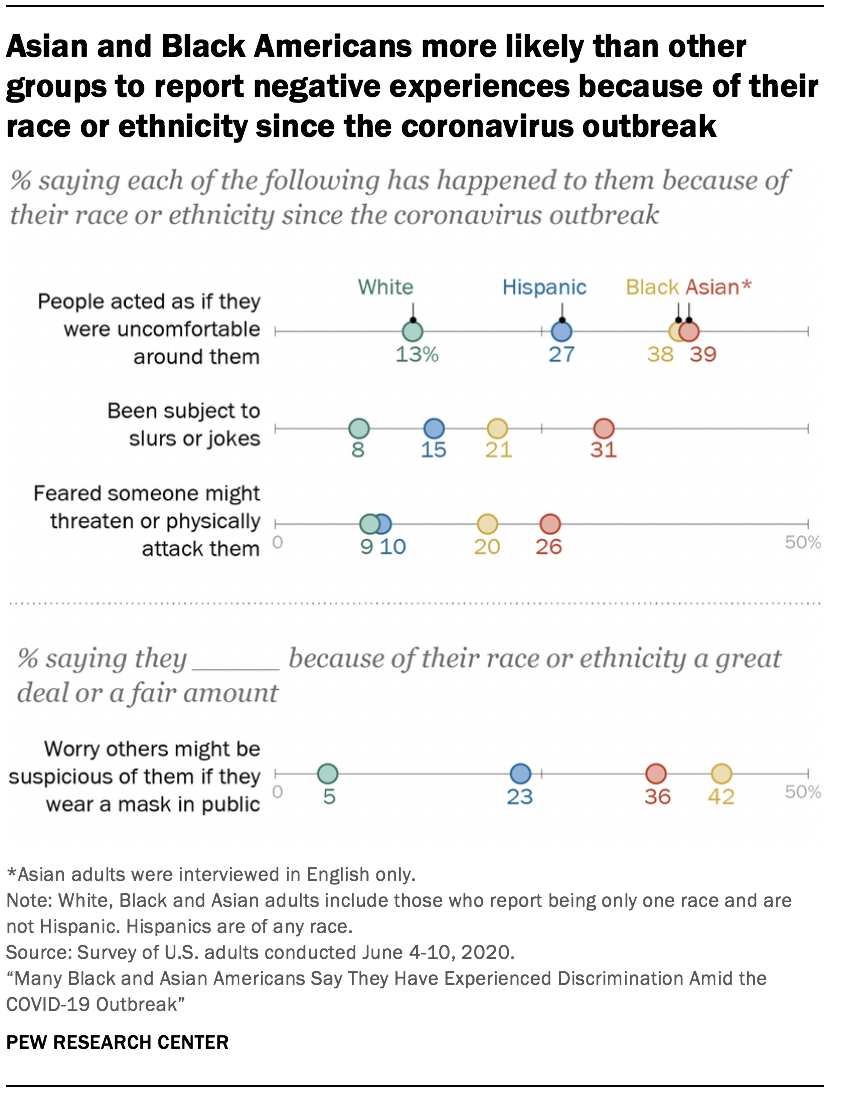 The administration went on to say that rhetoric matters when it comes to protecting marginalized groups and that the actions and words of previous administrations have already put people at risk.
"The Federal Government must recognize that it has played a role in furthering these xenophobic sentiments through the actions of political leaders, including references to the COVID-19 pandemic by the geographic location of its origin," they said. "Such statements have stoked unfounded fears and perpetuated stigma about Asian-Americans and Pacific Islanders and have contributed to increasing rates of bullying, harassment, and hate crimes against AAPI persons."
Last year, after noticing that this racism was becoming a significant issue in Pennsylvania, Governor Tom Wolf and his advisory commissions encouraged the public to stand against hate. This action followed a report of increased incidents against Asian-Americans due to misinformation regarding COVID-19.
"I am advocating for all Pennsylvanians to take a stand against anti-Asian racism and report any discrimination they see," Wolf continued. "Hate is just one more symptom of this terrible disease. If we want to win our war against COVID-19, then we all need to work together."
Other Pennsylvania politicians have spoken out as well. PA State Senator and Pennsylvania Commission for Women commissioner Carolyn Comitta expressed that she believes this virus cannot be fought with division and hate against an entire community. 
"This is a crucial time for us to unite and work together to protect our friends, families, and neighbors," Comitta said. "The only way we can overcome this unprecedented outbreak is by bringing all Pennsylvanians together. We cannot allow hateful acts and words to distract us from combatting this crisis."
Although a multitude of powerful political figures have taken the time to speak on the issue, this racism has resulted in a series of serious hate crimes, particularly against the elderly population of the Asian-American community. 
In January, an 84-year-old man, Vicha Ratanapakdee, was fatally assaulted. Many believe that the attacker had been driven by anti-Asian racism. Ratanapakdee had immigrated to San Francisco from Thailand earlier in his life. 
USA Today
A 64-year-old Asian grandmother was robbed of around $1000 that she had just withdrawn at a nearby bank for Lunar New Year.
Noel Quintana, a 61-year-old Filipino man, was attacked with a box-cutter on a New York City subway. He later noted that "nobody helped" him when he felt as if he was going to die. 
An Asian and Pennsylvanian teenager, Christian Hall, who was struggling with mental health issues was shot and killed by Pennsylvania police. His hands were up, and reports of the incident suggest he did not pose a threat to anyone else's safety.
Recent reports from the Pew Research Center show that Asian and Black Americans are more likely to report negative experiences because of their race or ethnicity since the COVID-19 outbreak began than those of any other groups. Many of them are also more likely to worry that they will be seen as suspicious if they wear a mask.
Asian-owned restaurants, and Chinese restaurants in particular, have also been hit hard by the results of untruthful stereotypes. Many experts believe that an innumerable amount of these businesses will close before the end of the pandemic without direct government interference. 
Microaggressions against Asian Americans have been especially common as well. Even North Allegheny and other local students, who have all asked to remain anonymous, have dealt with this.  
One student recounted a time during this school year when another student made fun of them for their Asian identity.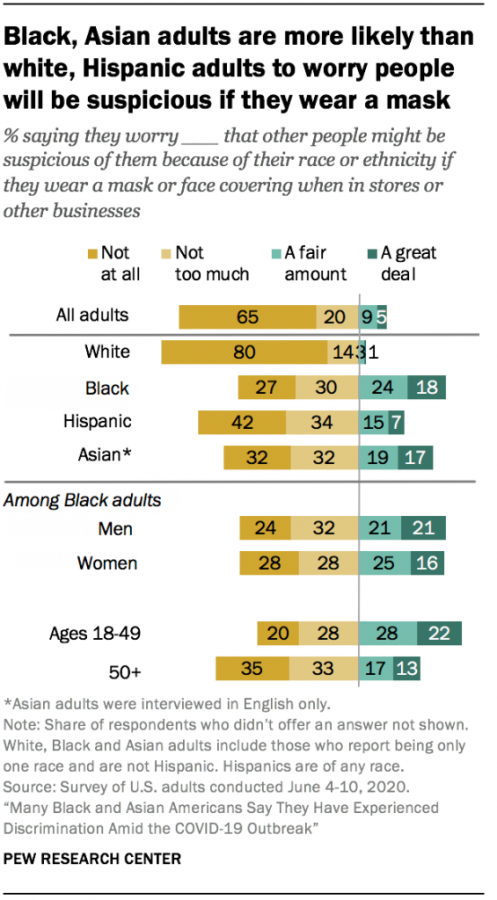 "There was a time at school where a guy coughed directly on me, which I took as an anti-Asian attack relating to the 'China-virus' jokes," they said. 
A friend of another Asian student was also targeted because of anti-Asian jokes, specifically regarding how many Americans believe the pandemic originated.
"She was walking at school when a couple of upperclassmen yelled at her to stop eating bats," they said.
One Asian student explained how these harmful stereotypes are common, but are often brushed aside due the "model minority" myth.
"It feels sort of like a roundabout way of saying I'm 'other,' but it's okay because of how 'nicely' I'm treated," they explained. "[It's claiming that] I can't have experienced racism because I'm part of the 'good minority'– which also implies that the experiences of different groups can and should be compared and put on a list of who has it the worst."
Another prominent stereotype is that Asians are all the same, despite their different countries of origin. The same student believes this assumption is ignorant.
"There are 48 countries in Asia according to the UN. We're not all the same. You wouldn't say that French people and Spanish people are the same just because they're both ethnically European," they said. "Even if we're talking about just French culture or just Spanish culture, there's a lot of diversity just within either group."
Despite the looming threat of further normalization of anti-Asian racism in America, change-makers can strive to educate the public on the truths of COVID-19 rather than lies that incite division and hatred. 
The same student recommended a few other ways to take individual action during this difficult time.
"Don't use 'the Chinese virus' to refer to COVID-19. Support Asian businesses, like restaurants, and creators, like artists and authors, if you can," the student continued. "Remember that Asia is very large and consists of many cultures, not just a few. And overall, just do your best. If you make a mistake, acknowledge it and try to do better, but don't beat yourself up over it."
Leave a Comment
About the Writer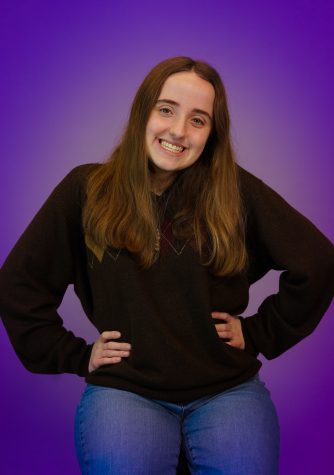 Quinn Volpe, Co-Editor-in-Chief
Quinn Volpe is a senior at NASH. She enjoys drinking matcha, listening to British podcasts, writing music, and seeing indie movies with Sally Cho.